Complaints (PAB) Manager, Forum Co-Moderator
Staff member

Joined

Jan 20, 2004
Location
Ok, forum updates and so forth mean it's time to update the instructions for "How to Submit a PAB". I hope this is helpful:
Begin by having a look at the upper navigation bar where you want to click on "Submit Complaint":

That will take you to an informative page on what a PAB is and isn't. After you've read that lovely material click on the big green button:
That takes you to your Tickets page. What you want to do is click on "Open Ticket":

There are several types of Ticket -- your list may not be exactly the same as mine -- but the one you're looking for is the first in the list, "PAB: New":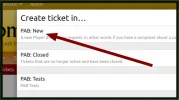 And finally you're there. It all starts with a description of your issue: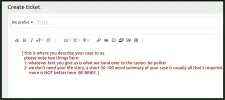 Fill in the details, and finally submit the thing:
We'll get back to you ASAP and from there our discussions of your issue will all take place within the Ticket. When we post there you'll get updates via email.
Please ensure that you have read and do comply with the Player Arbitration Policies and Procedures : failure to follow the Rules could slow, damage or even cancel your PAB.
Any questions or concerns feel free to say so in your Ticket, send me a Private Message via
@maxd
, or (if absolutely necessary) email me at
max.drayman@casinomeister.com
.
We look forward to helping you with your issue.
Regards,
Max Drayman
Player Arbitration (PAB) Manager, Casinomeister.com
Last edited: