Joined

Mar 25, 2017
Location
This is an interesting story in terms of just freespin rewards on
Videoslots
. For the "Too Long Didn't Read". Go to the end of the post.

Where to Start, Where to start...
So back on September 20th, I made a $50 deposit and was able to clear wager of around $750ish CAD so I could play in the Freerolls for two weeks. I ended up losing only $20. With basically a $1+ balance. I started making a balance again with just freeroll wins. Little wins here and there and soon enough just before the Flamebusters Freeroll event along with a bit of help from the "weekend booster" and "race winnings" ($10+ after both), I had a balance of around $64. All from freeroll winnings!
So since the event was about to start, I did a $63 withdrawal. I played in the weekend event and ended up with 64 "freespin packages" and had an actual total of 319 spins on Flame Busters!
I did a stream On Oct 3rd on just redeeming all of the 319 freespins on Flamebusters... I made $43+ from those.

I didn't do a cashout and I just left the balance since just hours earlier on October 5th, I made a $52 deposit. I eventually ended up with a $0 balance even with my extra $43+ start and then I made a second deposit of $62. This balance was close to RIP, but Bonanza to the rescue! From a balance of around $10 back to a pretty healthy balance of around $46 all just from basegame hits!
Then I stopped since I wagered over $750+ CAD so I earned freeroll access for 14 days and since I wanted to at least cash out $50+, I had a few freespin rewards to use...
I earned just one "5 freespins on Grim Muerto" during the whole session from one of the new games that I haven't played before. This along with other rewards that I won during the Flamebusters Freeroll weekend means I have a small chance at making this $46 balance get to over $50.
So I redeem the "5 spins on Grim Muerto". Third spin in... Second chance bonus. I was lucky and got the actual freespin bonus! It decided to play nice and at the end of it all... $15+!
Now with a balance just over $62, I made a cashout of $61 and here is where things got interesting. I had these rewards to play out: "10 spins on book of Dead", "15 spins on Birds on a Wire", "15 spins on The Rift", "20 spins on Rage to Riches", "25 spins on SuperFlip", and "25 spins on Spectra".
So with a balance of $1+, I redeemed the 10 and two 15 spin rewards. Earned very little from them ($3+ from all three combined ). So then I used the "25 spins on Spectra". Wouldn't you know it that here is where the luck from winning took a crazy turn!
With just a few freespins left, I get the wild feature as per usual, but this one decides to be extra special. With reels 2 - 4 wild, I get almost a wild reel on reel one! This payed around 64x. Then, the respin had me have reels 1 - 4 all wild now so I knew I would hit something... I get at least one wild in view on reel 5! This spin payed out 163x, but it doesn't stop there! Since I had a wild on reel 5, I got my final respin and that... Payed 324x! Grand total is 576x. From 25 freespins all wager free!
And even that that crazy win, The "20 spins on Rage to Riches" decided to give me a bonus and I won after all of them were done like around $7+ in total. To finish things off, my final freespin reward that was "25 spins on SuperFlip" was also nice. I had a full screen hit of Strawberries for $8 and the grand total at the end of it all... $10.80!
All in All, my Balance after all of this crazy stuff is... $78+ ALL WAGER FREE!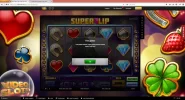 This was the start of the respins on Spectra...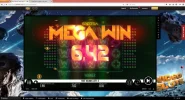 Getting better!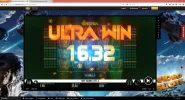 The Epic finale!
The grand total after all 25 freespins played out.
-------------------------------------------------------------------------------------
So basically the result is this: $64 cashout start and then a $52 deposit + $62 deposit - $61 withdrawal up until this point. Basically, I didn't spend a cent of my own money since I got lucky in breaking even with that $61 withdrawal. Now I have an incoming $80+ withdrawal as well because of my luck. All from Freeroll winnings!
I haven't cashed this out yet, but it goes to show that not all "freespin rewards" are crappy 0x to 10x. The pictures I took tell all. I'll never experience this luck again, lol.
Crazy!
P.S As a footnote. My "normal" amount that I get over the two weeks of freerolls since I am lucky to win freespin rewards most of the time is around $10 - $20 on average.