Forum Cheermeister
Staff member

Joined

Jun 30, 1998
Location
So one thing that is new, and what can be considered quite helpful, is the new "question" thread template that can be chosen when posting a thread.
Question threads
Question threads can be used when you are looking for a definitive, forum member based answer to a question, unlike a poll where opinions and preferences are expressed, but no single response would be considered the 'best' answer. If a member is looking for a solution, the question thread type is a good place to start.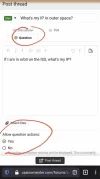 So when posting a thread, you're given an option to allow voting on the best answer.
When the thread goes live, folks can post whatever, and vote which post has the best answer. The beauty of this is that the initial post remains sticky at the top of each page, and the post that is deemed the "solution" is at the top as well. This will eliminate wading through meme wars and the usual banter that our jovial but sincere conversations can attract.

We have s couple of threads already initiated as question threads.
Here is a member's question about using phones when registering at an online casino.
************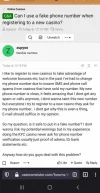 Can I use a fake phone number when registering to a new casino?
********
Throughout the thread you'll see comments and a check box that you can use to vote.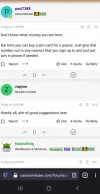 ******************
And here you can see the best answer (so far) listed here as the solution.
********************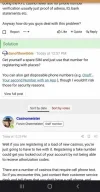 ***********************
This is different then the smilies and reactions, you get points for this as well, but we will have a Hall of Fame for the members who post the best solutions in this forum.

If you have sny questions about this, please let me know here in this thread.
At the moment, this feature is only live in the Online Casinos forum and the Slots one. I'll be making this available in some others as well.
Last edited: