Hi all,
Not sure if this is the right place to post this but didn't see a tech help section.
Does anyone else have Kaspersky 2015 that could maybe help me. I have been having problems with them recognizing any microgaming software for about 3 months now. My system will not allow me to open or load from my downloaded microgaming casinos. It started with 32 Red I think after a casino patch was updated and now affects all microgaming casinos I have.
Every time I try to load
32Red
, jackpot City or others a pop up appears and says "Application performing dangerous activity characteristic of malware" and wont let me open any casino. Iv'e searched in my Kaspersky as to where I can change this but can't seem to find the place. Any suggestions would be greatly appreciated. I have installed and uninstalled several times but does nothing, still always the same.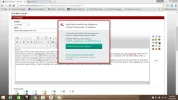 . This pop up doesn't give me the option to close it and stays till I shut down or click to disinfect.

Annoying. Thanks for any help.
Azzagirt
Last edited: