Bitter remoaner insufferable woketard 3Dice shill
webby

Joined

Mar 25, 2012
Location
I'll say out of the gate I'm not the biggest fan of reaction/tumble style games (give me reels!) so Dice Fusion is already swimming against the tide with me a bit on that one, but 3Dice don't release new games that often, and I've had a decent run on my VIP match offers recently so had a nice balance to play with, hence I lobbed £500 at this yesterday and had it running for just shy of eight hours on 20p spins.
It did not go well.
Here's where I started. £500 balance.

And here's where I finished. That's 1112x down in eight hours on 20p spins, my best win in all that time was 205x stake. (And that was a bit of an outlier!)
Now, 3Dice do flag it as three chillies (out of three) on their volatility scale, but it doesn't cross into the new GOLD category, so it shouldn't be that insane. Despite a pretty gruelling first session I returned to it today, determined to give it a fair crack of the whip before writing this review, because this game clearly had potential I wasn't even getting close to, and I wanted to see out at least one solid hit.
Before we get into that, a word about the game itself. It's basically a riff on Reactoonz and we all know how that works, all your symbols drop down and any clusters of five or more of the same symbols pay an award, then they disappear and more stuff tumbles down. If you get a 2x2 block it applies a multiplier to that symbol for the rest of the tumbles on that spin (more 2x2 blocks add higher multipliers), and on every spin a symbol is denoted as 'CHARGED', if you get clusters on that symbol they leave a couple of wilds behind when they disappear.
Also, on any losing spin the game can randomly drop four or more wilds into play.
Foe every 25 symbols that disappear, you get a BONUS REACTION thingy out of four possibilities that modifies the board state to (hopefully) be advantageous for the player. So you get a bonus at 25-50-75-100 and then if you make it all the way to 125, you get the
GARGANTOON
, sorry, I mean you get the
DICE FUSION
!
And yes this does work just like the Gargantoon, you get a 3x3 wild drop in, then two 2x2 wilds and then all the single wilds on three consecutive tumbles.
(You know, I've just loaded Reactoonz in over at
Unibet
and I think this is basically a copy of it, the rules are essentially identical, as are the paytables.)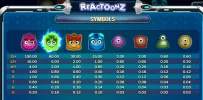 So there we are, that makes this all a bit easier, it's basically a dice version of Reactoonz. Graphically I quite like it, all the symbols are clear and easy to read, the various graphical effects for the bonus reactions are pretty nice, and the main DICE FUSION reaction looks and sounds pleasing (there's a little 3D spinning reactor too which I quite like). There's a decent enough little tune burbling along in the background that doesn't get offensive or make you want to cut your own ears off like Bonanza does.
RTP is solid if unspectacular at 95.2% which in a world where the Unibet front page is a sea of 93-94% games, I'll quite happily settle for.
And finally, did I eventually manage to land something good on it? Yes I did, but it took a total of TEN HOURS (!) of play to finally get there.....
You can see here I'm on bonus reaction two, and it's lobbed in 15+ of the next to top-tier symbol, I've also got the 2x2 block in there which puts a 2x multiplier on it, so that's £60 x 2 = £120 (600x) for that reaction alone.

This then went on to get all the way to the DICE FUSION bonus which paid a chunk more to finish off at 736x.

And then for an encore, literally whilst I typing out this review, it's chucked a 492x win at me, this was from a £60 win on the preliminary bonus stages, and then more to top it off in the DICE FUSION round.
So that's basically repaired all the damage that it did to me yesterday (not quite though! I'm still a tenner down on it), and I'm glad I stuck with it to finally get a couple of decent wins. Will it go on my normal 3Dice slots rotation? I'm not entirely sure at this moment in time, like I said, my preference is for traditional reels on games but I actually find this a bit easier to read than Reactoonz and can see what's going on a bit better, but it's clearly capable of delivering very long dead patches, as I witnessed yesterday with eight hours of one way downhill traffic!
Anyway, your TLDR on this is 3Dice now have a dice-themed Reactoonz on their books with a better RTP than you're likely to find Reactoonz at these days.....

Last edited: