Bitter remoaner insufferable woketard 3Dice shill
webby

Joined

Mar 25, 2012
Location
In fairness the title is actually quite a clever pun, because lycanthropy, or rather a lycanthrope, is a sort of werewolf - so what 3Dice have done here is said 'What if werewolves, but surfing dudes on the beach, in a tropical location, falling in love with lasses and turning into wolves in the free spins round'. I don't know what they are smoking at 3Dice, but it must be some good shit.
So yes, the idea is the title of the slot is a mash-up of tropics and lycanthropy.
I'll say upfront I don't know if this is a clone or not, 3Dice's last two releases have been clones so I wouldn't put it past them, although this does feel like more of a homegrown effort and a bit more '3Dicey'.
It's a 243-wayer with naff all going on in the base game, in four hours of play best it managed in the base game for me was 69x, there do appear to be a decent number of stacked symbols and wilds going on in the base game so I'm sure it can hit decently, but I didn't see anything of the sort, and tired of it quite quickly, and after an hour just left it running in autoplay whilst I was doing other stuff, or not even in the room - and turning my attention to it when the feature came in.
The wild symbol (a big orange sun) is also the scatter symbol, 3-4-5 scatters award 8-10-20 free spins respectively, and then it's off into the free spins round which takes place at night, the sun turns into a moon, and any win with the chap symbols that includes a wild, turns that chap symbol into wilds for the rest of the round as werewolves. The idea is to get the reels 'fully evolved' so that all four chaps are wilds, and they're all stacked too, to make lots of nice way wins. The ultimate goal would be to get full stacks of all the top paying lass symbol, which would be 2430x stake for a single spin.
Also, every time a chap changes into a werewolf, you get an extra free spin.


So these are the symbols that can be turned wild in the free spins round.

And these are the (higher paying!) lass symbols you want them stacking up with to make as many way wins as possible.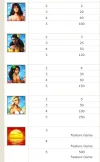 The key thing to note here is that
zero pay spins in the free spins round don't use up a free spin
, only wins will increment the free spins counter, so the 8 free spins round for example, will routinely last for 15-20 spins.
Honestly, it's quite a nice little hook and I find this bonus round very enjoyable, I've only managed to get the reels fully evolved once so far, (results shown below), and some rounds are stinkers with no evolving happening at all, and a load of piddly wins using up all your free spins, but it seems to have a decent spread of pays and even just getting one or two of the symbols evolved into wilds can land some reasonable pays.
Feature frequency feels sensible, I'd guess it's in the usual sort of 3Dice range, albeit perhaps up at the higher end, maybe 1/160, 1/170, something like that. Most it's wanted so far is 494 spins which rather annoyingly fell 6 spins short of getting me the Patience award this month (£25 NDB on a 1xWR).
Overall I like this one, certainly a lot more than Dice Fusion which I haven't played with real money since it bounced my arse all over the place (as documented in its own thread), and also Legion which I found myself unmotivated to play once I'd hit the 1000x win, with only the 3500x win left to go for, and I didn't fancy my chances of that.
Do be aware though that a feature drought on this game could get quite painful on the balance, as the base game is pretty stingy in my experience so your balance will only be going one way if those features aren't landing, and even then, some of the pays can be pretty miserable in the feature too.
Here's my best result so far, basic three scatters trigger but I managed to get the reels fully evolved, so nice to see it can happen from the basic trigger.
Round finished at 425x, I'd had a 300x round a little earlier too, so not bad going at all.