Joined

Dec 5, 2013
Location
I was really close to calling it a day because i could barely hit 10x in past month or two. I finally decided against stopping alltogher and instead decided to play like i used to before and live long and happy lowrollers life once again.
So a few days ago i decided to take deposit 10 get 100 free spins on casinoluck. Cashed out $280. A few days earlier i took hellocasino deposit $10 get 100% bonus plus free spins on Flowers. Cashed out $300. This sunday deposited $20 without bonuses on
Slotsmillion
. Im currently sitting at $420 there, havent cashed out yet because i used cool off for 7 days as bonanza wasnt working and i really wanted to play it

Today, $10 deposit at Quasar lost

, deposited another $12 and cashed out $260. And last one this night, i deposited... wait for it... $7 on site named Bonanza (its real lol) and im sitting at $210 there right now (their whole network of sites kinda died so yeah).
Ive had good and bad patches before but honestly its like playing different game when playing at 1c-2c denomination ... sure it could be just a strike of incredibly good luck and im not really complaining but hitting 10x on $1 bet was something that wasnt happening all that often, and ive had ... 1100x, 1700x and just now 880x hits in span of like 4 days. Oh yeah i totally forgot i also hit another 5 diamonds in bdba on 18 cents bet, my 3rd on hellocasino only. I guess im at that point where i dont remember 833x hits anymore that are just few days old

screenshots incoming here, oh and im just posting really big ones, hell after first few cashouts i havent even bothered with 200x or so screenies

for some reason screenies end up being smaller but they are still readable though. Its not even that i played that much, as those were almost all my deposits over past few days and i dont play that long because i get bored easily. My modem does have dynamic IP though so maybe i got one of those scanidinavian ones by mistake... i better make sure it doesnt reset any time soon

Bdba, my 6th diamonds line ever, 3rd on hello casino (sorry hello guys)
Slots Million Magic mirror Deluxe hit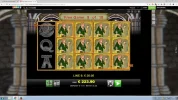 And tonight, first at quasar a few hours ago. game i played for the first time too
Rise of Ra, 5 scatters in free spins for 1,500x
and just now
Chimney Sweep (LLC clone) - 195 free spins (?!?!) 0.20 bet - $176
There are other screenies but nothing this extreme and it really feels unreal to be getting so many big hits in such a short time. Just thinking out loud, i had 1700x hit on quasar at 10pm, and 2hrs later i had 880x on another site

I literally had 2 losing deposits out of 7 and one of those i could have cashed out if i werent too greedy

I know stakes shouldnt matter and in theory they dont matter (?) but its gonna take something really special to make me bet over 50 cents ever again

Either that or i was cursed in a good way