Spinning in the Great White North
mm1
Joined

Apr 19, 2018
Location
Received what I believe will be the first of many notifications from online casinos stating that they will no longer allow Ontario residents to deposit.
With the new Ontario license I assumed there would be some changes but really didn't expect casinos to block us.
Anyone eise from Ontario receive any of these messages?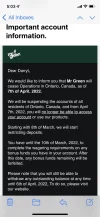 Our complete list of bluntly honest casino reviews
here.
Last edited by a moderator: