Joined

Jan 28, 2016
Location
Been getting a ton of spam from
LeoVegas
recently, another casino who seemingly aren't that bothered about stopping spam.
<snipped URL>
Got that email tonight, really good spam seeing as Cheltenham finished 2 months ago, but at least it has a LeoVegas email address on so you can see who devised the mail.
Now, why do I say they aren't that bothered about stopping spam?
Heres the screenshot of the email tonight, check the sender.

Now heres a screenshot of an email I forwarded to LeoVegas support a month ago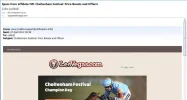 I was assured by live chat they would stop this affiliate emailing me (by Francesca) and despite me not wanting to, used the unsubscribe button on the email after being asked to by Francesca. Here is the reply from LV support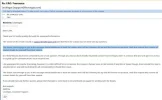 So
1. I have not subscribed to this spam as far as I am aware, although it is a very old email address and has probably been scraped at some point.
2. I used the unsubscribe button, clearly doesn't work]
3. Told by live chat and by email they would get me removed from the list, they obviously didn't.
Am getting loads of spam for these at the moment, but this is the first one I could prove is complete spam. The fact LeoVegas have asked the affiliate to remove me, and I'm still getting the emails, should prove to them without a doubt it is spam. Have sent James a link to this thread.