Joined

Jan 28, 2016
Location
@Mr Green-Redbet_Customer supportRep
@EveBgo
also Paddy Power and the shite InTouch games if anyone is looking in
WTF am I getting 100's of email from one of your affiliates for? All to stolen email addresses in previous security breaches.
All spam should be opt in only now, so presumably you will be able to supply the proof of opt in if I give you the email addresses, seeing as any reputable casino pre-approves any mails going out?
https:// 123casinos . com/
BGO, PP, MrGreen no terms and conditions as required.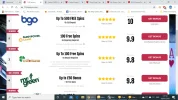 And heres a small selection of the emails I'm getting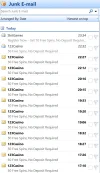 That is just in the last 6 or 7 hours, I've already deleted over 150 from the past 2 days
The shite casinos who don't have reps will be getting informed by way of the ASA.
Please supply legitimate opt in from me for EACH email account they are using, my domain can be sent by PM if you want it. You have until Monday before I contact the ASA and make sure I don't get any more. Presumably you will close their account for this so they won't need to send more emails any