Complaints (PAB) Manager, Forum Co-Moderator
Staff member

Joined

Jan 20, 2004
Messages

23,386
Reaction score

15,976
Location
The complaints system is now GDPR compliant and back online.
Ok, so, we've had a few growing pains setting up a new Complaints system to work within our new forums but we've finally got that sorted.
(for those of you that are wondering our Complaints system is officially called Casinomeister Player Arbitration, or PAB for short).
The new system is based on Tickets, like you see in most customer service facilities across the web.
Here is the "new and improved but old fashioned" procedure for submitting a PAB:
The first step is easy peasy: click the "Submit Complaint" tab in your nav bar:

Read all the good and highly informative stuff on that page --
please don't ignore the PAB Policies & Procedures
-- and when you're ready to give us your details click the link at the bottom:
Now you're looking at your Tickets page. Any Tickets you've created before are listed there but we're interested in creating a new one for your new PAB:
There are, or will be, several type of Tickets but we want to do a PAB so select "PAB: New" from the drop-down box:
Fill in the info requested and at the bottom there's a text box where you can describe the problem you are having: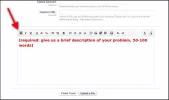 Finally click that "Create Ticket" button at the bottom and -- if all is well -- you're done!
Let me anticipate something that many of you are likely to encounter: an error pop-up complaining about too much text in the problem description area:
The bottom line is that text box is enforcing a 500 character limit -- roughly 100 words -- on your problem description. We've always asked that people provide BRIEF problem descriptions, hopefully the text limit here will help encourage that.
Finally, you'll see that there is an "Upload a File" button at the bottom.
Please don't.
If we need further material from you we'll ask for it.
Ok, that's pretty much it. Needless to say if you have any questions, concerns or problems please don't hesitate to say so here.
Last edited: