To start with, NO, I'm not a newbie and I've already paid enough money to learn and have been gaming online for about 20 years
and know a lot of good things but also a lot of crooks in the industry
But back to Dux
, I have already deposited a few thousand euros at the casino, which is why I put the casino on hold for 6 months a year ago.
And it's not about high profits, no, it's more about the principle
and about business conduct there!
Better what happened to me about
an hour ago!
So I deposited around 100 euros again and almost lost it
At the last 5 euros a window pops up about the
Drops and Wins
promotion
from Pragmatic Play (in gold blah blah
congratulations you won 20 euros
)
I thought, look at many casinos I played games with the promotion,
but that was the first win..

So far so good, but these 20 euros were not credited to me...!?
So contacted the chat..!
The first English-language chat simply ended after I described the problem!?
simply leave the chat and let me alone!?


So contacted again via German in my language!
And described the Problem again:
So the Drops and Wins prize was won in the game about 10 minutes ago and I'm even listed as the winner in the prize list
(I also uploaded this screenshot twice into the chat)
And that the whole thing happened with around 5 euros left, which I then gambled away before I contacted the chat ecrt...
But the succinct answer
(despite the fact that I still appear on the list as the winner!)
and I have given all the information about it -..
The succinct answer:

We're sorry we can't pursue your request any further because I didn't give you enough information..!???

WTF?
What more should I give than all the data and screenshot that happened 10 minutes ago but not credit for the promotion won..?
That's the bottom line, first congratulations and then yes, sorry. You're not giving us enough data..??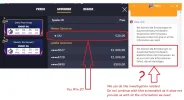 Excuses and fraud and that when they had already collected so much money from me because of a ridiculous 20 euro profit
deny this (claim) and wish you a nice day??




What happens there if you really win something bigger if you get ripped off for 20 euros?




CAUTION: I can only advise everyone against this and tell them to give this casino a wide berth!
Last edited by a moderator: