Megaways Remakes: The Future Of iGaming?
By Alex Smith Mar 6, 2022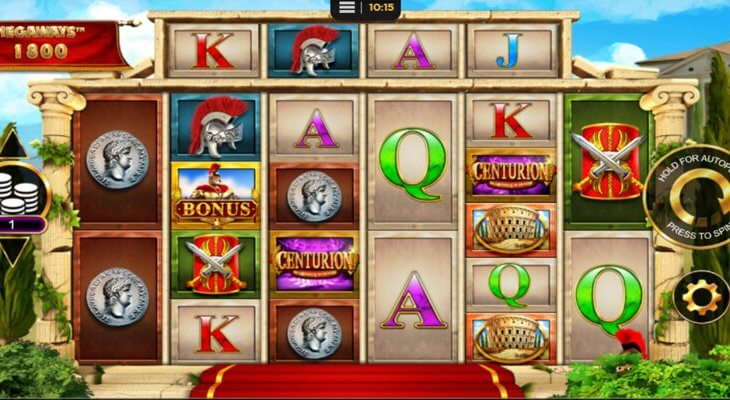 It's fair to say that Big Time Gaming's Megaways game mechanic has changed the face of online gambling as we know it – and there's a good chance the technology will influence the design and development of both online and offline video slots for many years or decades to come.
We first saw the Megaways game mechanic used in Big Time Gaming's own slots – Bonanza, Dragon Born and Kingmaker are some of the better-known examples. It wasn't long, however, before the Australian developer started to license out the technology, allowing other game studios like Blueprint Gaming, Relax Gaming, Red Tiger, Fantasma and Stake Logic to release their own Megaways games. It's clear the ultra high variance nature of many Megaways slots is proving popular with players – so really, it should be no surprise to see that now, software providers are releasing Megaways sequels to some of their most successful and popular slots!
Today, we're going to be looking at some of the more notable of these "Megaways remakes", looking at what makes the games different, what you can expect when playing them for yourself – and we'll finish off with a look at what the future may hold for both video slots and Megaways games.
Eye of Horus Megaways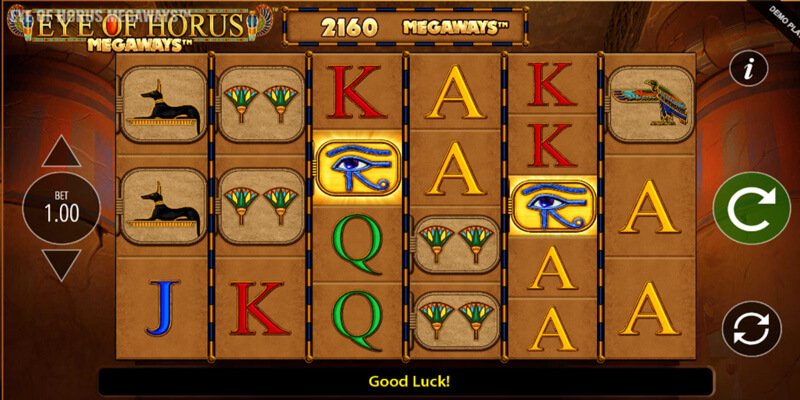 Eye of Horus is a video slot from Merkur Gaming – and it's long been seen as one of the most successful slot machines at both land-based casinos and online casinos. The online version of Eye of Horus is often delivered by Blueprint Gaming, and they decided to release a Megaways version of the much-loved game, offering players the chance to win up to 50,000X their stake on a single spin!
Design wise, Eye of Horus Megaways looks almost identical to the original, with the backdrop, audio and animations remaining the same. The only notable difference at first glance is the fact that there are six rows and a varying number of reels. However, the game doesn't use the full 117,649-ways-to-win Megaways mechanic. Each reel can contain between two and five symbols, leading to a maximum of 15,625-ways-to-win on every spin.
The bonus round is where the game's supposed win-potential lies, and the symbol upgrade feature works in the same way as the original. It sounds great – in principle – after all, the Megaways mechanic would make it possible to land near full screens of the top-paying symbol, right? Unfortunately, it appears as though few players have managed to unlock the advertised potential of Eye of Horus Megaways, and it looks to be one of those cases where you simply can't beat the original.
Medusa Megaways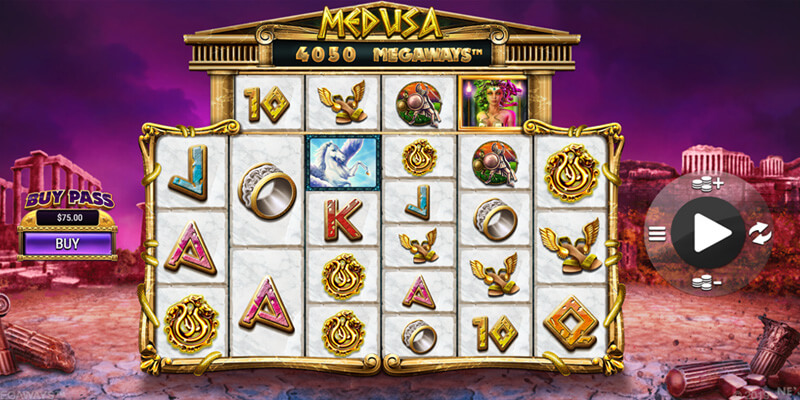 Medusa is one of NextGen Gaming's best-known games and as soon as they acquired a license from Big Time Gaming to use the Megaways mechanic they sprung into action to utilise its full potential. Medusa Megaways was the result of this license, and unlike Eye of Horus Megaways it follows a more conventional Megaways format, with 6 reels, two to seven symbols on each reel and up to 117,649-ways-to-win on each spin.
The game boasts a rich array of features, and if you manage to land one of the wild symbols on the reels the Medusa's Gaze trigger may activate. When this happens additional wild symbols are added to the reels, increasing the likelihood of forming 6-of-a-kind wins.
The real money is found within the bonus round, however, which is triggered by landing three or more of the scatter symbols anywhere in view. You'll then be awarded with 10 free-spins, during which a progressive multiplier is active – it increases with each winning cascade. During the bonus, the Medusa's Gaze feature triggers more frequently, and if you manage to land two of the snakes on each side of the reels the Snake Strike feature triggers, transforming symbols into either wilds or scatter symbols. A novel "Temptation" feature is presented at the end of the free-spins bonus too, giving you the chance to either take your winnings or replay your feature in the hopes of winning more!
Return Of Kong Megaways
Blueprint Gaming have been pushing out new Megaways slots faster than players can keep up – and Return of Kong Megaways was one of their first Megaways games to utilise the theme of an existing title; King Kong Cash. Despite Kong making a reappearance, the game's significantly different and you'll find yourself faced with Big Time Gaming's full Megaways mechanic on offer, ensuring there's up to 117,649-ways-to-win on every spin.
The Kong symbols is the top-paying symbol on the board, and lining up a 6-of-a-kind combo awards a payout worth 50X; a similar amount to the top-paying symbols we see from most other Megaways slots.
Return of Kong Megaways' biggest potential is found within the bonus round, however, which is triggered by landing four of the scatter symbols anywhere in view. You'll then be awarded with 12 free-spins, and like many Megaways games there's a progressive multiplier in play; each win sees the multiplier increase by 1X. Furthermore, you'll want to look out for Trophy symbols on the top-most reel. Landing three of these will award an additional two free-spins, and will increase the minimum number of Megaways. It's possible to get the full 117,649-ways-to-win mechanic unlocked, and with a decent multiplier there's some massive win-potential there!
Ted Megaways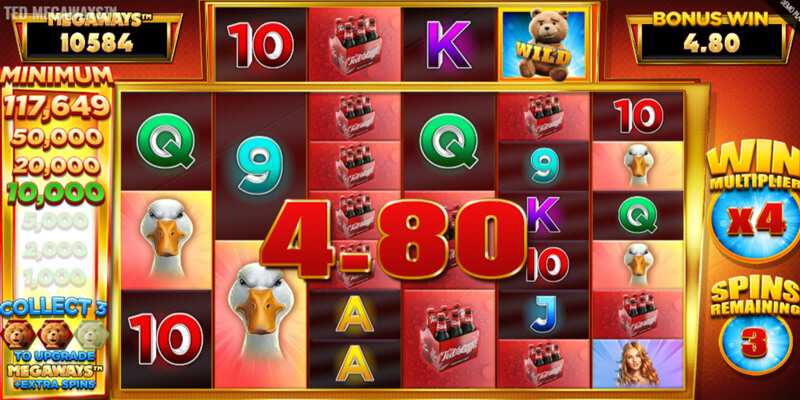 Ted has already proven itself as one of Blueprint Gaming's most popular slot machines, and, based around the move of the same name, it's become a "go-to" slot for many players here at Casinomeister, despite not offering some of the win-potential found in today's more modern, volatile slots. That's one of the reasons why Blueprint Gaming decided to release a remake of the game, once again utilising Big Time Gaming's Megaways mechanic.
Ted Megaways is actually a near-carbon clone of Return of Kong Megaways, and the actual mechanic is identical, both in the base-game and in the free-spins bonus round. There is also a mystery symbols feature which adds a number of random symbols to the reels on any spin, both in the base-game and during the bonus round. Of course, during the bonus round (and especially when you've already built the multiplier up to a significant number) this Mystery Symbols bonus can offer some significant additional win-potential.
Players located outside of the UK will also be able to take advantage of "Bonus Buy" mechanic, where you'll find yourself able to purchase direct entry to the free-spins bonus.
Gonzo's Quest Megaways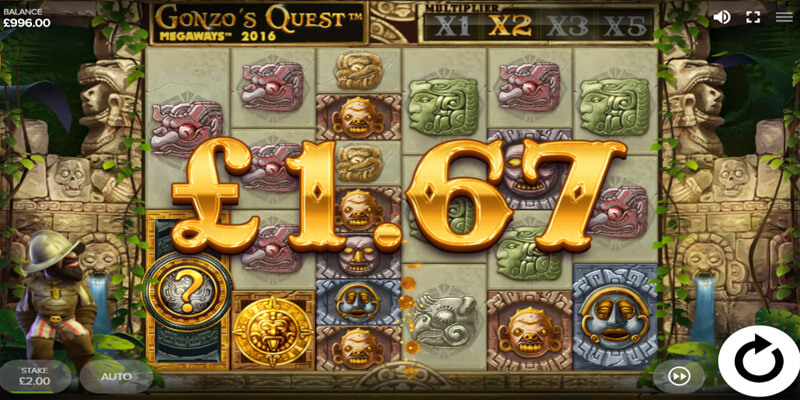 NetEnt themselves haven't acquired a license from Big Time Gaming to use their Megaways game engine, but Red Tiger Gaming have – and Red Tiger, now, as a NetEnt subsidiary, means that NetEnt do effectively have a Megaways license. Gonzo's Quest is one of NetEnt's most successful games in history – second only to, perhaps, Dead or Alive – and it's now available in a Megaways format, released under Red Tiger Gaming's software platform.
Like the original game, Gonzo's Quest Megaways follows the life of an adventurer called Gonzo as he goes in search of El Dorado. The game is pretty similar to the original slot – and you'll find increasing multipliers in both the base-game and the free-spins bonus round – but, of course, the Megaways mechanic ensures that there's plenty more "ways-to-win" active on every spin, greatly increasing the win-potential and ensuring that it's possible to win many thousands of times your stake win on every single spin!
Like the original, it's also possible to re-trigger more free-spins and the wild symbols also play more of an impact during the bonus round, making it much easier to win – and reach that all-important 15X multiplier.
Centurion Megaways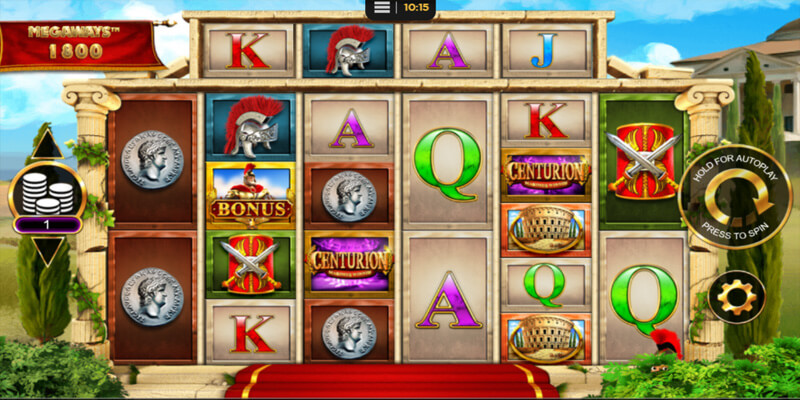 Inspired Gaming are one of the latest game developers to receive a license from Big Time Gaming to use their Megaways engine, and Centurion – arguably their most successful release – is the first of their games to receive the "Megaways makeover."
Like the original Centurion, Centurion Megaways offers a plethora of random in-game features (all of which are triggered randomly) and you'll find that there's a main bonus round too, triggered by landing 4 or more of the scatter symbols anywhere in view. Do so, and you'll be given the chance to spin a giant slider wheel which will award one of six different bonuses. This ranges from the worst one – Prizes on Parade – to Super Wild Power Spins. You also have the option to gamble your features; this allows you the chance to try and reach one of the better-paying bonuses, and a really cool addition from Inspired Gaming means you're actually shown the percentage chance of the gamble coming in, so you have plenty of time to weight up your options from a mathematical point of view.
Are Megaways Remakes The Future?
While some players may roll their eyes at the thought of Megaways remakes, it's clear that they're a likely sign of what's to come in the near future. It's become evident that players are fans of Megaways slots – the volatility alone ensures that there's some significant levels of win-potential, and the game's themselves – when built correctly – can offer some really decent gameplay time too.
However, some players are already accusing software providers of getting lazy – so it's not entirely sure how well these Megaways remakes will actually go down in the long run. NetEnt/Red Tiger's Gonzo's Quest Megaways, for example, appears to be proving incredibly popular with players while others – Eye of Horus Megaways – don't. It remains to be seen as to whether game developers will continue to push these games out, but only time will tell!
What are your thoughts of Megaways remakes? Are you a fan of then – or would you prefer game developers showcased greater levels of creativity and came out with new concepts altogether? Let us know in the comments section – and if you are a fan of the games, let us know if there are any specific slots you'd like to see made in a Megaways format!
Slot Related Articles
If you're thinking of playing slot machines – whether at online casinos or a mechanical slot machine at land-based casinos – then you may have heard about playing and being able to "cheat" these machines. The reality is, to cheat a slot machine, you need to create an ILLEGAL piece of software – and pray you don't get caught. What's more, if you're looking for electronic slot machine cheats, you should be aware that it's virtually impossible to do so.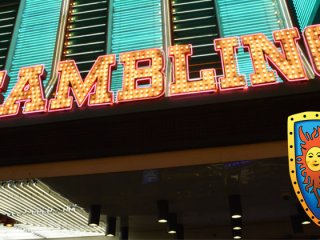 Whenever you play an online video slot, the game will have something known as volatility attached to it. Today, there are more video slots available to play than ever before.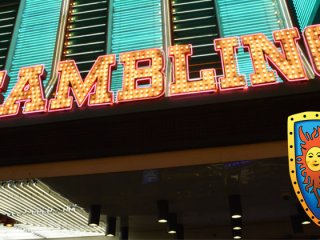 Penny slots are a unique casino game that allows you to play a slot machine for as little as one cent per spin. These games are designed specifically to cater to players on lower budgets, and the coin value per line is usually set at one percent, meaning you only need to spend a few pennies per spin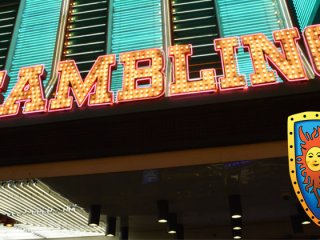 One of the most common complaints that you will see from gamblers online is querying whether or not the casino games and slot games are rigged. This is no surprise – and, especially for newer players – knowing whether or not the games at online casinos are truly fair at random or not, is a valid question.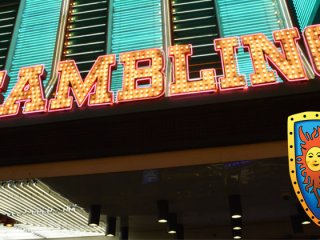 The payout percentage of a slot machine – known in the industry as the return to player (RTP) – is the amount of money that a video slot or land-based slot machine is expected to pay out over the course of its lifespan