Red Tiger Gaming Review
Verdict
Red Tiger seems to be on the up and up. Since this review was originally written a couple of years ago, they have added nearly 50 games. So they are pretty active and expanding their portfolio nicely.
Red Tiger was founded in 2014, by a group of experienced Industry veterans, and has its headquarters located on the Isle of Man. They are mainly focused on both the European and Asian Online Gaming market, and definitely have a knack for Slots: about 97% of their current offering (100 Games) consists of these machines. The other Games they provide are Table Games: Blackjack, Baccarat and Roulette. Aside from producing great Games, they also provide excellent 24/7 support and maintenance for all their partners needs.
They haven't exactly been standing still since they arrived on the scene, as they launched about 25 new Games per year on average, so far! If they keep that up they will have quite an overwhelming amount in no time, to keep up with giants like MG or Netent. Of course if you play a few of them, they do seem to have a lot of similarities, but it's not like they are clones. A big part of their charm, are the various Bonus mechanics: there isn't a single slot that has just one Bonus Game in it – there are always some Randomly Triggered Events, and mostly also two different main Bonuses.
Another feature on their Slots, is the possibility to attach various Progressive Jackpots: there are Daily Jackpots (that have to drop every 24 hours) Rapid Jackpots (that have to drop before reaching an x amount for example 22K), and other 'Deadline Jackpots' – some have even been tied to specific Soccer matches, on  a bookie's site, to have a guarantee of going off before the end of the match! Pretty fun addition if you ask me – at least for those punters that appreciate the added thrill of a possible Jackpot.
It's obvious more and more Operators are implementing their Games, and the software provider has already won the EGR Award for 'innovation in Slots provision' in 2017 and has also been shortlisted for this year's Gaming Awards. On the forums you won't find all too many screenshots of Big Wins yet, but some of our resident streamers have featured a few of their Games – one can only assume that their popularity will increase significantly in the coming years.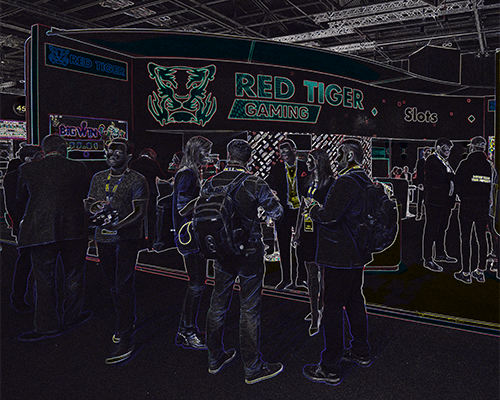 Red Tiger Gaming – Games
As they are still fairly young, their Games haven't had a lot of exposure as some of the other well known providers, but most people that do try their Slots, will easily remember them, due to their captivating 2D and 3D graphics, and immersive feeling: this is mostly achieved by the Random Features, which can tease, as well as please. In the Game 'Jingle Bells' for instance, you'll see Santa's head popping out of the side of the slots framework, peeking right at you, to either quickly disappear again, or enter the main screen with one of various Bonuses – it can also tease you, then appear to trigger a Bonus, to then still disappear after all. It can be great fun, but also quite annoying if the latter happens too often. It is definitely refreshing, compared to just the old fashioned 3 scatter triggers – and Red Tiger Gaming offers both, and then some!
Their Table Games don't really stand out much, but they do look nice: one notable difference with a lot of other Table Game providers, it that the software allows for up to 5000,- to be placed on a single number, which is quite rare – especially Online. For now it's only Roulette, Blackjack and Baccarat, but i'm pretty sure we'll see this section expand sooner, rather than later.
Some of their most popular Games include:
Dynamite Riches
Jingle Bells
Puss'n Boots
Rainbow Jackpots
Lucky Halloween
Golden Temple
Wild Wild Chest
Three Musketeers
RA's Legend
Snow Wild and the Seven Features
Lucky Little Devil
red tiger gaming casinos
Pros
Graphically awesome Slots, that are feature-rich and have enticing gameplay

Global coverage in terms of Languages and Currencies supported

Available in most Countries, and on all platforms
Cons
In-game teasers can become quite tedious when on a bad run