By Alex Smith Apr 12, 2023
Reel King Review
Reel King is a video slot from Novomatic that's pretty much as basic as it comes. The game's simplicity, however, hasn't prevented it from becoming one of the world's most popular online (and offline) slot machines, and it can be found at hundreds of online casinos, as well as within arcades and bingo halls throughout the world.
In this Reel King slot review, we take a look at why the game's become so popular, and we'll dig into what you can expect when you play Reel King for yourself.
| | |
| --- | --- |
| Software | Novomatic |
| RTP | 94% |
| Paylines | 20 |
| Reels | 5 |
| Min Bet | 0.20 |
| Max Bet | 40 |
Which Online Casinos Play Reel King?
Winz.io Casino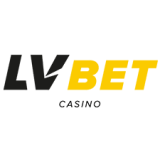 LV BET Casino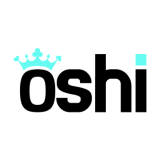 Oshi Casino
Overview
At first glance, Reel King fails to leave an impression on most, especially new customers and players who may have become used to seeing the snazzy nature of many games available to play online today.
For example, the slot's graphics are as basic as they come, with the game giving off a fruit machine vibe. Yet despite all of this, it's one of the most successful releases we've seen from Novomatic, thanks to a couple of bonus features, both of which help make the slot game what it's become today.
Please note that this slot review looks at Novomatic's version of Reel King. Inspired Gaming has now received a license to build Reel King slots, and we're not talking about the free spin version of the game. Instead, we're focusing on the original, classic slot.
So, how is Reel King structured?
The game is built around a 5-reel, 3-row format, and there are 20 paylines in play. Depending on which version of the slot you're playing and the casino you're playing at, you may be able to adjust the number of active paylines, although this isn't guaranteed.
Reel King isn't a ways to win game (even newer versions of the slot don't use a ways to win mechanic). Wins are formed by matching winning combinations from left to right across the reels.
Betting and Game Options
All players who choose to play Reel King will be able to wager as little as $0.20 credits per spin. Like with most games, there are a lot of different stake options, ranging all the way up to $40!
The new Novomatic user interface now makes it easier than ever to select your preferred stake, too, and this is thankfully offered at most casino sites you'll come across today.
Whether you play the slot from your desktop device or mobile (including mobile phones and tablets), the new user interface is easy to use and navigate. It makes it easy to select your preferred bet amount.
Most versions of the game offer an autoplay function, allowing you to set up to 100 spins to play out automatically. You can choose to stop the autoplay function when the bonus triggers (or when you hit a certain payout from the top-paying symbols), and, again, like most games, you can also set loss limits and maximum win limits.
The new version of the slot, while not changing the bonus or anything else, also allows you to customize some of the in-game settings. Novomatic has done a really good job with ensuring the user interface is easy to use, accessible — and player-friendly!
RTP and Volatility
Unlike many video slot machines today, Reel King doesn't rely just on the bonus features to award wins. The base game can produce some pretty decent-sized wins, regardless of what symbols are involved with the win and without the need to trigger any bonus spins. (For the record, this original version of Reel King doesn't actually offer any bonus spins.)
The game's volatility comes in at low-to-medium, with base game wins in the online slot quite common and symbols tending to line up regularly. You just need to land three or more matching symbols on an active payline in order to form a win.
Unfortunately, Reel King has a lower RTP than we'd like to see, coming in at 94% when it comes to the game's RTP. This may turn away new customers and players, but it's not the end of the world in the grand scheme of things. With the game's max win set at 1,000X your stake, there is at least some decent win potential to be found, despite a lack of features!
Symbols and Payouts
There are a fair few symbols in Reel King. There are seven symbols in total, with Novomatic choosing to include both Royals (like 10, J, Q, K and A) along with some higher-value symbols, like Cherries, Plums, and the Jackpot Symbols.
It's the Jackpot symbols that award the highest payouts, with a 5-of-a-kind combo awarding a payout worth 50X your stake. As mentioned earlier, winning combinations are formed from left to right.
This popular online slot also has a wild symbol, and these wild symbols can be used with any adjacent matching symbols to help form a win. They can appear on every spin, although they don't appear stacked across the reels, unlike the jackpot symbol.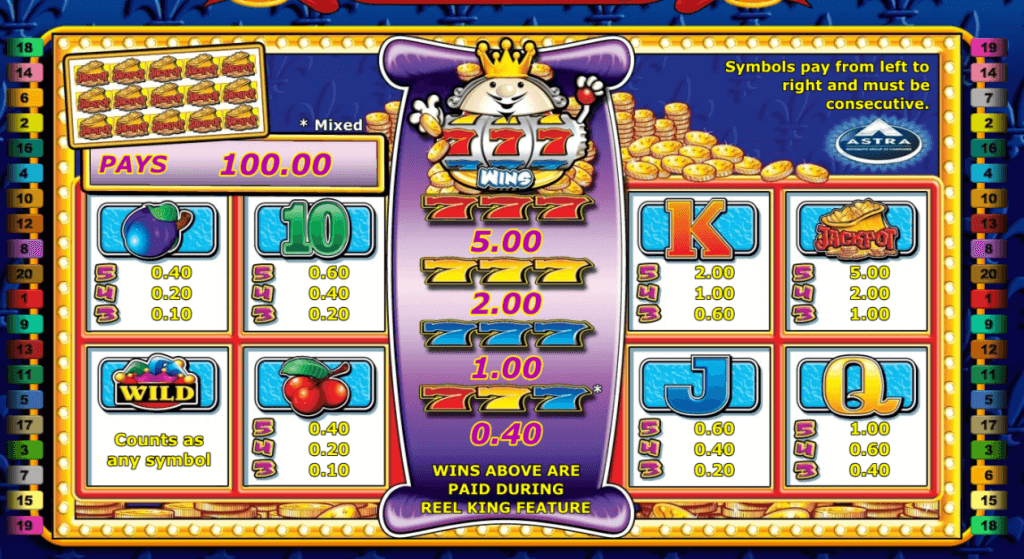 Bonuses and Features
The main Reel King feature is all about a mini slot round. However, another Reel King feature is the gamble ladder, something that's become a famous component of the slot and something that's become one of Reel Kings' most popular bonuses. Below, we look at what Reel King features have to offer and what you can expect.
Mini Slot Feature
The mini-slot feature is triggered by landing a "ding" on all of the five reels. When it happens, you'll see between one and five mini slot machines pop up on your screen.
Of the mini-slots will spin, awarding payouts worth 20X your bet. These mini-slots continue to spin until no matching combos are formed, at which point your total win per spin is added up and added to your balance.
This popular Reel King feature triggers quite a lot. If you're lucky enough to land five of the mini-slots when you play Reel King for yourself, you stand a good chance of winning the maximum win per spin (without gambling), which is 500X your stake.
Gamble Feature
The gamble feature is something that Reel King has become famous for. It's possibly even more famous than the main Reel King feature — something the game developer probably didn't envisage when they first built the slot!
Upon forming any win during the game — both in the base and in reel Kings main feature — you can choose to gamble your winnings. This is done on a 50/50 ladder, and it's possible to win up to 1,000X our stake here if you make it all the way to the top. So, there is some pretty good potential on offer if you're willing to take a punt and try to make your way up the ladder.
Our verdict
Maybe you're looking to play Reel King and want to enjoy the original version of the game (without a free spins bonus). Novomatic's original Reel King slot is, thankfully, still available at many online casinos, despite the slot aging and being put up against many other games.
The original charm of Reel King is hard to beat. The regular "dinging" feature and an exciting gamble ladder feature make playing Reel King quite fun — and unpredictable at times.
What's more, with the "dinging" feature in the Reel King slot triggering quite often, you shouldn't have to wait around for long to begin seeing action. While this feature doesn't always produce decent wins, you can enjoy a pretty healthy payday if you manage to get four or five of the scrolls out.
If you're looking for something a bit more modern, then you may want to consider playing the Reel King series from Inspired Gaming.
Inspired Gaming actually received a Megaways licence. So, there's now a Reel King Megaways game, complete with a free spins round and Big Time Gaming's Megaways mechanic in play.
Still, the original Reel King game is an exceptional option for those who don't want to play Reel King Mega nor care about a free spins bonus. However, be sure you choose the right slot, as there are so many Reel Kings out there today that it can often be hard to find the original!
Reel King Review FAQs
The Reel King feature isn't a free spins bonus, and there are no Megaways involved. Instead, it's triggered when you land all five reels with a "ding." Some mini slot machines will then appear (with three reels, not five reels), with each mini-slot awarding wins of up to 20X your stake.
There are a ton of other Reel King slots available to play. For example, Inspired Gaming created a Megaways version of the slot. Novomatic released a free spins version of the game, a slot that, unsurprisingly, offers a free spins round.
Many players favour the free spins version of Reel King thanks to the fact that, well, there's a free spins bonus. But if you're OK without a free spins bonus, then the original Reel King should be more than sufficient for you!
While this depends on the casino in question, many online casinos now allow you to use bonuses offered to new players on Reel King. These include the original version of the game, the Megaways version, and the free spins feature of the game.
Be aware that most bonuses from casinos carry wagering requirements, and there may be max-win rules in place. Similarly, if you're playing the Megaways version of the slot, the wagering contribution may be lower; this is because Megaways slots often have a higher RTP, giving new players a better chance of converting their slots bonus to real cash.
Many bonuses at casinos will also require a min deposit. You can find out the minimum deposit in the terms and conditions.
That depends on where you're playing; most online casinos allow you to stake as little as 0.20 credits per spin; the max bet can be as high as $40.
Remember, some sites may have a lower max bet, especially if you're playing with bonus funds. So, always bear this in mind before playing for real money yourself.
The best paying symbol in Reel King is the Jackpot symbol. Landing a full screen of this symbol will award a payout worth 500X your total stake. (This involves you getting it across from reels one to reels 5.)
When writing this review, we did spin after spin — and didn't get anywhere close. Still, there are videos of players managing to land full screens of the top-paying symbol, so you don't need to land the bonus in order to hit big!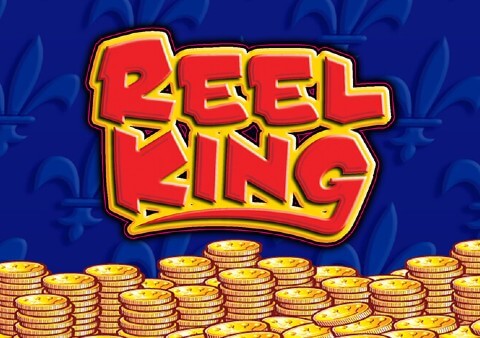 | | |
| --- | --- |
| Software | Novomatic |
| RTP | 94% |
| Paylines | 20 |
| Reels | 5 |
| Min Bet | 0.20 |
| Max Bet | 40 |
Table Of Contents