Opinions Meister!
CAG
mm1
Joined

Aug 10, 2016
Location
Just over a week ago it was my birthday. Traditionally, my inbox is bursting with nice bits and pieces from casinos but this year it was sadly depleted.
Late evening I wondered if the new privacy email rules meant that I had bonuses added to my accounts but had not had the email so I went on a hunt at the top 5/10 places that I deposit and play at. Found 1 or 2 so thought it easier to quickly check with live help or drop an email... asking if they offered birthday bonuses.
These were not begging or pleading messages...just simply a query about their promotions.
Today I was shocked to receive this email from Will Hill: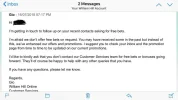 Yes I am an over sensitive female,!who reads into things too much and suffers with a little paranoia so may be over reacting....