Joined

Oct 24, 2018
Location
BLUF
In 100 bonuses, the designated wild symbol was the worst possible symbol 72% of the time and in the lowest tertile 87% of the time, so I can only conclude the reel strips are altered (goes against
@The Reel Story
analysis -
Link
) or weighted against the selected symbol, and therefore symbol selection doesn't matter. Only 3 times in 100 bonuses was the assigned symbol the best possible symbol.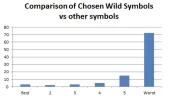 Rationale
Sick of perceiving every other symbol appeared more frequently than the assigned wild, I played 100 bonuses on Wild Flower, and collected the stats in the hope of proving it was patterns my mind had created, and the anecdotal experience presented by players/streamers, had no veracity.
Everyone must've experienced the wild symbol mysteriously vanishing on, DHV, Lil' Devil, Electric Avenue (insert other games whose name evade me) and the worst/most recent culprit, Magician's Secrets, where zero wilds in a bonus is a regular occurrence.
Wild Flower was chosen as; it's a fairly recent game; with reasonable bonus frequency, and ultimately, only assigns the none-premiums as wild (6 possible) so less counting of symbols.
Whilst the number of spins needed to collect 100 bonuses is a very small sample for certain analysis (eg RTP), I think it's enough to prove/or discredit that chance of the wild landing is random, or that every spin is/isn't randomly selected (see Bonanza thread for the error/predetermined assigning of 17 spins before bonus starts when only 4 were awarded, only to then give retrigger in the bonus).
Method/Control
Each bonus was recording so it could be watched back and each symbol counted. Each symbol was counted only once when it fell in a
'unique'
position on the reels, therefore the analysis is actually waited in favour the assigned symbol, as once this landed it obscured the view of other potential symbol drops, with the exception of the enhanced feature where other symbols were visible.
For fairness, symbols were only counted for the original seven spins, so on the few that re-triggered I discounted the retrigger spins. The analysis was simply to count how regularly the assigned symbol showed up in comparison to the other symbols, not how effective the positioning of the symbols were at providing wins. Therefore they may have been times where getting less of the assigned symbols could have resulted in larger wins, eg if all the none wild symbols fell on reels 4 & 5 unable to create wins. However, generally speaking more wilds meant higher x wins (see graph below).

Irrelevant (due to low sample of spins) but interesting stats!
Total Spins – 23,212
Return – +634x
RTP – 102.73x
Enhanced Bonuses – 13 (1/7.7 bonuses – not too much less than the
BTG
stated 1/5)
Re-Triggers – 4 (One was a double retrigger paying 1,504x)
Avg Bonus – 147x (88x if the biggest bonus 1,504x was removed)
Double 8x in Base – 13 (Two were none paying)
Triple 8x – 0 (No surprise, super rare, haven't had any in previous 100,000 estimated spins)
Highest number of symbols in 7 spins – (14 Kings, naturally not the symbol I had but would've paid massive and retriggered 3 times and probably maxed within the 9 spins additional)

Conclusion
The game ran hot and after 69 bonuses I was 2000x up, despite this, on many of the higher paying bonuses the assigned symbol appeared least. I guess this explains why it cannot be random, as it would pay too much, and only the way to taper and achieve stated RTP would be to lower (500+ spins) bonus frequency.
Final Thoughts
I still like and will continue to play the game, but think I've used most of my Wild Flower luck on this run and it will be barren for a while. Never had 1000x bonus on this previously and had two during this run of bonuses.
I cannot now believe each spin is random and independent from the next or that the symbol you get matters, it'll pay when it wants. Something anecdotal from this 23,212 spin experience, was the hot and cold sections of play, eg clusters of enhanced bonuses close together, none for 20 bonuses, then 3 out of 4 were enhanced, something I've experienced previously. Also no double 8x wilds for first 7000 spins then appeared 7 times in 800 spins, then none for 5,000 spins and several close together again. Almost like the RNG server is in happy mode for certain outcomes, or just random being random?