Joined

Jun 20, 2018
Location
Rizk
has been running a promotion on legacy of dead (get free spins at €0.60 and receive 3 extra free spins at €0.20) after triggering the free spins a bunch of times and getting nothing I thought maybe they'll go into my rewards section but they weren't so I read the terms and conditions which said they'd automatically be credited after the free spins. Since they weren't I contacted support who had no idea about much and said he will pass on my message and to expect an e mail.
here's the email I got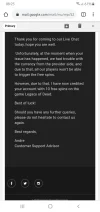 Anyway I thought people should know because the spins can only be used during the promotional period and there are probably alot of people who didnt read the terms or get in contact with chat and thought the spins would be credited at the end of the promotion but instead will end up with nothing.
I can't say I'm happy with the 10 free spins they gave me because I know I got alot more features than 3.1 and they weren't featured free spins, but free's still free.
Anyway, I hope this helps someone, somewhere or rizk gets on top of things but I'm not holding my breath