Staring into the sun
PABaccred
PABnonaccred
Joined

Jan 17, 2014
Location
Ive been playing a little bit here and there but have slowed down immensely but before I basically quit I started tracking BoD battles. I found it to be a good way to see how a game is playing overall since you can see other players stats and compile them. The last 46 battles I have tracked with average of 30 players has yielded approx 138,000 spins and an overall rtp of 73.1%
I know that playngo and other softwares lower their rtp sometimes. Has anyone got word of this slot being tampered with?
I have asked a few streamers for their stats and I dont want to list their names but the reason why I did ask them is they had slot tracker and they openly complained about the game
streamer #1. 21,765 spins rtp of 56.9%
streamer #2 46.807 spins rtp of 79.1% rtp
streamer #3. 54,444 spins rtp of 80.2%
It seems this game has been changed? I personally stopped playing it aside from battles but I did notice a huge decline in play. So instead of just taking my stats I have been taking all the other players.
Most battles look like this
and my stats from using slottracker when I decided to start tracking it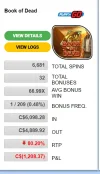 I know playngo and thunderkick have made announcements when lowering rtp of a slot, has there been any announcement of this one?