Dormant Account
PABnononaccred
Joined

Jan 8, 2020
Location
Dear All,
Thank you for allowing me to be a part of this community.
I am new to this forum and just wanted to know if I am in the right place as I require assistance with a casino called Crypto thrills.
I have opened a complaint in LCB bit it is still in the process of being resolved. The live support had asked me to get confirmation from casinomeister forum with regards to the bonuses in question.
I had taken a bonus which was an exclusive bonus not subject to general terms and had a wagering of 40 x bonus with a 5 x bonus amount max cashout.
I have attached one of the bonuses in question with the other one also having the same max cashout *5 x bonus amount.
The casino wanted confirmation that this was a sticky bonus and as per this forum what should have been the max cashout on the bonus.
The thread linked to my LCB complaint is here:
*snip*
Question:
1. Is the attached a sticky bonus ( to me it is as the bonus was deducted upon cashout.)
2. What should have been the max cashout here (to my knowledge it is 5 x bonus amount) as detailed within the coupon.
Please assist in answering the two questions above as they are owing me 900 euro and refusing to pay until casinomeister confirms the above.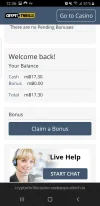 Last edited by a moderator: