Hi Guys and Gals,
It's that time of year again so we present the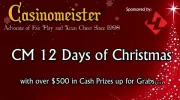 Santa is swinging by CMland
and he's brought his sack full of goodies for all the good boys and girls. But he's a busy guy so I'll be helping out.
We've a 12 day contest ( from 9th December to 20th December) with
YOU
in mind so there's something here for everyone....daily tasks for those who like the challenge along with making it easy for casual participation (it's a busy season, don'tcha know).........
STAY TUNED
​
Last edited by a moderator: