Good(w)ill Ambassador
CAG
MM
Joined

Apr 27, 2009
Location
Hi Guys and Gals,
It's that time of year again so we present the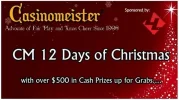 www.allbritishcasino.com
- allirishcasino - adlercasino - norskeautomater - www.nobonuscasino.com -
karlcasino - norgescasino - freespinscasino - svedalacasino - casinocasino -
yakocasino
- www.funcasino.com!
Santa is swinging by CMland
and he's brought his sack full of goodies for all the good boys and girls.
But he's a busy guy so I'll be helping out.
We've a 12 day contest with YOU in mind so there's something here for everyone....daily tasks for those who like the challenge along with making it easy for casual participation (it's a busy season, don'tcha know)
Here's how it goes -
3 times each day you need to listen for the sleighbells (well, in this case, watch for them).
When you see THIS image ...

...I'll be in within the next hr with a quickie challenge.
The first to answer correctly will get to choose a gift
Easy peasy, eggnog-queasy!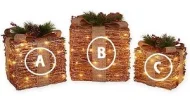 What can you win?
Instant cash prizes are randomly distributed inside so what you receive depends on which gift you choose (A, B or C)
That's 36 chances at an instant cash prize!
And that's not all!
Each person who manages to win a gift box will ALSO go into a draw for the chance at taking home up to an additional
$150


with 0 WR!
So pop in for 12 days of fun this December 9th through the 20th.
_______________________________________
Please be sure to thoroughly read the Q and As and Ts and Cs below:
Q: What's in the gift boxes?
A: Prizes are randomly distributed and include wager-free $5 and $10

Q: Can I play/win more than once?
A: Yes! You can win a maximum 1X daily and a total of 5X during the contest

Q: So I can win up to 5 tickets into the draw?
A: No. Santa wants to insure everyone has a chance at a merry Christmas, so players may receive ONE ballot into the final draw irrespective of whether you've won 1x or 5x during the contest.

Q: Can anyone play?
A: To join in, you need to be at least Full Member status or higher at the time of this post. Not yet a full member? Get posting and paarticipating so you can join in the next contest!

Q: Are these Qs and challenges going to be hard?
A: There's a little something for everyone. Super simple, quickest on the draw to maybe a few minutes worth of thinking, googling or searching.
Any other Qs be sure to ask below.

Those pesky Ts and Cs -
Contest open to any member in good standing with a full member status or higher.
All instant prizes and grand prize allocated to player's casino acct at any L & L brand listed under contest banner.
Don't yet have an acct? Sign up using the links above under the contest banner.
Players can win a maximum of 1x daily and 5x overall excluding final draw.
Players can receive a maximum of one entry into the grand prize draw
Prizes are wager-free with no max cash-out
Please allow 24-72 hrs for crediting.
Please do not chase the rep and direct any questions here.
Winners will be asked to pm Jan with their acct usernames for crediting.
All contest decisions are final.
In the case of possible multiple 'correct' answers it will be the one sought which will be deemed correct.
Have fun!

​
Last edited by a moderator: