Meister Member
webmeister
CAG
I am usually a pretty private person but...
I have had a few personal things happen in my life over the last few years and especially the last few months so I have decided to join the cause and shave off 12 years worth of hair.
You can see my profile and
You can take a look at what the "Worlds Greatest Shave" is all about:
Big thank you to Bryan for allowing me to be able to post this on CM, and to everyone who has taken the time to read this and thank you in advance for your donations.

P.S if we make my goal, I will start it off with a pair of these

: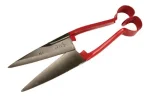 Cheers
Matt
Last edited by a moderator: