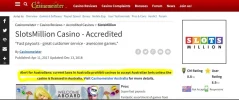 Obviously ALEA Limited don't give a rats to communicate with player concerns as depicted in Jpg.
Slotsmillion
support is a joke. Since November ive tried to have a civil conversation with someone that matters at casino.
Slotsmillion - accredited here, licenced uk gaming commission and Malta.
After speaking on chat asking if I was ok to play here-------Reply---"Yes"
Issue is simply, they accepted $6000 of deposits in 24 hours from Australian (2015) registered account in late November 2018 and when I started a chat convo online regarding a withdrawal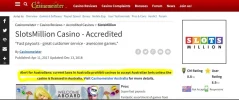 time frame in which my account was blocked without notice and then the avoidance started.
Oh I finally had them call me once after 10 days of emails and chat requests which resulted in "Will get back to you" which never happened.
Then I got onto all 3 reps here at meister, all 3 replied "will look into it" But one reply
Charlotte
was little different. This reply told me that slotsmillion is immune to Australian Laws and that I was in breach of their terms and conditions. Basically that ALEA LTd terms supersede those of AU law/UK GC and that once my 2015 account was flagged as Aussie it was locked. That I was not entitled nor would I receive any refunds, withdrawls , credits or use of any balances. Curious as only Flagged only after I made a second chat query. With another rep insinuating that i may have been using a VPN to bypass their restrictions. Ok, with that response i had some idea were this conversation was going, some!
Which is strange, considering my Australian flagged, addressed account with ozz IP and +61 mobile number hadn't been closed months ago like all other casinos. With the added security of "Yes, There are no restrictions on this account" Chat. Just for record, My ip at time 103.217.167.188 around that range past 2 years. All Aussie Ip.
I thought little of it. Thought some drongo may have over looked some accounts or source code error. Ill contact support and work it all out. Either reopen, refund or withdrawl options. Sort the issue out and move on.
Here on meister they advertise "No Australians" "illegal to accept bets from Aussies" etc etc
Charlotte
Now i haven't initiated chargebacks (Which they cannot win) after request from them , nor made complaints to Uk gaming Commission or a
or a (PAB "ADR") as they are an accredited casino and have a 92% approval rating. And allowed extra time being xmas. But times up.
Yes, i shouldnt be playing there, thats my fault. Yes maybe i should have requested further confirmation. Im legal enough to take deposits from, but illegal enough not to pay back wins.
But they know full well, they are restricted to accept Australian Players, by either MGA, UK Gaming Authority and are non compliant with the Mastercard scheme rules, including their processor.
If they want to continue to play games then ill go them hard, but maybe some sense will prevail.
So now that ive had to go public, maybe a phone call would be on the cards Slotsmillion.
Just to add, complaints tab, Terms and conditions tab and other tabs are blocked for Australian Ips. I couldnt read updated terms even if i wanted.
Last edited: