Joined

May 10, 2016
Location
Dear Casinomeister,
There is a newish online poker (recently added sports too) site called Jao Poker, on the Jao Poker Network. If you spend any time on Facebook, in poker related groups, you've likely seen this site spammed up and down the pages all day, every day.
This Jao site is a multi-level marketing disaster waiting to happen. I've never seen MLM combined with a gambling site before, but it's a terrible thing. This company is preying on low information players "offering them a chance to own part of the business for the low low price of $250!." You heard correctly. They are charging their affiliates $250 to join the program and have the privilege of spam marketing their tiny little poker and sports room. It's a travesty if you ask me.
Beyond the MLM marketing and spamming, there are tons of other red flags. For example they have terrible customer support - their largest affiliate, a fellow by the name of Tam Nguyen, routinely gets on social media and curses and berates customers and affiliates. Here's an example of his handiwork: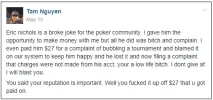 Jao Poker also lifts content from affiliate websites and steals it for their own use in internal documents. They claim to be licensed in Cambodia, but many things point to them running their operation out of the United States, all the while serving American players with games, and using sites like PayPal to accept deposits and withdrawals, as well as creating many fake eCommerce sites in order to accept credit card deposits from unsuspecting players, in clear violation of UIGEA. There are allegations the entire operation was funded through an illegal real estate deal in California, and the list goes on and on.
All that I have mentioned, and more,
<-- we hope Casinomeister staff will read this, investigate, and consider putting out a warning against Jao Network before they have a chance to proliferate any more and cause more damage when the multi-level marketing ponzi inevitably collapses.
Thank you for your consideration,
Professional Rakeback