A little mix of Dutch and Irish
Joined

Jun 3, 2013
Location
Over the last few decades I have been spoiled with some great performances from the Dutch national team with winning the European Championships in 1988 as the absolute highlight.
The Dutch have had their highs and lows in all these years but at this very moment in time the state of the Dutch football is in it's worst condition ever!
Missing the European Championships in 2016 was already a warning of worse to come.
Tonight they have hit a new record low, trailing Bulgaria by 2-0.
Our chances now to qualify for the world cup in 2018 are already slim to none.
And although the players have to do it on the pitch.
This is the real culprit!!!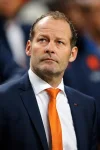 DANNY BLIND! PISS OFF!!!!!!!
But he sits tight on his leather ass as the bobo's from the Dutch FA have no balls to fire him!
Our club football is already dead and buried when it comes to our performances in European leagues but now also the National Team is sinking hard.
We once were a feared opponent, now opponents know they can beat us at any given time.
A shame! A bloody bloody shame!!!
RIP The Netherlands!