Good(w)ill Ambassador
CAG
MM
Joined

Apr 27, 2009
Location
Happy Spring Casinomeisterland -
Contest is now closed.
View the winners list here:
Exclusive - Casinomeister Easter Egg Hunt 2019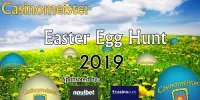 time for another CM exclusive contest
​
and we've loads of goodies in store for everyone A special thank you to our generous sponsors:
novibet casino
Novibet Casino Now Accredited- Casinomeister
and
casino euro
https://www.casinomeister.com/casino-reviews/casino-euro/
Don't have accounts yet with our sponsors? Please sign up using the links above. What It's About:

A 2 week contest broken into 2 parts,

where members can earn tickets for cash and prizes.

Part I

A weekly Easter egg hunt.

Hunt for special CM Easter eggs around the site for your chance

to win cash and prizes

Part II

Daily quickies to grab extra tickets toward the main prize draw

When Is it: Contest will run from April 15th until April 28th What Are the Goodies: $350 Prize Pool $250 Main Draw

courtesy of novibet casino

$100
1st place* $75
Runner-Up* $25
X3 random draws*

Plus -


10 x $10 instant prizes**

courtesy of casino euro


Who Can Play:

Any member in good standing with 10 or more authentic posts before this post date

Don't worry, I'll be in to explain things as we go.

Be sure to always read the instructions regarding hunts and tasks
Some pesky Ts and Cs:
Contest open to all members with 10 or more authentic posts before this post date.
Kindly direct any Qs here or via pm to myself.
DO NOT contact casino reps or live chat regarding contest
Winners forwarded to CM staff for prize allocation
*Main prizes paid in the form of Amazon gift vouchers.
1st prize granted to member who collects the most tickets during the contest period. Runner-up prize granted to member who collects the 2nd most tickets during the contest period.
Random prizes determined by an RNG from all available tickets excluding 1st and 2nd place prize winners.
**Instant prizes paid to player's CasinoEuro account. Ts and Cs apply***
***The maximum bonus you can receive is €10.
- This bonus needs to be wagered 40 times.
You have to wager the bonus within 5 days,
if not the bonus and any accumulated winnings from this bonus will be lost.
- Your bonus will be finished automatically if your account balance goes under €0.10.
- CasinoEuro's General CasinoEuro Ts and Cs apply:
CasinoEuro - Online casino games
Instant prizes have a maximum one prize per any given member per week
Keep it civil and keep it fun. All contest decisions are final.
Keep your eyes peeled here.
Any questions welcome here but I've tried to pre-empt a few below

What are authentic posts?
CM Exclusive contests are a way to reward active CM members. 'Authentic' simply is to avoid any members pumping out posts soley for the purpose in participating in contests. Don't yet have 10 posts? No worries, there will be future CM contests. So get participating!
I don't have an account at X casino.
Please sign up using the links provided in the original post.
Main prizes don't require belonging to any particular casino however for instant prizes you must have a casinoeuro acct.
Aww, this looks time consuming
Not at all. There's something for everyone - prizes for the most enthusiastic along with casual participation. And the more participation, the better your chances and likelihood of bigger and better future CM contests.
How Do I enter?
Watch this space and join in the fun

​
Last edited: