Forum Cheermeister
Staff member
Joined

Jun 30, 1998
Location
Here is an awesome new function that I am sure most of you will use quite a bit: bookmarking posts.
This is for Full Members and above
. (minimum 90 days and 50 posts/50 reaction points).
Ever wonder what happened to that thread that you read moths or years ago? No need to search for them now - just bookmark them.
Check out your user profile and you will see a spot for them - like here:
No bookmarks loaded yet? Simple - just find a post that you want to refer to later - here is the bookmark function: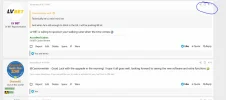 You can comment on it so you know why you bookmarked it:

Save - and now you can find it in your profile:

You should be able to organize and serach these as well. As time goes by, we will be adding more functions to this.
Last edited: