Hello, I have 4 accounts belong BML Group branded casinos. there are Betsafe, Betsson, Casineuro and NordicBet. All has be deposited, and cashout.
They have almost the same terms and conditions, and can be found on their website "within 24 hours to complete the payment" support answer.
About 4 months ago, they start to delay payment one by one. Just like I am make this comment at the same time received the email....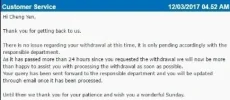 I am not saying they don't want to pay. 4 months ago, they always pay in 24 hours and never crap. I just feel maybe they were changed something else now....
Now, sometimes waiting to receive the money is over 72 hours.
Is there anyone know what different with them?