Always think positive
webmeister
PABnoaccred
CAG
Joined

Nov 24, 2008
Location
Hi though i would bring this to attention. (ps spelled title wrong its Storspelare sorry i manged to change title myself)
I am not 100% sure what rules are for posting something regarding security breaches or similar issues like this.
But i came across a casino called Storspelare with a dot com in end. It seems to be only for Swedish players and Norway.
As it asked for social security number I though lets put my danish in for fun (as it basically consist of birthday and 4 more numbers)
And to my shock someone elses identiy came up on screen with full address and all his private details??
Surely this is totally the wrong way to have registration up? I hope some of you other guys could have a look as I also noted that UK is not blocked it let me all way through registration despite UK ip.
I tried with other random birthdays and 4 digits and loads other personal information came up to my shock.
This is really bad i feel?
Just want someones opinion before i contact the casino or what should I really do? Do they not really deserve to get a punishment?
I have attached a pic just as example when i tried first time have covered up personal details of course.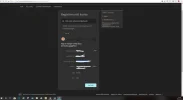 PS update seems it does make a block after several wrong social numbers has been put in. BUT still i feel its wrong to just have that as the first access point on registration and then just show the whole address full name and other information?
Last edited: