Evening.
On 1st December I took part in a promotion at PKR named Midweek Steps. The promotion offered a post wager bonus in multiple steps. Wagering $5000 would see you have $1000 of free bets throughout the promotion. It wasn't clear if there was any wagering on the free bets, but whilst using them, it seemed all winnings from them went to cash balance. Brilliant value offer in my opinion and I went in with $800 straight away.
I've since been on holiday and come back to see that my withdrawal has been cancelled and my account balance adjusted. Is this right..? Can they do this?
Images below.
Promo
My account statement. Wagers are showing as 0 as they were free bets being used.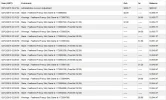 EDIT: I looked for a PKR rep here, no luck though.