So I was a huge fan of this slot thanks largely in part to a $1135 win off a 30c wager, coupled with an unusually high bonus
feature to spins played ratio (as I recall anyway) even if the bonus didn't pay well they were frequent with a potential 6000x
return on bet amount so it was the 1st game I would play every new session.
The game was initially launched on the 07/07/2022 and then suffered a drastic and undocumented rebirth around Halloween
(31/10/2022) that entailed a name change to 'Lady Wolf Moon Megaways' ( the term 'Lucky' is no longer in its title, which,
seeing as it was a Megaways version of Bgaming's 'Lucky Lady Moon' slot, is both confusing and factually correct as the term
Lucky isn't relevant or pertinent here anymore anyways).
- A large reduction of payout amounts ie.. 3 scatter symbols that previously paid $1.50 for a 30c wager
is now $1.00 for 3 scatter symbols for 30c wager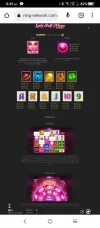 yet the RTP displayed in the pay table is listed at 97% for
both versions.
- The slots icon that appears in a casino's lobby is unchanged from 'Lucky Lady Moon Megaways'
and it's
only once the slot is loaded and ready to play that it suddenly
changes to 'Lady Wolf Moon Megaways'

with some minor subtle visual differences
on the game screen that would probably go unnoticed to the majority of players that have played both versions.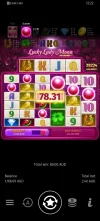 It took a few weeks for the differences to become noticeable to me and it was only the huge reduction in base
game win amounts / ratios plus it's now almost unobtainable bonus feature being triggered that alerted my tin foil hat that there
was yet another online slot conspiracy unfolding in front of me, much to my dismay and disbelief.
(Sorry about the screenshots, some were from a mobile device, others are from an IPad and some might be photoshopped or
maybe even benothing more then a figment of my sad, overactive and uneducated imagination but I'll let you decide).
So in summary ladies and gentlemen of the jury all the evidence is in plain sight, so I'm searching for a feasible and logical
reason why a relatively new slot would receive this makeover, especially intriguing is the lack of information or even
acknowledgement of any changes anywhere on the internet ( well more accurately, anywhere Google looks anyway) so the
answer must simply be that the original 'Lucky Lady Moon Megaways' was awarding significant wins to those players not
entitled to receive them so instead of Bgaming using the Kim Jong-Un method of problem solving by deleting all traces of the
issues existence entirely Bgaming has simply assumed any person dumb enough to spend money on a slot machine won't
have the intelligence or be perceptive enough to comprehend the sneaky underhanded tactics used to seperate a fool from
their money even faster, and especially anyone dumb enough to pay '
extra money for an increased chance of a bonus to be

triggered
' and if not for my investigative undertakings they would have got away with whatever the hell it is I'm accusing them
of.
Always remember that
THE
TRUTH IS OUT THERE IF YOU KNOW WHERE TO LOOK
, provided you don't have anything
better to do that is.
Last edited: