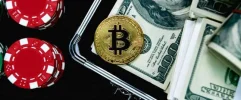 How are you guys?
If you have been thinking about trying to have some fun in crypto casinos but still hesitate, I have a few ideas for you to follow.
There are no shortcuts to gambling success, of course, whether that involves staking with crypto or cold, hard fiat, but there are some simple tips that you can follow that will at least manage your bankroll effectively and give you the best possible chance of succeeding

.
Tip 1: Learn the ropes
If you are a complete newcomer to online
gambling with cryptocurrencies
, then it is essential that you take the time to get to know the various games before you dip into your BTC stash and play for real.
You may even have frequented a casino or two in your time, but we would still recommend making the effort to learn the basic mechanics of the various crypto games before taking the plunge. The rules are the same, but the gameplay tends to be different, and with so much going on, it can get quite discombobulating (yes, that is a word).
There are versions of roulette, blackjack and the like that you may never have played before, and yet in time, you find that you have some kind of edge that makes you a successful player.
One of the benefits of playing at Bitcasino is that you can try all of our games for free before you part with any of your
crypto wallet
. There is no better way to get up to speed with the unique machinations of crypto gambling than this sort of "try before you buy" approach.
Tip 2: Manage your risk
Like the value of the currencies themselves, bitcoin gambling is by its very nature a volatile pastime where your wallet's contents are at stake. An appreciation of the risk, and how to manage it, is key.
One of the old adages about crypto trading is that you should "
never invest more than you are willing to lose
", and this rings true for crypto gambling as well. By only depositing funds that you can afford to lose – because it's a possibility that you might embark on a losing streak, let's face it – you can at least minimise the risk to your bankroll.
As you are probably aware, an online bitcoin casino has a "house edge" that varies from game to game, and this dictates that in the long run, you will theoretically lose money – it's an unavoidable fact.
However, that's not to say that you won't "win" in a particular session or two, and that's where applying sensible tactics in your bitcoin roulette gaming – and adopting basic baccarat strategies – gives you the best possible chance of success.
Managing your risk at the crypto casino is key to a long and successful run at the tables.
Tip 3: Know your enemy
You might think that when playing bitcoin slots, the basic concept is simple: you select your stake size, hit the spin button, and hope for the best. There's an element of truth to that, of course, but in reality, there's a lot more going on with these online slot games than you might otherwise think.
Powered by a complex algorithm, each slot has a Return to Player (
RTP
) rate built into it, and it is this that enables players to play in exactly the kind of environment they want. Low-RTP slots are highly volatile games where players can expect not to win all that often, but when you do manage to secure a winning spin, the payout tends to be a lot higher. These are considered low-return games because there's no consistency to the wins, but when they do come along, they tend to be worth the wait.
In contrast, high-RTP slots are those where wins are far more commonplace, but the downside is that they tend to lack the scale of the payouts on offer in high-volatility games. However, the beauty of this contrast is that it allows players complete freedom to play the bitcoin slots that reflect their attitude to risk and reward. We offer full technical specs of each of our slots, so you can find out whether they are high or low RTP before you start spinning the reels.
Tip 4: Be disciplined
Knowing how to play bitcoin poker and other casino games is one thing, but knowing
when to play
them is quite another altogether.
There are times in life when our decision-making skills are impaired. We may be tired after a long week in the office, we might be sad or angry after an argument with a loved one, or we may be feeling worse for wear after enjoying an alcoholic beverage or two.
These are scenarios in which you should put down the laptop, phone or tablet and walk away – crypto gambling in these moods is never a good idea, as our basic cognitive skills in managing risk and staking sensibly are impaired.
Of course, there's the "bad beat" scenario too. You may be playing bitcoin blackjack, roulette or any other casino games and suffer a tough loss to take courtesy of the dealer – you know the ones.
Guess what happens when you suffer a bad beat? Once again, logic gets thrown out of the window and rationality is impaired, and many players will stake more on their next turn or go all-in.
Knowing when you have lost control is crucial to long-term successful gambling. One session of madness can bring your bankroll to its knees, so if you find yourself in a situation where your discipline has gone, then step away from the casino until you are back on a level plain.
We are keen advocates of a safe and responsible gaming environment, and we want all of our players to have the best chance of enjoying cryptocurrency casino
Old URL
games at their own leisure. Follow the tips outlined here and you won't go far wrong.
Cheers

Karl
Bitcasino.io
Trading cryptocurrencies carries a high level of risk, and may not be suitable for all investors. Before deciding to trade cryptocurrency you should carefully consider your investment objectives, level of experience, and risk appetite. The possibility exists that you could sustain a loss of some or all of your initial investment and therefore you should not invest money that you cannot afford to lose.