There's one of these emails being spammed around for every bank in Canada. I keep forwarding them to the respective banks. I don't even have a Royal Bank account.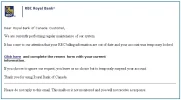 "Dear Royal Bank of Canada customer."
You'd think someone emailing me to tell me that my account information is out of date and requires updating would at least know my name.
Apparently the account I don't have has been locked and if I don't go to some cheesy website and enter all my non-existent banking information the locked account will be suspended. I'm not sure what the difference is but it sounds pretty serious. The next time I get one from my own bank I'd better go fill it out.