Jackpots Heaven Review
Unethical Business Practice
By Casinomeister, Last updated Dec 1, 2023
Casinomeister's Verdict
Avoid this casino at all costs.
First Impression
Software provider: Salus Technologies
Licensing Jurisdiction: Cowboy Town
Mother Ship: Jackpotsheaven.com
Added 22 February 2010
Could it get any worse than this?
Looks like we've spotted the worst casino – ever. This clipshot joint came to light when one of our forum members reported that the software did not seem to be fair. Additionally, other members pointed out that there were some odd discrepancies with the casino's terms and conditions.
The casino claimed to be licensed in Costa Rica. There is no Gaming Commission in Costa Rica that issues gaming licenses to online casinos. Seasoned players know this. Even so, the casino claimed the following in their terms and conditions.
Note the "No. LGA/CL1/272/2006" – LGA stands for the Lotteries and Gaming Authority of MALTA – there is no such animal in Costa Rica. Here is what really is licensed with the LGA using this Letter of Intent number.
So obviously these terms and conditions were copy and pasted; deception of the first degree. At this point, the casino operator joins our forum and posts the following sarcastic remark:
Hi everyone, this is Raphael Taub, I am the official rep of Jackpots Heaven casino. I just want to clear out that we have no affiliation of any kind with Casino riva and the freelancer we engaged to write the terms and conditions and some other pages has apparently chosen the easy way to get it from another site. We have read it many times but didn't see it. I apologize riva about this temporary issue and want to confirm that the irrelevant text has now been removed.
Regarding the randomness of our casino games, we have no doubt about this and we will never allow anyone to run false allegations. Thanks to "winnington" who did his best to damage our casino reputation with false accusations and massive forum posts.
We will publish our casino license in the terms and conditions page shortly to stop any false rumor which would predict that our casino is not real.
Thank you and keep up the good work. Raphael .
Is he thanking us for doing his proofreading? Casino operators who fail to read their own terms and conditions, or at least have their attorneys and managers review them are either negligent or stupid. To blame it on some lazy "freelancer" is total BS.
Members of our forum also pointed out the following:
In addition players can track their wagering and gaming history through PlayCheck, and can review and track their banking transactions through CashCheck.
Playcheck and Cashcheck are exclusively for Microgaming Casinos.
Players also questioned the casino's support via chat on who provides their software. The operator came back to the forum and responded:
If we prefer not to dislose how and with whom we built our unique casino software, it's for ONE reason. We don't want new competitors to purchase it and use the same. Else it would no longer be unique. Raphael.
Well, with a little bit of sleuthing, it turns out that Salus Technologies provides their games. No wonder they wanted to keep this a secret since ST lifted the graphics of a number of well known Microgaming slots. Here are some examples.
Salus Technologies Thunderstruck
Microgaming Thunderstruck
Salus Technologies – Big Kahuna
Microgaming – Big Kahuna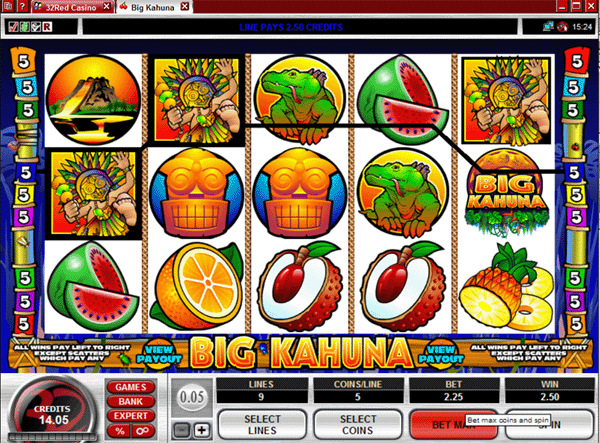 Salus Technologies – Big Top
Microgaming – Carnival (images were lifted from this game, not "Big Top's"
When these oddities were pointed out in the forum, the operator came back with this:
This forum should be full of drunk people because what you state here is completely irrelevant and has nothing to do with the reality of our business. It looks you are never going to stop and you will continue to ruine our casino reputation with false accusations.
The admin of this forum which I believe is located in UK will receive news from our lawyer in UK shortly. You will be held liable for any financial loss caused to our casino because of the false accusations and information provided in this forum thread. Regards, Raphael Taub / Manager (Jackpots Heaven).
Eh? He came back claiming that the members of the forum were being unfair, that using others' text and graphics would be cleaned up, and again threatened legal action. And instead of trying to communicate in a balanced manner, he went on:
Bryan, the OWNER OF THIS FORUM does not want ANY NEW casinos which (he personally thinks are amateurs) to come in the market and does NOT CARE at all whether his decision his FAIR or NOT.
I QUOTE "Casinomeister":
(My suggestion for you is to find another line of business. Online gaming is not where you ought to be. We don't need another CR clip shot joint run by amatuers.)
I am not surprised that you do everything you can to stop us to continue our business because it does not arrange you.
You are an extremely ARROGANT guy who thinks he can decide which casino can stay online and which one can't. Do you think you are a VIRTUAL GOD or what?
You are nothing else than an ARROGANT forum admin who ABUSES from the power of his forum on search engines but you forgot there are also laws against guys like you who don't know where and when to STOP.
Raphael, Manager (Jackpots Heaven).
At this point I had enough of his emotional tirade, and he was shown the door. Since then, other forum owners have been emailed legal threats to take down their "blacklistings" of this rogue casino. Funny, I never got one.
Obviously this guy has a screw loose. I don't abuse the power of the forum – the forum is based on conversations between players, affiliates and operators – and he had plenty of opportunities to address the issues. He was a member of the i-Gaming Representatives group, and the first member of this group banned for flaming others. If the players investigate a casino operation and post their findings, it's up to an operator to rebut or confirm these findings. Instead, this operator resorted to name calling.
There is nothing arrogant or abusive about giving members of the forum freeedom to post information. The information posted is relevent, objective, balanced, and damning.
Avoid this casino at all costs.
Rest of the story and more screenshots are here. RTG and Playtech games are also victims as well.
Top 5 casinos
BANKING AND PAYMENT METHODS
Withdrawal Speed
Casino Facts
| | |
| --- | --- |
| Is this casino certified at Casinomeister | No |
| Payout time | 48 hrs |
| Reverse time | 48 hrs |
| Weekend payouts | No |
| Locks withdrawals | No |