GoldVIP Club Review
Black Hat SEO recruiters - spam dweebs
By Casinomeister, Last updated Jun 10, 2023
Casinomeister's Verdict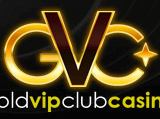 First Impression
Software provider: RTG
Licensing Jurisdiction: Costa Rica
Added 22 July 2008
Sleaze marketers…
Black hat SEO (Search Engine Optimization) is the scourge of the Internet. Simply put, these are webmasters who will use deception and devious tricks in order to get choice web page rankings in the search engines. Any webmaster worth his or her salt will avoid these optimization techniques at all costs. Why? Because it's dishonest and deceptive and it hurts the websites that actually bring quality content to visitors like you. What do black hat SEOers contribute to the Internet? Near infinite pages of blog trash, site scrappers, spam, spam, and more spam. Crap that pollutes our cyber environment. Blackhat SEOers are the "bottom feeders" of the Internet.
What is worse than the bottom feeders? Well, it's the ones who do the feeding, the companies that recruit these misguided techno-geeks. GoldVIPCasino is one of the companies – a casino that has abandoned its good sense and scruples and openly seeks to do business with Black Hat SEO.
From http://www.blackhatworld.com/blackhat-seo/introductions/1553-hello-welcome-me.html: Black Hat SEO Introductions…
And further joining in a conversation about targeting US players: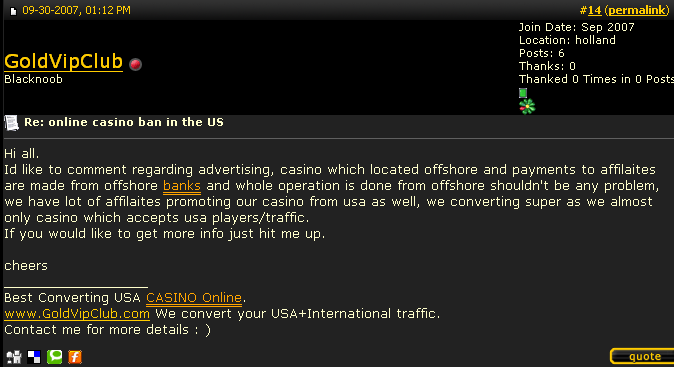 Recently at CAP (CasinoAffiliatePrograms) a thread appeared where webmasters expressed their displeasure at finding a casino openly recruiting Black Hat's. The affiliate manager's response was both arrogant and misguided. Here are two examples from this thread: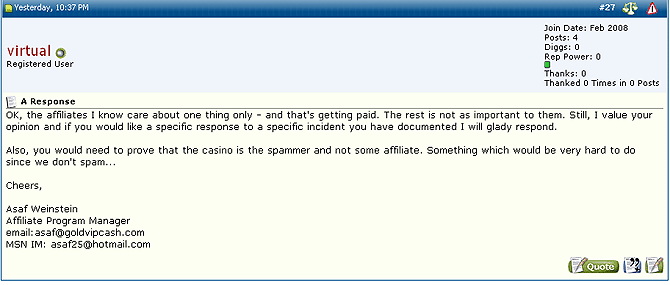 When accused by user KWBlue, webmaster of Affiliate Guarddog, that this casino did indeed try to recruit Black Hat SEOers, the affiliate manager denied this.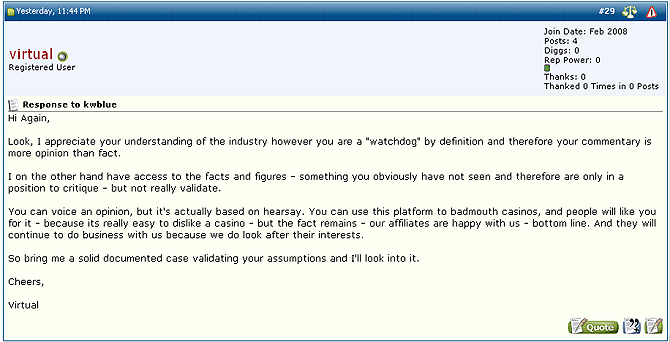 So I guess these assumptions regarded another GoldVIPCasino.com….
Nevertheless, this casino has a way with dealing with players who don't like spam. Posted here in our forum:
SICK RESPONSE FROM GOLD VIP CLUB CASINO RE SPAM
Well, after months of complaining to the casino about their affiliates spamming me, I wrote to them and threatened that I was going to post reports on any and all sites that I could find that dealt with spammers, and WHOA, just read this response I got from the so called manager/owner of GOLD VIP CLUB CASINO!!!!!! It is shocking. Any advice??????Hello ******,Your pathetic little threats don really phase me. LolJust so that we are both on the same page, all your child porn photos that you freely swap online have been forwarded to the proper South African authorities.Your name has been put on the international pedophile watch list. Im sure you will receive contact from all the numerous watch dogs thatMoniter the net for sick discusting people like yourself.Anyway enjoy the controlld caos that I so kindly created for you.
Best Regards.
Jason Armist
Manager
Gold VIP Club Casino
Welcome to roguetown.
Avoid this casino at all costs.
Top 5 casinos
BANKING AND PAYMENT METHODS
Withdrawal Speed
Casino Facts
| | |
| --- | --- |
| Is this casino certified at Casinomeister | No |
| Payout time | 48 hrs |
| Reverse time | 48 hrs |
| Weekend payouts | No |
| Locks withdrawals | No |
This casino is unavailable to you. Please see other options