Betvoyager Casino Review
"Unethical Marketing"
Overview
First Impression
Software provider: Betsoft and Gamesys
Licensing Jurisdiction: Curaçao
Parent Company: Gamesys N.V.
Associated Casinos:
www.betraiser.com
www.betcruise.com
www.betliner.com
You are what you eat – eat what you are…
What is worse than spammers? Those who orchestrate and encourage it, that's who.
It seems that someone at Betvoyager had a self-perceived Einstein epiphany when he or she thought "Hell, why pay for advertising? Let's have a tourney and require that our winners boast about their winnings in the fora in order to get paid." Obviously, someone was doing too many bong hits at that meeting and gave it a "go".
BetVoyager Tournaments
BetVoyager opens a series of tournaments with unprecedented conditions and a growing prize fund. Throughout the year players can enjoy mind-blowing prizes and adrenaline-boosting competitions. Anyone can be a winner, so hurry up and register in the upcoming Goldfish Bonanza Tournament with a €30,000 prize fund! Do not miss this unique opportunity!
To dismiss any doubts which players may have, the winnings can only be received upon one condition: the winners must make a publication regarding their win in the BetVoyager tournament.
The links to all the publications will be available on BetVoyager site.
How to receive tournament winnings
The amount of winnings is credited to the player's account strictly after he has made a publication regarding his win in the tournament on any gambling-related website (forum, blog etc). A player may use one of the posts templates, which can be found on the posts page or use his own text.
So what is the result? Freaking spam! One time posters who boast of their winnings, and then get banned for spam. It causes more work for moderation, and it drives home the idea that it's acceptable to exploit other people's websites for their own selfish marketing purposes. It disrespects the bona fide forum community, and it highlights the fact that Betvoyager does not value these communities – especially Casinomeister's.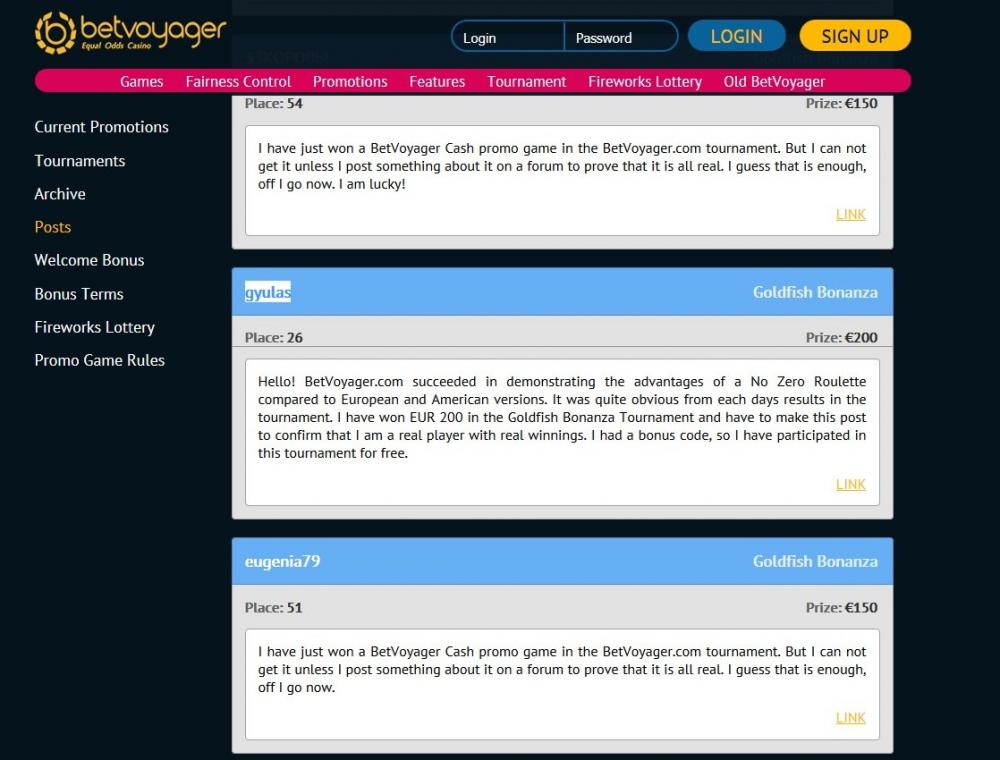 That is an unethical marketing practice, and those that support this sort of bullshit marketing ought to be dipped in vat of pungent, slimy, chunky, fused pig flesh yellow-matter-custard dripping spam.
And then forced to chow down on the putrid meat bi-product.
When companies like this engage in these sort of tactics, it tarnishes not only their operation, but the entire industry. It is thoughtless and discourteous.
General Information
Website
betvoyager.com
Casino Reps
Live Games
No
Loyalty program
No
Founded
Licensing Jurisdiction
Certified
No
Jackpots
Accredited
Publicly traded
No
Affiliate program
No
Mobile
No
Review Published
Jan 16, 2017
Other products
Authorized Countries
Country restrictions:
Verdict
Casinomeister Rating
Casinomeister's Verdict
Avoid this casino at all costs…