What Happens When You Win a Really Big Sum of Money at a Casino?
By Alex Smith May 2, 2022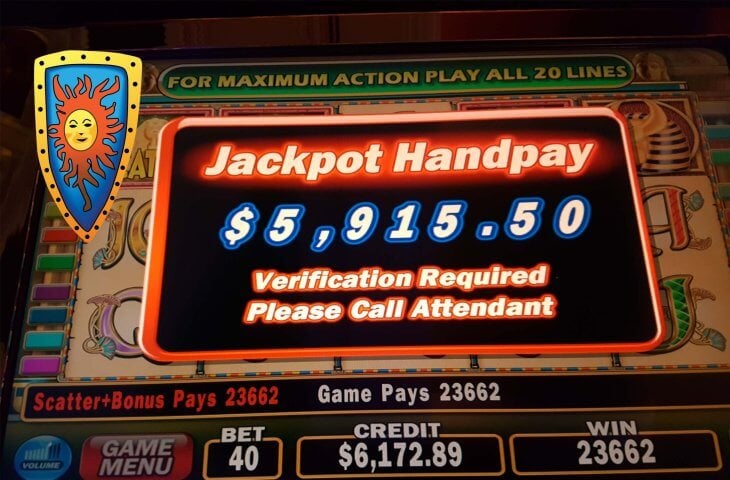 It's every gambler's dream to hit a big win when they're playing. When we say a big win, we're talking about a genuinely staggering, life-changing win. While this will be nothing more than a pipedream for most of us, some get lucky. On this page, we will look at how casinos pay these big wins – as it's something a surprisingly large number of our readers have questions about!
First, let's look at what happens in the seconds after you actually scoop the jackpot; for this guide's purpose, we will talk about playing in a land-based casino. We'll cover online casino payments later on.
If You're Playing Slot Machines, The Slot Machine Will Be Checked
The first thing that will happen if you win in a land-based casino from a slot machine is that a member of the casino's management will quickly come over to the machine you're playing. They will verify that the machine hasn't malfunctioned (yes, it's happened, and no, the casino doesn't have to honour it), and they'll also check your ID; without it, you won't receive any of your gambling winnings!
It doesn't matter what country you're from or where you're playing; if you hit a life-changing jackpot while playing slot machines or other casino games, you will have to show ID. If you cannot do so, the casino will hold it in a safe location. By law, they're not allowed to spend it or use it for business use, so rest assured that your casino winnings are safe!
You'll then be talked through how the casino will pay you your winnings – and we'll get to that in just a moment. 
Yes, The US Taxes Gambling Winnings (Including Las Vegas!)
Assuming you won more than $1,200 – and you're in the US – then there's some bad news; the IRS is entitled to a cut of your winnings. While we could sit here all day and moan about the unfairness of taxing certain gambling winnings and not others, winnings from slot machines are taxable. Before the casino pays you out, they will hand you over a W-2G form for you to fill out.
In some states, you can deduct the money that you spent gambling in the first place, but things can get pretty complicated quite quickly. You're always advised to keep a clear and verifiable track record of all the money you spend at land-based casinos; keep ATM withdrawal receipts.
If you're located outside the USA, you won't have to pay tax on your winnings – but the casino may deduct the tax automatically before paying you out. If this is the case, you'll have to fill out a special form that proves you're not a US citizen. You will then be reimbursed the amount of money taken as tax, although this process can take a while – so be prepared!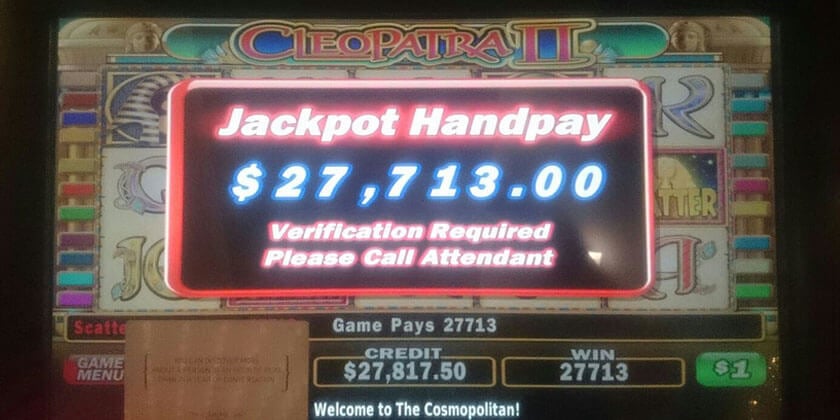 Don't Expect To Receive Cash
While this isn't always the case, if you win $5,000 or more, you most likely won't be paid out in cash (it often depends on which casino you're playing at). While some land-based casinos in certain states will hand you cash after a big win, when we're talking about huge wins, virtually no casino will do so – from a security point of view and also a cash flow point of view.
Instead, casinos will typically pay out these big wins in a check. However, it's not quite as simple as getting a check after your win, as we've already seen. Some states require the land-based casinos to verify that you're not on the state's gambling exclusion list before paying you out any winnings; if you are, you won't receive a cent of your winnings.
However, once the casino's confirmed everything, they'll usually write you the check. The only real exception to this is hitting a massive jackpot; for example, something in the 7-figures. This is when things get even more complicated – as you'll see in just a moment.
You May Get Paid In Installments
As a general rule of thumb, if you win more than $1 million, you will get a lump sum payment. While some land-based casinos do offer this, most of them will try to get you to take an annual payment. While this may sound like a negative for you, a lump sum disbursement can actually cause you to pay more taxes. For that reason, you may be better off if you choose the staggered payments.
If you choose to claim only a lump sum, then when you come to pay taxes, you may find that you end up paying much more than you would have done had you chosen to take staggered, yearly payments. As we said earlier, gambling taxes in the US are complicated – and if you do manage to score a life-changing win, we suggest the first thing you do is speak with your accountant or a trained tax professional.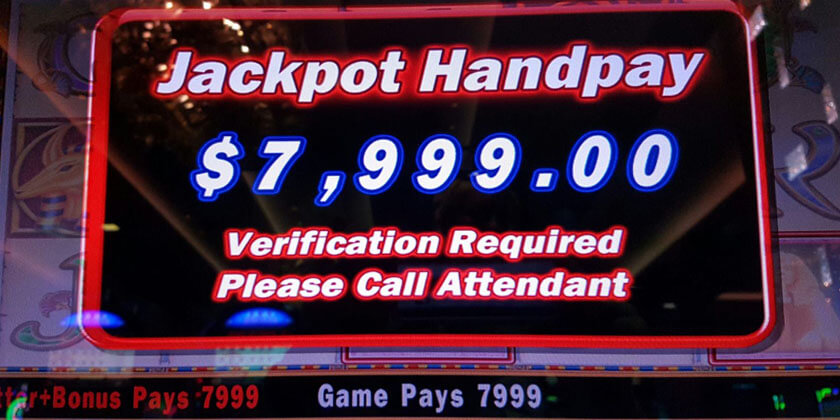 You May Need To Wait For a While
Earlier in this post, we told you that casinos will usually pay you pretty quickly, provided they've completed their checks. The casinos generally want to pay you as fast as possible – because the sooner they pay you, the quicker you can start to 'gamble back' your winnings – in their eyes, anyway.
While with some slot machines and jackpot games, it's possible to verify the win within a matter of hours, other machines – and the progressive jackpots associated with them – are handled directly by the software provider or game developer. The casino, in some cases, doesn't even hold onto the money!
In these cases, you may find yourself waiting a while to receive your check; the land-based casino will need to check with the game developer to ensure that the win is legitimate, and this all takes time. You will, however, get paid – but you can rest assured it's going to be a pretty tense wait in the meantime!
What About Big Wins From Online Casinos?
If you play at an online casino and hit a progressive jackpot win, things are a little different from playing at a land-based casino. For most people, the process will probably be a bit more nerve-wracking as you don't have a physical location you can go to to check in on the progress.
Like in land-based casinos, if you're lucky enough to hit a progressive jackpot, all online casinos will verify your win with the software provider or game developer. With online casinos, the game developer usually holds onto the money instead of the casino.
The casino will also carry out additional verification checks; this will usually require you to upload copies of your ID and Proof of Address. Once the casino is happy that everything is above board and legit, your casino winnings will be paid in one of two ways.
Either the game developer will pay it directly, or the game developer will pay the casino, who will then pay you. The latter option can often be quite problematic because many online casinos have a maximum withdrawal limit per week or month. You may have to wait years or even decades for your progressive jackpot win to be paid out in full!
Thankfully, online gambling regulators are starting to get hotter on this after some players complained that casinos were paying them tiny monthly payments when they were owed millions of dollars. In the UK, for example, online casinos must payout progressive jackpot wins in full.
FAQs
What's the biggest progressive jackpot win at an online casino?
In the world of online gambling, there's been some truly astonishing progressive jackpot wins. Most of these wins have come from a small selection of games – usually Microgaming's Mega Moolah, or NetEnt's Mega Fortune – and the biggest win to date was scooped by a lucky player from Belgium at Napoleon Casino.
They were playing Mega Moolah and hit the combo required to hit the progressive jackpot – and they ended up walking away with a cool €19,429,358! Mega Moolah is also responsible for the second-highest progressive jackpot win in the online gambling world; an anonymous player won a whopping €18,915,721. To make things even more incredible, these players were playing at, virtually minimum stake!
Do I have to pay tax on gambling winnings in the US if I'm a foreign citizen?
No; however, depending on the casino you're playing at, the casino may automatically deduct the tax before paying you out. If this happens, you'll need to request a special form that allows you to claim the tax back from the IRS. This process can take a few weeks.
How do land-based casinos verify your identity?
Land-based casinos verify your identity in a number of ways; usually, your ID card or Driver's license will be sufficient. If you hit a monster progressive jackpot and they need further proof, they may ask to see bank statements or letters from the IRS that show your full name and address.
What happens if a slot machine malfunctions and accidently awards a jackpot?
Unfortunately, you don't have any recourse if a slot machine malfunctions and it accidentally awards a jackpot win when it shouldn't have. All machines display a disclaimer that says something like 'malfunction voids all bets and play' – and this has actually happened. Here's a famous story that made national headlines:
"Katrina Bookman captured national attention last year when she played a "Sphinx Slot Machine" at Resorts World Casino in Queens, New York, and it appeared as though she'd won $43 million — which would have been the largest jackpot ever won on the slots in U.S. history. She excitedly snapped a selfie with the screen, believing her life was forever changed.
But when Bookman came to collect her prize, a casino worker told her she hadn't actually won anything and offered her nothing but a complimentary steak dinner and $2.25."