Why do Gas Stations have Slot Machines?
By Alex Smith Jul 29, 2022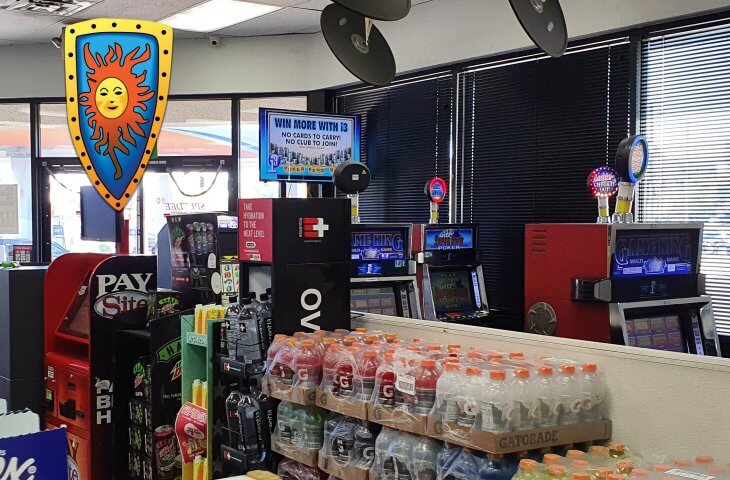 If you head to virtually any service station in the UK, you will notice that there are – almost always – slot machines. Have you ever stopped to ask yourself why this is? And it's not just the UK; the United States is well-known for having slot machines and gambling machines at its gas stations. So, what exactly is going on here?
It's an interesting topic – and in the USA it is exciting. For example, in the US, just two states – Hawaii and Utah – ban all forms of gambling. This law means you won't find any land-based or online casinos in those states. Of the remaining 48 states, 15 allow gaming machines to be placed at gas stations. 
In Illinois, for example, you will find a whopping 1,894 gas stations with slot machines! Virginia has the following highest figure; some 1,685 gas station slots available!
In the UK, gas station slot machines are even more commonplace. This is because there is no state law mandating where slot machines can be played. As a result, many more are plastered around the UK – usually on motorways.
Most gas station slot machines in the UK are within close driving distance of the biggest cities; London, Manchester, Bristol, and Leeds. However, the prevalence of these machines is vast – and they've even started to make their way into convenience stores and takeaway shops!
Why Are There So Many Gas Station Slot Machines?
As with many things in life, the prevalence of these gas station slot machines can largely be traced back to money! In total, there are a whopping 7,237 gas station slots in the USA – these machines are found in a staggering 112,781 gas stations throughout the United States!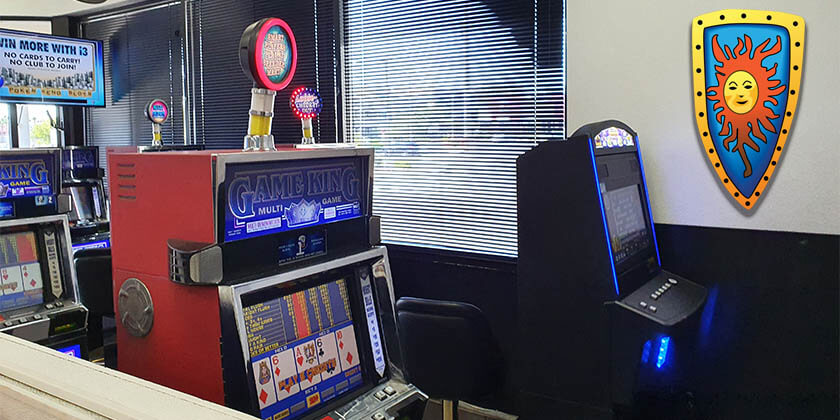 There are no accurate figures for the UK, but rest assured, the figure is still very high! But why do gas stations have so many slots? Well, a lot of it can be traced back to the fact that service stations tend to be places where people don't spend much time. This means that the gas stations need to devise ways to maximize their revenue from patrons in the shortest time frame possible. One of the ways that they've managed to do this is through the use of these slot machines.
One of the benefits of land-based casinos offering slot machines is that they're guaranteed money makers for the store owners. Gas stations took notice of what land-based casinos were doing and followed suit! It makes perfect sense when you think about it. After hours of driving, people want a break; they're likely tired and want to do something that takes their mind off the monotony of driving. Slot machines are the perfect solution – customers head into the service station, grab a bite to eat and drink, and have a little punt on the slots!
Gas stations are easy places to get bored. However, by installing these slot machines, the service stations can increase the amount of money they turnover. There is also a secondary benefit; customers who play the slots may spend more on food and drinks – another key money-maker for the service stations.
Are These Gambling Machines Fair?
If you are in the UK or the USA, then rest assured that gaming machines and slot machine terminals at gas stations have passed a number of rigorous checks to ensure their fairness. When you play slots in the UK or the USA, you are playing on very well-tested and fair machines. For example, game developers and software providers MUST prove that their slot machine terminals use a true random number generator. This ensures that you are able to play games that are, well and truly, fair.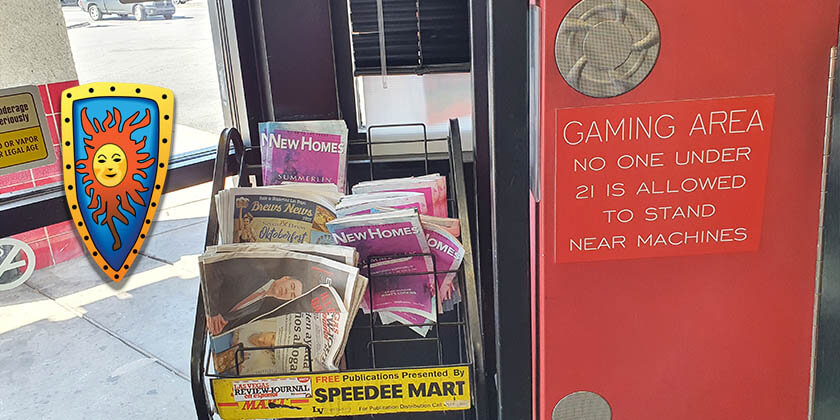 What Slot Machine Games Are Available at Gas Stations?
This, of course, depends on the software providers and game developers the gas station has chosen to offer. Generally speaking, in the UK, you will find that most casinos in convenience stores and gas stations will offer Blueprint Gaming's slot machines. Below, we will look at five of the top Blueprint Gaming slot machines you can play in convenience stores and gas stations.
Fortune of Sparta
Fortune of Sparta is one of the older slot machines that you will find offered when you play slots at convenience store locations or gas stations. It's a highly-volatile video slot from Blueprint Gaming but offers some fantastic winning potential.
The RTP of Fortune of Sparta is 97.04% – this is well above the 96% average that we typically see from video slots today. The game is about the free spins bonus round, triggered by landing 3, 4, or 5 of the scatter symbols anywhere in view. During the free spins, a special wild can land on the third, which awards you entry to a special sticky-wins feature.
During the base game, there is also some decent win potential; for example, if you manage to line up a 5-of-a-kind combo of the wild symbols, you will win a whopping 4,000X your stake! If you're playing the online version of Fortune of Sparta, the maximum win is a whopping 10,000X your stake!
Remember that when you play slot machines in gas stations and convenience store locations, the RTP of the game is going to be a lot lower. You should also be aware that the single win limit will be much lower. For example, in the UK, it's illegal for slot machines to pay more than £500 if they're outside a land-based casino!  
Buffalo Rising Megaways
Buffalo Rising Megaways is a video slot from Blueprint Gaming built around a 6-reel format. As it uses BTG's Megaways license, Buffalo Rising Megaways has up to 117,649 ways to win active on every spin. You can spin the reel for as little as 20 cents per spin. Depending on the casino/location you are playing at, the maximum stake can be worth as much as $200.
The main bonus round in Buffalo Rising Megaways is triggered by landing four or more of the scatter symbols anywhere in view. You then get to choose one of the following:
– 5 free spins with a starting multiplier of 10x
– 10 free spins with a starting multiplier of 5x
– 15 free spins with a starting multiplier of 1x
– A random number of free spins with a random starting multiplier
Once you have made your selection, the bonus round will begin automatically. It's possible to re-trigger the bonus round, and this awards you an additional five or ten free spins. While the video slot can be found in some physical casinos, it's more commonly played at online casinos.
Ted Megaways
Ted Megaways is another video slot from Blueprint Gaming (have you started to notice a trend yet?), and it's a highly-volatile video slot that offers some big win potential. The game uses BTG's Megaways mechanic, and this means that there can be up to 117,649-ways-to-win active on each and every spin. The RTP of Ted Megaways is 96.03%, and the game offers a maximum win of 50,000X. This makes it one of the game developer's most volatile and high variance releases.
If you manage to land 3, 4, or 5 of the scatter symbols anywhere in view you will trigger the main Free Spins bonus. Before it begins, you are taken to a giant multiplier wheel that you get to spin. This will determine the number of free spins that you are awarded, as well as the starting multiplier that you will begin the free spins with.
In addition to the standard free spins bonus round, there is also a mystery symbol feature. This is present in both the base game and the free spins bonus round. When mystery symbols land in view, they will all transform and reveal the same symbol. This greatly increases your chances of forming a big win.
King Kong Cash
King Kong Cash is another online video slot from Blueprint Gaming. While it was originally developed for the online gambling market, the slot machine soon found its way to land-based casinos and arcades. Some convenience store locations also offer it. If you want to play slots, King Kong Cash is a great game to choose. It's easy to play, low variance, and players can win up to 1,000X during the main bonus round.
The bonus round is triggered by landing 3, 4, or 5 of the scatter symbols anywhere in view. You will then get to spin a wheel to determine which bonus round you will be awarded. You can choose to gamble your free spins bonus round if you would like to try and win a higher-value bonus round.
Top Cat
Top Cat is a very popular slot machine, although again, it's from Blueprint Gaming. The game is, of course, themed around the TV show of the same name. It has a below-average RTP of 92.48%, and it's built around a 5-reel, 3-row format. There are 20 fixed paylines in play at all times, and the game is classified as being high variance.
The main bonus round is triggered by landing three of the scatter symbols on reels one, three, and five. You then get to choose from trash cans to determine which bonus round you will be awarded. 
The game proved to be such a success that the software provider even developed a progressive jackpot version, and a Megaways variation. 
Other Interesting Articles you should read