How Old Do You Have to Be to Gamble in Vegas
By Alex Smith Apr 26, 2022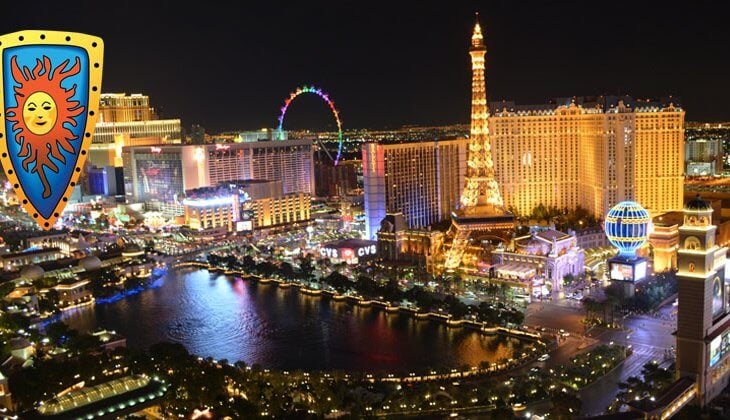 If you're thinking of planning a trip to one of the famous land-based casinos in Vegas, you may have some questions about how old you need to be to place bets. In the USA, the legal gambling age can vary a lot between states. On this page, we will show you how old you need to be to hit the Las Vegas Strip. We'll also be looking at some other age limits that are in place in Vegas, so you know exactly what you can and can't do when you visit Sin City for yourself!
What Is the Legal Gambling Age in Las Vegas?
To place bets in Las Vegas casinos, you must be 21 or above. If you're under 21, you are allowed to walk through the casinos, but you may not enter the gaming areas, even if an adult accompanies you.
Thankfully, the gaming areas are very clearly marked, so you'll be able to see where you're allowed to take kids. It's great that those under 21 can still enter casinos, allowing them to experience much of the Vegas experience. Just make sure to stay out of the gaming areas, as it's a crime to enter one if you're under the age of 21.
What's the Online Gambling Age in Vegas?
The minimum legal age to gamble online at Nevada casinos is 21, whether playing at online casinos or sports betting or poker. Online casinos are required to verify players' identities to ensure that everyone is of the legal age. Underage gamblers will have any winnings in their account seized, and they could even be reported to law enforcement agencies.
How Old Do You Need to Be to Book a Hotel Room in Vegas?
When booking a hotel room in Vegas, whether it's one of the brick-and-mortar casinos or a dedicated hotel chain, you'll usually need to be 21. However, it's worth pointing out that this age requirement usually only applies to those who are booking the room; the guests can be of any age, even if they're not of gambling age.
However, there are some exceptions. For example, if you're staging at a hotel that doesn't have a casino, some chains will allow you to book the room if you're 18, but you need to check with the hotel first. To our knowledge, one of the only major Las Vegas casinos that allows you to book a room in their hotel if you're under the legal gambling age is the Golden Nugget. They allow those who are 18 to book a room themselves, although there's a casino gambling area attached.
Some tribal casinos will also allow those aged 18 to book a room. However, tribal casinos are still subject to the same laws regarding the legal gambling age, so while you may be able to book a room, you still won't be able to enter the gambling areas or play.
What About the Drinking Age?
As is the case in most states in the USA, the drinking age in Las Vegas is 21. However, unlike some states (or, more commonly, certain cities), drinks and alcohol in Vegas can be served 24 hours a day, seven days a week. What's more, in Vegas, it's legal to drink in the streets and have an open container of alcohol! Of course, this doesn't mean that you can do whatever you want, but it's definitely a city geared towards partying.
However, as is the case throughout the country, drunk driving is heavily illegal. The police are very strict in enforcing this; if you're found driving under the influence of alcohol, you will be issued a DUI.
Can Children Enter Hotels and Attend Shows?
Yes, those under 21 are permitted to enter casinos and walk through them, but they cannot enter or stand within gaming areas. Gaming areas are classified as areas where gambling machines are located. The gambling age to enter these areas is 21.
However, it depends on the actual casino in question a lot of time. For example, the Bellagio won't allow anyone under 18 to enter their premises unless they're accompanied by an adult. This kind of rule is enforced at many other casinos.
When it comes to shows, the vast majority of shows in Vegas are child-friendly, and this means that kids can usually attend them, provided that they're accompanied by an adult. However, there are some 'adult shows,' which, naturally, aren't suitable for children. It depends on the specific casino/venue in question and what kind of show is being put on.
How Old Do You Have to Be to Gamble in Other Countries?
The age of legal gambling around the world varies quite a lot, even between states. For example, the legal age to gamble in Las Vegas can differ from other states in the USA. You've even got different legal ages for online gambling at online casinos.
For example, in the United Kingdom, the legal age to gamble in most cases is 18. However, there are some exceptions. For example, if you're 16, you can enter a bingo hall, even though you cannot actually play the game. It's also legal to purchase lottery tickets and scratch cards if you're 16, although this has caused some controversy.
The legal gambling age in other European countries can vary quite a bit; in Belgium, it's 18, while in France and Germany, it's 18.
It's also illegal to gamble at all in many countries. Some of these countries include Saudi Arabia, Eritrea, Libya, Afghanistan, China, Indonesia, Syria, Thailand, Ethiopia, Somalia and Cuba.
If you're ever in doubt about the legal gambling age in your country or want to check whether it's legal to gamble online, you should always consult with a legal expert in your country.
FAQs
Do casinos check how old you are in Las Vegas?
Yes. Everyone who enters a casino in Vegas (the gaming areas, not the communal ones) gets asked for ID, even old-aged pensioners! This is not just to verify the age of patrons but also for security reasons. If you don't bring a government-issued form of an ID to a land-based casino in Vegas, you'll almost certainly be turned away, so keep your passport or driver's license on hand!
What happens if I get caught gambling underage?
If you get caught gambling underage in Vegas (for example, if you used a fake ID to enter one of the land-based casinos), the local police will likely be called. You can even be charged with a felony, as using a fake ID is a felony in Nevada. In short, if you're underage, don't bother trying to gamble. If you're caught, even if the police aren't involved, your winnings (if applicable) will be confiscated, and you won't be able to get back any losses. It's not worth pursuing at all.
How do online casinos and sports betting sites verify your age?
If you choose to gamble online, several different methods are used to verify your age and identity. For example, if you're in the UK, state-of-the-art software can be used to verify your identity automatically, which means it can take just a couple of minutes to complete. In areas where this technology isn't available, you'll usually have to manually submit your documentation, which will be processed manually by a casino's customer support team.
Do I have to pay taxes on gambling winnings if I'm from another country in Las Vegas?
No. If you're a US citizen, you need to pay taxes on your winnings. However, if you're visiting from another country, you will have to fill out a special form that will enable you to get your winnings back. It's important that you fill out this form correctly, as failing to do so could result in the casino holding taxes for quite some time. After all, the onus is on you to prove that you're not a US citizen.
Related Articles