Bally Technologies (Owned by SG Gaming) Review
Verdict
Bally – solid as a rock, but they could use a bit more imagination and inventiveness with their online games. There is no doubt that they are a leader alongside IGT in the off-line realm, but they are a bit behind a power curve of competition online.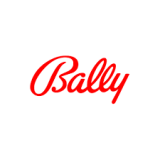 London UK, Manchester UK
UKGC, Alderney, Malta
1968
25
54
Bally Technologies Review
Bally Technologies is one of the world's largest and most prestigious gambling software providers, and they've been around for over 50 years, with their foundation first seen in 1968.
Based in Nevada (near, of course, Las Vegas), Bally Technologies have built a solid name for themselves by creating games that are both exciting and intuitive – and while their early success came from building slot machines for land-based casinos, they were quick to adapt to the growth of online gambling, porting many of their existing titles over to Flash and HTML5, while also building new, online-only games, which could be enjoyed by players all over the world.
In November 2014, Bally Technologies was acquired by Scientific Games for a whopping $3.3 billion plus $1.8 billion in assumed debt. This move was a game-changer, literally. Scientific Games was later rebranded as Light & Wonder in March 2022. Bally's extensive portfolio of games, including their exclusive slots and casino games, are now pushed out on the Light & Wonder platform. 
This acquisition has expanded Bally's games' reach, making them accessible to a broader audience. It's like a match made in gaming heaven, combining Bally's expertise in game development with Light & Wonder's robust distribution network.
In this review, we will look at the software platform used by the game developer, along with some of their most popular games.
Bally Technologies: The Software Platform
As mentioned, and a few other Bally Technologies reviews point out today, the company's games are available via the Light & Wonder platform. Employee reviews and insights from those who work at Bally Technologies/Scientific Gaming and those who run the top gaming laboratories in the gaming world have talked extensively about the software platform Bally Technologies developed.
However, before the Bally Technologies employee reviews set the record straight about today's practices, Bally developed two game distribution networks. Both are still in use today, so it's slightly unclear when games are available via Light & Wonder and when they're not.
Regarding their own multimedia games platforms, they've got a couple that are worth talking about. First up is their Excite Platform, the backbone for 12 brands across North America, the UK, and Spain. This platform is a one-stop-shop for everything you'd expect in an online casino: a robust Player Account Management system (PAM), tight security, and real-time marketing systems. They've optimized it for mobile devices, allowing players to enjoy slots like Wild Huskies and Titanic "on the go."
Their second game software platform is the Engage platform, which serves up games from big names like NetEnt, IGT, and Evolution. This platform isn't just a game aggregator; it also runs exclusive slots and casino games developed by internal and external studios. They've got various games, including bingo and poker, to keep players engaged.
Finally, for the Asian market and the rest of the world, they've got the Enjoy Platform. This one supports multiple B2C and B2B brands and offers a bespoke player management system, a reward and bonusing engine, and even daily free games. According to those who work at Bally Technologies, the company has an active tech team of over 250 people. 
They're based mainly in Sweden, the UK, Malta, and the Philippines, and everything from the work environment to the company culture is said to be great. As far as gaming companies go, working at Bally Technologies is considered to be one of the better jobs.
There's excellent job security, company employees note that team meetings are kept short, employee benefits are generous, and salaries are high. This approach is likely why Bally Technologies has become such a prominent figure in the gaming industry despite struggling in the online gambling market.
Bally Technologies' Games
Bally Technologies – while owned by SG Gaming/Light & Wonder – still brands many of their slots under their name, and while their selection of casino table games and video poker machines is small, their slot games are a lot more prevalent – and below, we're going to take a look at some of what they have to offer, game-wise.
Michael Jackson: King of Pop
Michael Jackson is one of the most iconic singers in history, and Bally Technologies' "Michael Jackson: King of Pop" aims to pay tribute to the global pop phenomenon. Exciting bonuses, great-looking graphics, and enjoyable gameplay make the game fun – and it's worth checking out if you've not yet had a chance to do so!
Pawn Stars: A Land-Based Bally Technologies Creation
While not available to play online, Bally Technologies Pawn Stars is one of the most popular slot machines in Las Vegas, and – themed fittingly after the TV show of the same name – the game features Rick, the Old Man, and the rest of the team. You'll work through exciting bonuses and features as you try to walk away with the best offer possible – and there's massive win potential to be found within the slot.
Titanic: The Most Well-Known Bally Technologies Slot?
One of Bally Technologies' most popular slots, Titanic, needs little introduction… and is themed around the film of the same name. Packed full of bonuses and features, there are four randomly triggered features that can appear on any base-game spin, and if you manage to land a Ship scatter symbol on the first, third, and fifth reel, you'll have the chance to win one of four exciting bonus rounds, which includes a free-spins feature, and a Pick 'n Click.
Vegas Hits
Vegas Hits is a slot machine available both on and offline – and it's become one of the game developer's most popular releases, thanks to the exciting localised progressive jackpot, which can see you walking away with wins of up to 10,000X your stake. It's a solid casino game from Bally technologies, and it's independently tested for fairness by Gaming Laboratories International (GLI.)
Cupid & Psyche
Cupid & Psyche is a 5-reel, 40-payline video slot from Bally Technologies, and it's become known as one of the game developer's best "low-roller" slots, as it's possible to fully adjust the number of paylines, leading to a minimum bet of just $0.01! The game benefits from several bonus rounds, and as with most of Bally Technologies' slots, the graphics and visuals are impressive, making for exciting gameplay.
Mayan Treasure
Mayan Treasure takes you on a historic journey back to the Ancient Mayan Civilization. As is the case with most of the games we see released from Bally Technologies, Mayan Treasure uses a combination of high-quality graphics and realistic audio effects to deliver – what most players consider one of their best slot machines.
Grease
Another branded release, Grease, is themed all around the film… Grease Lightning… and players can game alongside their favorite characters from the film, with scenes and audio clips making the gameplay even more realistic. While not mobile-optimized – yet – Grease is making its way to more and more casinos, and we'll likely see the developer release an HTML5 version of the slot to be played from mobile devices.
Havana Cubana
Havana Cubana is a slot set in Cuba – and from the moment you open the game up, you'll find yourself immersed in a bright, vibrant, and exciting landscape, with big wins available on every spin! While the game is a little lacking in terms of bonuses, there is a free-spins feature triggered by landing 3, 4, or 5 of the scatter symbols anywhere in view.
Cash Wizard
While not one of the game developer's most popular slot machines, Cash Wizards has begun to grow in popularity, largely thanks to the fact that it's one of the game developer's most recent games to be ported over to HTML5 (something Bally Technologies started back in 2014), and a large number of bonuses and features ensures that each spin carries tremendous win-potential.
Rocket Returns
Rocket Returns is set in the 1980s, using graphics and imagery reminiscent of what you'd expect to see from a video game from the period… Interestingly, rather than using a typical grid layout (like most video slots do), Rocket Returns places the reels in the shape of a diamond, with one symbol at the top, with the next row containing two, the following row three, and then two, and one, once more.
Bally Technologies may not have a game range as extensive as some larger-scale game developers. Still, they offer a good range of variety, and you'll be able to enjoy a range of slot machines, casino table games, and video poker.
Where To Play Bally Technologies Games
Bally Technologies' video slots and casino games can be found at various online and land-based casinos worldwide. Unlike some Bally Technologies reviews state, their games have not been retired. However, finding Bally Technologies games isn't as easy as it once was, with fewer online casinos hosting them than before.
Thankfully, after partnering with SG Gaming (Light & Wonder), Bally Technologies was able to access a vast network of gaming platforms. Players interested in exploring Bally's games should look for online casinos that offer SG's casino games, as this is where you are most likely to find titles from Bally Technologies.
Why Bally Technologies' Employees Say They Have a Great Work-Life Balance
Employees often describe Working at Bally Technologies as a rewarding experience. The company is known for fostering a culture of innovation, collaboration, and creativity, where every team member is encouraged to contribute ideas and participate in the development process. Their commitment to personal and professional growth offers ample opportunities for career advancement, with various training and development programs tailored to individual needs. 
The inclusive and supportive environment at Bally extends beyond the workplace, with numerous social activities and community involvement initiatives that cultivate a sense of belonging and purpose. Employees often cite the company's transparent communication, strong leadership, and emphasis on work-life balance as reasons why they enjoy working at Bally. Many current and ex-Bally Technologies employees are online praising all parts of the company, from HR to the casino management systems.
It's always great to see a company like Bally Technologies looking after its employees – after they were acquired as part of a billion-dollar deal.
Pros
Many branded games

Great visual and audio work goes into most of their titles

Many games are mobile-optimized, so they can be enjoyed from most mobile devices
Cons
Their game-range isn't as large as most providers

Non-slot titles are scarce, and uncommon

Some of their games are very low-variance