Class1casino Review
By Casinomeister, Last updated Jun 10, 2023
Casinomeister's Verdict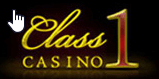 First Impression
Software provider: Playtech
Licensing Jurisdiction: Curacao
Added 29 August 2007
update 28 July 2009
Knock knock. Anybody home?
The following player accuses Maxima Casino  ( renamed Class1casino ) the casino of retroactively changing their terms and conditions disallowing play from his country:
The problem: The short version of the description of my problem: I won some money 2600 EUR on Maxima Casino and I had been wagered enough to met the wagering requirements. Before my withdraw request I had checked the terms and conditions again and I asked Live Chat Support, too, to know if I met all the requirements. I saw I met, and Live Support confirmed that, too.
I requested my withdraw, and 10 hours and 33 minutes LATER terms and conditions had been changed: suddenly my country Hungary appeared on the exceptional countries list. Players from the exceptional countries should wager 99 times the amount of the bonus plus the deposit and only slots are counted. It is actually equivalent to loosing all of my money…Luckily I HAVE SCREENSHOTS about all the original terms and conditions as well as about the exact time of the changing of their webpage.
I have contacted Maxima Casino several times, I explained the situation and I have sent them many screenshots to prove: TC were changed after my withdraw. I NEVER got any answer from Maxima except one email in the very beginning, which ignored everything I had written and simply repeated the new TC.
Live Chat Support promised me several times I would be answered by email, but it never happened. I never get any answer neither from the Cashier nor the manager, even though Live Chat Support asked me to contact directly them.
Nobody from Maxima Casino tried at least to dispute or refute the fact: TC were changed AFTER my withdraw request, and the time I made my withdraw I was 100% qualified to cashout all my winnings.I suppose they didnt try to refuse because they saw all of my screenshots and they realised I have many proofs. It seems they know very well: TC were modified after my withdraw and not before. Im afraid they modified that on purpose. The situation now is: Im still waiting to withdraw my 2000 EUR My winnings were 2600 but the bonus amount will be deducted from the withdraw, and Maxima Casino doesn't pay.
The casino never responded to my inquiries about this. And then the following problem was posted in our forum:
The problem: I've played in Maxima casino, received the first deposit bonus which came with a EUR 14,400 wagering requirement. As it turned out I submitted a withdrawal request on the 4th of July when Ive only wagered 14,300 on allowed games 100 EUR less than the required.
As per the terms and conditions players have 4 days after the request to reverse their withdrawal requests: During this four day pending period you can cancel your pending withdrawals should you wish to continue playing with those funds.
The casino did not wait for 4 days they stopped the withdrawal and voided my winnings and bonus on the 6th of July only 2 days after the request, citing the term: If you withdraw before having met the minimum wagering requirements, your bonus and winnings might be void
I asked them to put my winnings back to my casino account so I can meet the remaining wagering requirement. I have agreed to forfeit the bonus as that is not cashable anyways. They have not allowed me to do that.
Not only is this really unfair with 100 EUR left to wager the worst outcome is I lose 100 but not 1000, but also a breach of their own terms: Just to reiterate, I've not withdrawn anything received 0 euro 0 cents so far from them and they did not allow 4 days for my withdrawal request to be reconsidered cancelled. Also, there was no warning whatsoever in the cashier when I tried to withdraw that I haven't met the requirements. I guess it would be quite easy to compute, and most casinos have this feature I'd think.
They are not responsive – it took about 8 days to get an answer, which is were sorry these are the terms. The manager never responded. He registered a Casinomeister account very quickly after I notified him about the thread on CM though, but he remained silent.
Unfortunately, I have to consider these two complaints outstanding and the result of bad casino practice. The casino never responded. That's bad.
This Maxima casino has been necromanced as Class1casino.com
Avoid this casino at all costs.
Top 5 casinos
BANKING AND PAYMENT METHODS
Withdrawal Speed
Casino Facts
| | |
| --- | --- |
| Is this casino certified at Casinomeister | No |
| Payout time | 48 hrs |
| Reverse time | 48 hrs |
| Weekend payouts | No |
| Locks withdrawals | No |
This casino is unavailable to you. Please see other options