Something about Steve…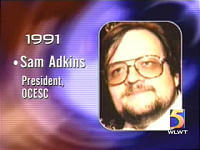 As 2001 came to a close, Steve Adkins the President of the Online Players Association, seemed to have disappeared. The man who struck fear in the hearts of wrongdoers and innocents alike with his tirades in various casino forums and on his radio show at Casinogazette vanished as quickly as he appeared.
For some, his presence in the online gaming industry was needed, venting his mind with a mouth that never seemed to know when to quit, spewing insults at casino operators who were either too overworked to effectively run their operations, or out to scam the players. For others, he was an embarrassment and they would either ignore his attempts to negotiate players' grievances or outright try to get even with him. He was the Mike Tyson of the online gaming world. Regardless, he was there, somewhere in cyberland (Ohio perhaps?), doin' his thing, trying to do the right thing but…
What happened to Steve Adkins? Was he a con artist from the git-go? He left the Online Players Association stating that he wanted no more to do with online gambling, leaving the organization to pick up the ball and run on its own. And as vocal and embellished as he was, did anyone ever meet Mr. Steve Adkins? There have been ponderings presented in some forums whether he even existed at all.
Casinomeister's forum was the first online casino forum that Steve Adkins posted to. And many of his postings were full of tips and tricks on playing, to rants and ravings about whatever was pissing him off at the time. As webmaster of this site, I observed him for quite some time, watching his postings develop and at times digress into furious sputterings. I would like to take this opportunity to share with you a few of the highlights over the past several years. Let's take a stroll down Memory Lane so to speak.
Memory Lane
Steve Adkin's first post in Casinomeister's old forum (WWWBoard)
Caesars online, vegas online, flamingo online

Posted by 

steve a

 on November 22, 1998 at 19:06:18:i have won over $8000.00 in the past month… i buy in win and cash out. within 5 days i have my money.

they have a 24 hour teck support system that is really good.

His first posting in our current forum is a bit more of the same…

By Steve adkins on Wednesday, February 3, 1999 – 11:22 am:

hit another royal flush for $20,000.00 at the flamingo casino….

 
Uh oh, first rant…
By Steve adkins on Sunday, February 14, 1999 – 12:26 pm:

The showdown Casino is a ripoff… See the above posting by me. They claim they cannot find my money in their system.

Stay away from this rip-off
And the second rant…
By Steve adkins on Monday, February 22, 1999 – 09:15 am:

Never have heard anything from the showdown casino concerning my posting here.

They emailed me a record of my play and said I did not lose the 80 credits. LIARS
Could it be a premonition?
By Steve ( – 205.188.195.27) on Friday, November 19, 1999 – 10:15 pm:

Yanni, I would like to be the first to be arrested in the states for gambling on the internet. Please let us know what you find out.
Sometimes even we didn't see things eye to eye…
By Steve on February 14, 2000 – 05:43 AM:

Dear Bryan Bailey

Just because you would have everyone believe that somehow you do that forum out of the kindness of your heart, do not blame me when they find out the truth about you.
www.thequeensucks.com does not sound like something that you would do to upset me. Sounds like something you would do to get the hitmob upset.
You have handa lopez casinos on your site. They are crooks, it has been proved that they are. Why would anyone in this industry believe otherwise?

So save the song and dance for someone else. You have proved time and again what your all about.

I have contributed more to your site then most. But no more there Big B. You sir can go straight to hell and kiss my ass.

You change posts at will. You have crooked casinos on your site and your a disgrace to your race.

I would like to know if anyone else has ever had this problem with these crooks.
And then who could forget the Golden Palace fiasco. It was problems at Golden Palace that gave Steve the motivation and prompted him to start the Online Players Association.
By Steve Adkins ( – 205.188.197.174) on Wednesday, May 3, 2000 – 02:37 pm:

James, you do not have to explain yourself here. We know Golden Palace is a dishonest casino.

Notice he has not said anything else.
The forum quickly filled with complaints from players, and Steve's interventions. But after threats were made to several people, including Steve and his family, most of these posts were removed.
By Steve Adkins ( – 205.188.200.53) on Sunday, May 7, 2000 – 03:31 am:

I am looking for US Citizens that have been screwed over by Golden Palace. Please email me with details.

I say it is time to stop these thieves
And it goes on…
By Steve Adkins ( – 205.188.198.168) on Monday, May 8, 2000 – 03:19 pm:

Spearmaster, If Starnet pulled a stunt like this. I would do the same. We are not taling about Starnet or the others. WE are talking about Golden Palace and microgaming.

The manufactures have to take some of the responsibilty for the actions of their licensee's.
When the Claude Levy thing blew up, what did Starnet do. THEY MADE GOOD ON EVERY DEBT OWED TO ANY GAMBLER. THEY DID THIS TO SAVE FACE IN THE online gambling COMMUNITY.

Why does Microgaming sit by and do nothing? How long has this been going on with them? Double billing, billing for declined purchases!

So boycott the sites that highly advertise microgaming casino's.

OOPPSSS I FORGOT YOU OWN ONE.
And more…
By Steve Adkins ( – 205.188.200.31) on Monday, May 8, 2000 – 08:02 pm:

Yes, anyone having a claim at all against Golden Palace. If your account is locked with money inside, no matter what the claim is. I have to proof all sorts of fraud by them. Time to lower the big kaboom.
And then his sights were turned on Lucky Nugget
By Steve Adkins ( – 205.188.192.186) on Tuesday, May 16, 2000 – 08:15 pm:

Pro Cyber is a boil on the butt of humanity!

Keep calling! Keep emailing! Do not slack off!
And then he aimed his sights at the Interactive Gaming Council
By Steve Adkins ( – 152.163.197.57) on Thursday, May 18, 2000 – 11:28 pm:

To: Sue Schneider

Subj: Golden Palace

From: Steve Adkins [email protected]

Dear Sue,
I have received over 50 complaints from players about the Golden Palace Casino. Those players were offered a bonus, so they purchased and played.

The players that lost, well of course they just lost their money. However the players that won, well that was a different story. Mark Francis (Head of security at the Golden Palace) has stated these people were bonus abusers and they will not get paid. That he is well within his rights to close and take all that money.

Not only that, but soon after these complaints were put on the web, Mark's crackpot security team posted as a happy player and belittled those who complained. The IP was traced right back to them. This is not just some allegation, this is the truth. Everything that I say, I can back up with proof.

I know that several complaints have been filed at your office. As of yet there has not been any official response on your stand.

We know that Golden Palace is a Microgaming Casino, and that Microgaming CO-founded the IGC. We also are aware that this is a conflict of interest on your part.

Your organization was formed to protect the rights of players and casino's alike, but in this case you have failed to meet your self appointed obligations to the online community.

I would hope that this issue would be very important to you. This self regulation is apparently not working very well.

I agree that a casino can lock out who they want. Even on Golden Palace's web site it says they can close accounts and refund the balance into your account. They have not even done that. They have kept money that is not theirs. That is the worst thing that an online casino can do. But to have your organization by your silence, allow this to happen is shameful and is not to be tolerated.

This is off the front page of your website.

*****To establish fair and responsible trade guidelines and practices that enhance consumer confidence in interactive gaming products and services; and

*****To serve as the industry's public policy advocate and information clearinghouse.

*****IGC Members are dedicated to achieving the goals implicit in this mission and welcome your comments and support.

And now I will quote from the Rules of Conduct, item number 4

4. Truth in Advertising: IGC members shall be truthful in all promotions and publish only accurate information about their operations. Gaming and Wagering Operator Member rules, registration procedures and payout percentages will be made available to the public.

The Golden Palace is guilty of this and should not be a member.
They should be made to make good on all the money Golden Palace has stolen.

Fair and responsible trade guidlines? Do you have a rule for this?

Sue, Maybe you should just resign your position. It is apparent by your lack of concern about this problem that your not the one for this job. So Please if you care about the online gambling community, just resign.
The online gambling community has had enough of the crooks like Golden Palace, and bogus organizations like yours that continue to give casino's like them your seal of approval.

Steve Adkins www.yourluckypage.com
Steve never stops, does he?
By Steve Adkins ( – 205.188.198.176) on Sunday, May 21, 2000 – 12:18 am:

Robert, there is no use in talking to Mark Francis in Security. As he is an inbreed. Drools alot! He is the almighty god when it comes to Golden Palace. He is crook number 1.

He lies, cheats, steal players money, why he even calls them at home to harrass them about wanting their money.

Well I have held back enough now. Do not want to give the appearance that I dislike this ••••••• they call Mark.
Finally it looks like the OPA begins to take form…
By Steve Adkins ( – 205.188.200.22) on Thursday, May 25, 2000 – 01:45 am:

Hello Everybody: We are in the process of forming an online players association. We want to bridge the gap between player and casino.

We would like for you to take a survey to help us better serve the online gaming community.

Have a lucky day.

Also we are forming this organization in a public message board. Your comments are more then welcome. Go to http://www.yourluckypage.com go to the message boards under Online Players Association.
How ironic…
By Steve Adkins ( – 152.163.204.183) on Sunday, June 4, 2000 – 02:05 am:

Since I am not making any money, I hope the spam song does not come after this post.

After a couple of years reading posts about unhappy online gamblers,and being unhappy myself.
I know it is time to do something. Several months ago, Right here in this forum the idea of a players union was brought up and welcomed by many.

We are working on a code of ethics for the player and the casino. We have Casino's that welcome our members with bonus money. We need everybody to give us some input on how to bridge the gap between player and online casino.

EVERYBODY IS WELCOME

It is time that the online players all work together with the Casino's. http://www.egroups.com/subscribe/onlineplayersassociation
On Golden Wager…
By Steve Adkins on Friday, September 1, 2000 – 08:45 pm:

For about three weeks now, I have been trying to collect 15k that is owed to one of our members.
Last week on my show, they promised they would contact the player and make arrangements for a wire transfer.

Here it is a week later and the player has got no word from them. So I again call and speak to Paul Sharper who informs me that they will send the player a check for 5k each week for the next three weeks.

I asked if a wire could be done instead and he just hee hawed around it. They promised me last week on Air that this would be taken care of this week. Nothing was ever said about this three week payoff thing.

I yelled at him and told him it was bull****. This will be on the show tonight. Should be up around 5pm EST.

So they lied to me last week.

STAY FAR AWAY FROM THIS CASINO. THEY ARE CROOKED, AND A BUNCH OF LIARS.

http://www.casinogazette.com Channel two
About Steve and his radio show at Casinogazette, it was, well very explicit at times and not for everybody. Here are some reactions to one of the "songs" he liked to play…
By humangirl (humangirl) on Tuesday, May 15, 2001 – 01:42 am:

Now, now Steve…so you'll understand…what the f__k are you doing? Here's a complaint for YOU. How can you go on air and claim to be "THE VOICE OF THE ONLINE GAMBLER" when you refuse to take responsibility for the OUTRIGHT MISOGENY on your show? Yes, I am referring to that little jingle used as an unpleasant interlude on most if not all of your shows. Which online gambler are you "THE VOICE" of? The male one? Don't you think women listen to your world famous show? Don't you think women deserve the right to not be put down and ridiculed for being who they are, namely not men? Don't you think it's time you take responsiblity and abolish that f__ing crap you use on your show?!!! I do. And I am sure there are a lot of others out there who would agree with me. Do the right thing Steve, take it down…or one day 'misandry' will make it to the dictionary (if it hasn't already).

-HG
Steve's reply…
By steve (steve) on Tuesday, May 15, 2001 – 02:11 am:

Oh man! errr I mean woman. Get a grip…

forty thousand people each week listen to my show and I only get one complaint.

Ok, I will play something very special just for you… Just to show you I am truly a nice guy.

Now, you better get back before they realize your missing
Another response…
By steve (steve) on Tuesday, May 15, 2001 – 03:07 pm:

Thank You Colly ,,, I am glad you are not offended. I only mean to offend stupid people.
And another…
By Spearmaster on Tuesday, May 15, 2001 – 03:21 pm:

I'm offended.
Remember when Bringmeluck.com posted the OPA's approved banner on their website? Here are Steve's postings concerning this:
By steve (steve) on Tuesday, September 04, 2001 – 12:57 pm:

Yep this Unified Gaming site has stolen the OPA approved casino logo and is displaying it on their awards page.

Now display this you bunch of ••••••• crooks.

THIS JUST GOES TO SHOW WHAT TYPE OF PEOPLE OWN AND OPERATE UNIFIED GAMING SITES AND WHY PLAYERS SHOULD NOT EVER PLAY IN ANY OF THEIR STUPID SITES.

LIARS, THIEVES, AND TRAMPS.

WE HAVE A NEW AWARD YOU CAN BRAG ABOUT RECEIVING.

YOU HAVE BEEN SELECTED TO RECEIVE THE CROOK OF THE MONTH AWARD.

NICE JOB… NOW REMOVE OUR LOGO YOU SCUMBAG. AS HELL WITH FREEZE OVER BEFORE ANY UNIFIED GAMING SITES ARE ALLOWED IN THE OPA.
And he had a bit more to say about this:
By steve (steve) on Wednesday, September 05, 2001 – 02:45 am:

Let me back up. First of all the only reason we found out about it was from a member who played there. This is what our member wrote to us.

Larry:

If you go to the home page of BML and under "select page" pull up "awards," in the first column, 5th one down they have a logo which says they have been approved by the OPA. I thought this was strange as I didn't find anything on them at your site. Can you tell me if they in fact have been approved by the OPA?

Ok, I then personally went to this page and saw that yes indeed they had our logo there.

I then sent out this email to the casino and to legal and unified gaming.

Subj: Bringmeluck
Date: 9/4/2001 6:53:52 AM Eastern Daylight Time
From: Pitbossopa
To: [email protected], Opalegal

Hello Again,

One of your dishonest sites has stolen the OPA approved logo and placed it on their site. This is a very dishonest thing to do. Use of this logo without permission can and will result in legal ramifications for you.

I request that this logo is removed at once. For a company that is sooo worried about players that steal by using robots, this is a very dishonest thing for a casino to do. I trust you will have them remove this from their site at once.

Steve Adkins
OPA

And this to the casino.

Subj: Award link
Date: 9/3/2001 11:39:59 PM Eastern Daylight Time
From: Pitbossopa
To: [email protected],

Hello,

My name is Steve Adkins, President of the Online Players Association. I noticed on your awards page that you have our logo stating that your site is approved by the OPA. I am sorry but I show no application or membership under this casinos name.

Please remove our logo immediately.

Steve Adkins
OPA

Then I read the garbage this casino is telling Bryan about the logo was never on their site.

Bullshit people I went to their site and saw it with my very own eyes.
So I wrote this letter to the casino manager.

Subj: Please remove our logo from your site
Date: 9/4/2001 7:37:04 PM Eastern Daylight Time
From: Pitbossopa
To: [email protected]

Justin,

I just read your response to Bryan Bailey about how honest you are. Just remove our logo from your site.

Your not OPA approved as you want people to think. That is a dishonest thing to do. Safebet says your not a member, IGC says your not a member but yet you tell your customers you are.

Please just take the damn thing down

Steve
OPA

He then wrote this one back to me.

Subj: Re: Please remove our logo from your site
Date: 9/4/2001 7:43:04 PM Eastern Daylight Time
From: [email protected] (Justin at BML)
To: [email protected]

Dear sir,
We never had you in our website, please stop saying things are not true. We have many things to do and you are just taking up my time. Bryan designed a page and he is trying to make some bad publicity about us.

Thank you.

It is bad enough that this dishonest casino stole our logo and tried to make people think they were OPA approved. Now when they get caught they are going to call us all liars?

I then sent this back to him.

Subj: Re: Please remove our logo from your site
Date: 9/4/2001 8:04:22 PM Eastern Daylight Time
From: Pitbossopa
To: [email protected]

You lying sack of shit. I went to the site myself this morning and our logo was there.

Nice try.

Steve

Lets understand that this casino is dishonest, they stole logos and put them on their award site.

I got an award for them. Called not recommended list for dishonest scumbags.
And he was a funny guy too.This was posted in our jokes section..
By steve (steve) on Friday, March 30, 2001 – 05:20 pm:

Have you heard about the next planned "Survivor" show? Well, lets take a look at the rules of Domestic Survivor.

6 men will be dropped on an island with 1 van and 3 kids each, for 6 weeks.

Each kid plays two sports and either takes music or dance classes.

Each man must take care of his 3 kids and keep his assigned house clean.

They must run all errands such as the drugstore, Wal-Mart, grocery shop, etc.

They must cook, do laundry, help their assigned kids study, and correct all homework, complete science projects and cook dinner each night.

The men only have access to television after the kids have gone to bed and all chores are done, however there is only one TV between them and there is no remote.

The men must shave their legs and wear makeup daily, which they must apply either while driving or while making four lunches.

They must attend weekly PTA meetings, be a committee chairman of something, clean up after their sick children at 3:00 a.m., make an Indian teepee model with six toothpicks, a tortilla and one marker; and get a 4 year old to eat a serving of peas.

The kids vote them off the island based on poor performance.

The winner gets to go back to his job!
And finally, his last posting:
By steve (steve) on Sunday, December 09, 2001 – 08:28 pm:

At least I am not the only person being fucked with for this online gambling crap.

Beam me up scottie
---
Unmasking The Real Steve Adkins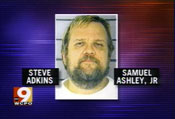 Like most everyone else, I knew Steve Adkins as Steve Adkins. I had numerous phone conversations him concerning my work with Casino Gazette and as you have read here, I knew him well in our forum. I also developed his website for his food foundation that was located in Cincinatti. Little did I know, Steve was not Steve. His real name was Samual Ashley, and he was arrested in the Spring of 2002 for ripping off his food bank for over a $1,000,000 dollars. But the food bank wasn't the only one he ripped off.
Before he vanished, I received a phone call from him stating that the IRS was coming down hard on him. He told me that he made a few big wins at some online casinos, and he put that money into his food bank as a donation. He thought that was legit, but the IRS was accussing him of money landering. He wanted to sell me his half of Casinogazette, and the OPA. I didn't want the OPA, but I was interested in Casinogazette. I wanted a radio show and I had fantastic ideas on what to do with the webcasts at Casinogazette and all. But he gave me the OPA anyway, I had control of the website, domains, etc. And then he vanished as quickly as he appeared.
When the OPA was resurrected, I found out that Steve Adkins had screwed over a number of casinos by selling them a "Casino of the Year" award, and promised them radio spots on Casinogazette and hard copy ads in Gambling Online Magazine. I was disgusted and I felt betrayed. Mike Craig and I did our best to fulfill any advertising agreements, and even paid some casinos back out of our pockets.
We searched for Adkins online, and even had someone visit his residence to dig up whatever happened to him with only a few clues. It seemed as though he really vanished. And it wasn't until this last summer that things began to unfold. Was I surprised? Not really. But I was pissed, and I still am. He betrayed the trust of his friends, his associates, and even his wife. All for the love of the dollar. So, Steve is sitting in jail. How ironic, that all these times when we heard him accuse a casino manager of lying, he was the one who was the crook. I wonder if he has an Internet connection in prison? It would be interesting to hear what he has to say for himself.