Interview with Rob Proctor VP of Game Development at Light & Wonder
By Dave Sawyer Apr 14, 2022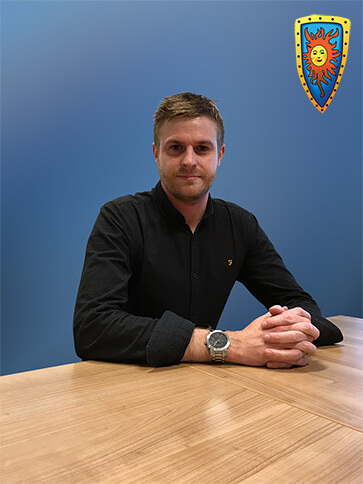 Hi Rob, first off many thanks for giving up some of your time today it is much appreciated.  Could you begin by introducing yourself to our readers at Casinomeister.
I'm Rob Proctor, VP of Game Development at Light & Wonder. I look after everything from new game concepts to choosing which games to build. I then also decide which countries to launch those games in.
At the beginning of March it was announced that Scientific Games Corporation will now operate under the Light & Wonder Inc name. What can players expect from Light & Wonder in the coming months?
Well exciting times lie ahead! We are focussed on being the biggest gaming company; it's not only a brand name change but brings more changes within the business to ensure we deliver the best games to players.
We've bought Elk Studios, Lightning Box and Authentic (for live dealer) and we'll be working even more closely with our land-based team to bring familiar and popular titles to iGaming, so… watch this space!
As you are no doubt aware, players are increasingly concerned about the RTP of the games that they play. As such, are there any technical barriers to including a live RTP display for players?
It's a tricky one. From our point of view, we have that information – although it's not in real-time, so there would be a barrier there in terms of showing it every spin.
We're always about giving the players as much information as we think they want to see. For certain players RTP means a lot – it means everything, and they fully understand what it is.
But I still think to the majority of casual or even regular players out there, RTP in isolation doesn't really mean that much to them (and if it does, they don't fully understand it). They might think "if I play this game for 100 spins, I'm going to get 98 pounds back because it's a 98 per cent RTP".
I think there's a way that we can break that down a little bit better for players. As a collective and as an industry, we're looking at ways to better inform players and give customers the choice of which games they want to play based on what RTP actually is – breaking it down for them in a way they will understand.
So, I don't necessarily think showing live RTPs is the answer; we could do it, but I think there are better ways of informing players.
What do you think sets your games apart from the competition and what are your competitors doing that you would like to emulate and improve on?
I think what sets us apart is our scale and familiarity. We've got a very good bond with players in key markets who chose and respect our content to be fair, good, fun, entertainment-based content that they understand and really want to play and can get a good win on.
Moving forward, I think they'll start to see us for what we are, which is an A-star team of content creators. We have ideas here that I honestly don't think any third party could pull off.
We've got the brains, we've got the experience, we've got the imagination, we've got the innovation and now we've got the platform to push it on. I think we'll be unrivalled pretty soon when it comes to the quality of our content in all countries.
What others have that I wish I had… not a lot. We're working on the things we lack and asking 'how can we make it better?' That's the key. If a certain mechanic works well, how do we bring that across to Light & Wonder but do it better?
What is the driving force and inspiration behind the development of the games that you create? 
A mixture of things. We are more dependent, reliant, and aware of our data than we ever have been. We have a rich dataset and a great team of data scientists who feed us information, feed us recommendations, dos and don'ts and must-haves. We have more than anyone in the industry in terms of the amount of data that we consume and use.
We're data-led outside of iGaming as well, so we're looking at what's performing in the land-based sector and what's performing well in machine sales.
These things all feed into which games make it into our plans. And on top of that, I give my team the remit to go with their gut. If they think they've got a great idea that's going to work, that takes precedence – that's the number one thing.
We've got great ideas, we have innovation forums, and we have content councils – we're always talking about content. We've got some great ideas and we just need to let ourselves loose, which we will now under Light & Wonder.
Can you tell our readers the process involved in developing an online slot game from conception to delivery?
Developing content is a bit of an art form in terms of working as a team, getting together and coming up with original concepts – which for me is where most of the fun is! Then it's about seeing that right through the process.
That is challenging but fun, and it's something that we wake up every day looking forward to being a part of. We love seeing games go from early concept drawings and sketches to then seeing animations and characters come to life and watching as the math model takes shape and the game becomes playable.
This is likely a tough question to answer, but what is your personal favourite?
My favourite game right now is actually Rainbow Riches Power Mix – I'm striving to hit the super bonus!
The iGaming landscape has changed considerably during the past ten years. What, in your view, have been the biggest changes that you as a casino game developer have had to adapt to?
Without a doubt, adapting to be mobile-first. We concept all our games from the ground up to be mobile-first and this has been a huge lift and change for us but absolutely vital as 80%+ of our traffic is via mobile.
Where do you see the industry in five years? Will we continue to see slot games featuring massive 100,000x plus wins? 
Yes, I think so (and maybe even higher!) Mobile will continue to be king and cross channel gaming will be much more 'front and centre' in key markets.
How important in your view is mobile gaming?
It's the key to success. We strive to create the best mobile experiences for our players in everything we do from content to platform and marketing.
Last but by no means least, can you provide any hints as to any unannounced projects that you are working on?
Sorry – no. They are unannounced for a reason! But watch this space: we have some very exciting games due for the rest of 2022 and beyond.
Many thanks for your time Rob.