Interview with Iryna Prokopchuk – Account Manager at Endorphina
By Dave Sawyer Oct 25, 2022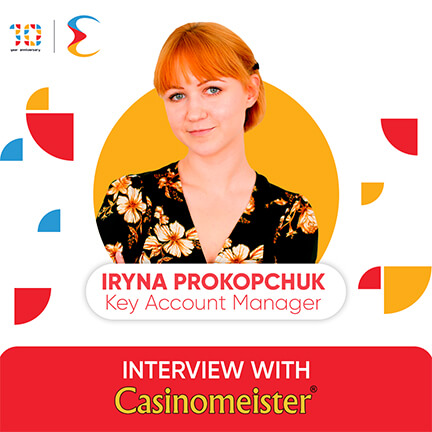 In our latest interview series of questions, we sit down with Iryna Prokopchuk, Key Account Manager from the Czech based and MGA licensed game provider Endorphina!
First of all, thank you for taking some time out of your busy schedule to answer our questions.
To kick things off, Endorphina has been operating in the iGaming industry for 10 years now, could you provide our visitors a brief background of your company's history?
Thank you very much for this opportunity, I am glad I can share some facts and stories about Endorphina with you and your visitors!
Yes, this year we are celebrating our 10th birthday and had a chance to celebrate with our partners and friends at the parties we arranged in Malta and Barcelona.
10 years ago, Endorphina used to be a small ambitious team, and today we are a fast growing company that hardly fits in our office! We recently opened our office in Malta, released more than 100 games. We strive to delight our players with new games on average of 2 times per month while continuing to make a presence at expos. Yes, I can say that we achieved a lot but there is so much more ahead! Stay tuned!
Your latest game – The Emirate II, offers a traditional Arabic Middle Eastern theme and has by the looks of it received some great reviews. Can you tell us a little bit more about it?
The Emirate II is actually a new version of one of our first games – The Emirate. Middle Eastern theme has something mysterious and yet posh in it which attracts players. The game can offer a lot to those who decided to play.
It has 20 lines, Scatters and Wilds, and our classic risk game. I strongly recommend playing the game while listening to the soundtrack to feel the atmosphere.
You have an account on the forum with us here on Casinomeister. How helpful do you find it being able to interact with players directly and do you see this as an important part on how to gauge what type of games to create?
Yes, speaking to players is always both useful and fun. After all, when we create our games it's the players we are thinking of. We like to receive their feedback regarding the games, themes, and features because it helps us to improve.
You can predict the trends if you listen attentively to your players' needs and interests and it's always very rewarding. When a new release does well with players, we know we did our job well.
Moving on to casino games in general and a question we have asked other casino game studios in the past – many members from our forum community here on Casinomeister would like to know why slot developers are offering differing RTP Settings.
Is this something that Endorphina offers their operators or is the RTP standardised across the board?
This RTP topic is sacred for us. Endorphina's RTP is the thing that hasn't changed for 10 years and is not planned to be changed in the future for the sake of our players, whose opinion we value. While lowering the RTP can give you some better deals with the operators, keeping it stable and high makes our players trust us and it's more important.
No matter which casino you'll choose, no matter which game you'll play, you can be sure that Endorphina's RTP will not differ. 96% is our gold standard and we are proud of it.
How did the various lockdowns throughout 2020 and 2021 affect the work ethos of the company? Did you find that working from home improved productivity overall, or are you now all glad to be back in the office?
Well, at Endorphina we are not just colleagues, but also good friends. You should see the atmosphere at our office – it's always about laughing, sharing ideas, talks, it's a source of inspiration for us. Our office is definitely a place where you want to come back.
By the way, I will reveal a secret, soon we are going to move to a new bigger place, designed specifically for Endorphina, where there will be enough space for our expending team, big gatherings, and parties! Can't wait to see it!
What is the driving force and inspiration behind the development of the games that you create?
Our players and their tastes of course. When we develop the game, we think about how the player will open it, make a bet, and start playing. That's why the visual part is as important as the mechanics and math behind it. We fill our games with smooth animation, create original characters, and add pleasant music to make the process of playing more engaging and entertaining.
We implement new mechanics and features for the players to try and choose their favorites. "Will this be fun?" is the question you need to ask yourself while making a game. Positive emotions, excitement and yes, endorphins – that's what our driving forces are.
Last question. For mobile gaming, do you see this as the definitive future for iGaming as a whole? Do you believe most players will use their mobile devices to play online?
Absolutely! I mean, when you think about it, mobile devices are in our hands during the whole day, we are using them for everything. No exceptions for slots.
It's easy, fast, and more convenient to play your favourite game using your phone. And not only on casino websites, but also in the applications. More and more operators are getting their own apps, it's handy. As for us, we catch up with modern technologies, our games are deployed for the users of different devices. You can play all our games on your smartphone, we adjust all the details for it, so nothing can stop you from enjoying the game fully even on a smaller screen.
Thank you so much for your time, it has been great to speak with you!
Thank you! It was a pleasure.
For further information concerning Endorphina and which recommended online casinos here on Casinomeister that feature their games, check out our review of Endorphina.