Interview with Nolimit City Guys
By Alex Smith, Last updated Jan 17, 2023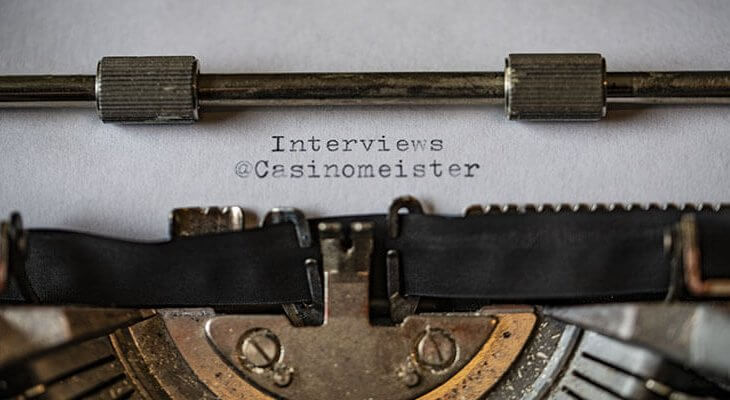 Casinomeister: Nolimit City – it's a pleasure to chat with you! How are you all doing? If you wouldn't mind, could you begin by introducing yourself?
Nolimit City (Pelle):
We are pretty ok considering everything that is happening around the world now. The Premier League has started which is awesome, maybe not as fun for Arsenal fans (Pelle) 🙂
We are Pelle and Wai residents at Nolimit City, Pelle acts as Product owner and Wai goes dunder the stereotype of a Game mathematician but both of us kind of do a little bit of everything being the small company that we are.
We actually started working together before Nolimit City; we met a couple of years back when we both worked at NetEnt and then our collaboration continued at Nolimit City.
We've always been users of CM, but with our private accounts. Recently, we started running a couple of official accounts – Pelle is who frequents the forum mostly, however!
Casinomeister: Great to meet you both! I have to begin by asking; how are you all? The world is going through a crazy time right now. Are you keeping safe? How has the COVID-19 pandemic affected business?
Nolimit City (Pelle): It's rough times for everyone I believe, although we're lucky that online business isn't as affected as for example retail. We're all essentially working from home, which has been fairly unproblematic to be honest – Skype is a useful tool these days.
Casinomeister: For those who aren't overly familiar with Nolimit City; you can tell us a bit about yourself, as a company? Where in the world are you located and how long have you been running for?
Nolimit City (Pelle): Well, we're Nolimit City – a fairly new game provider that is based in Malta, Stockholm and now also India. In recent times we've released a number of really popular games – like Tombstone, Punk Rocker and Deadwood.
We're pretty small compared to other suppliers, less than 50 people at the moment. Most of our previous experience stems within other huge Swedish casino companies like NetEnt and ComeOn. Most of us are very senior and have been doing this for quite a while.
Casinomeister: Some of your most recent releases – Tombstone, Punk Rocker, Barbarian Fury and Deadwood – have seen phenomenal levels of success. It seems as though every streamer, Casinomeister-er and gambler is playing these games regularly! What do you think makes your games so popular?
Nolimit City (Wai + Pelle): We focus on visual values and always try to create something that is new and that defines what's "us". The general volatility in the slots industry has  increased quite a bit over the last few years, and I guess the slots you mentioned are, indeed, some of our most volatile releases!
Casinomeister: You've also developed a couple of highly-unique game mechanics; xWays and xNudge. Can you tell us a bit about these? What were some of the main challenges involved with developing these mechanics?
Nolimit City(Wai): There is so much coming up in the business nowadays; it's actually a struggle to find something that hasn't been seen before. xNudge is one of my personal favorites, it gives you a strong feeling both when hitting and missing on it. The same goes for the xWays mechanic. That is what we want with a good mechanic, see the potential when you miss and get awarded when you hit (and for the xNudge even when you win you think: "what if the multiplier was higher!").
The biggest challenge with these features is that they become very hard to balance when it is a "ay-pays" game. For instance in Deadwood the 4X Wild actually becomes a 16X Wild since it is 4 symbols by itself and then you get an additional multiplier.
Casinomeister: A lot of our readers are quite interested in the math side of slot development. Would you mind giving us an insight into how, at Nolimit City, you come up with the Math models for your games? What does that process involve, exactly?
Nolimit City (Wai): It starts with someone saying: "I want this feature to pay minimum x100 each time, and it should happen quite often."
And I reply: "No." and we continue from there.
For every game we test out different models but still initially the features are in focus to feel the mechanic and the expectations of it. Will this suit a volatile or less volatile feature and try to create the math to suit it?
Of course we take a look at the big picture during the process and try to get a good balance between the payout of the different parts of the game. There are several iterations and sometimes this leads to drastic changes to the initial idea as well.
Casinomeister: Punk Rocker appears to have been one of your biggest successes yet! A little birdie told me there may be a funny story behind the origins of the game – so come on, let us in on the excitement – what's the story behind the game?
Nolimit City (Wai, Pelle got the picture): It was a dizzy night after a hard day's work at ICE 2019 and the team sat in a cold run down bar and our founder came out of the loo: "I got inspired!" and showed us this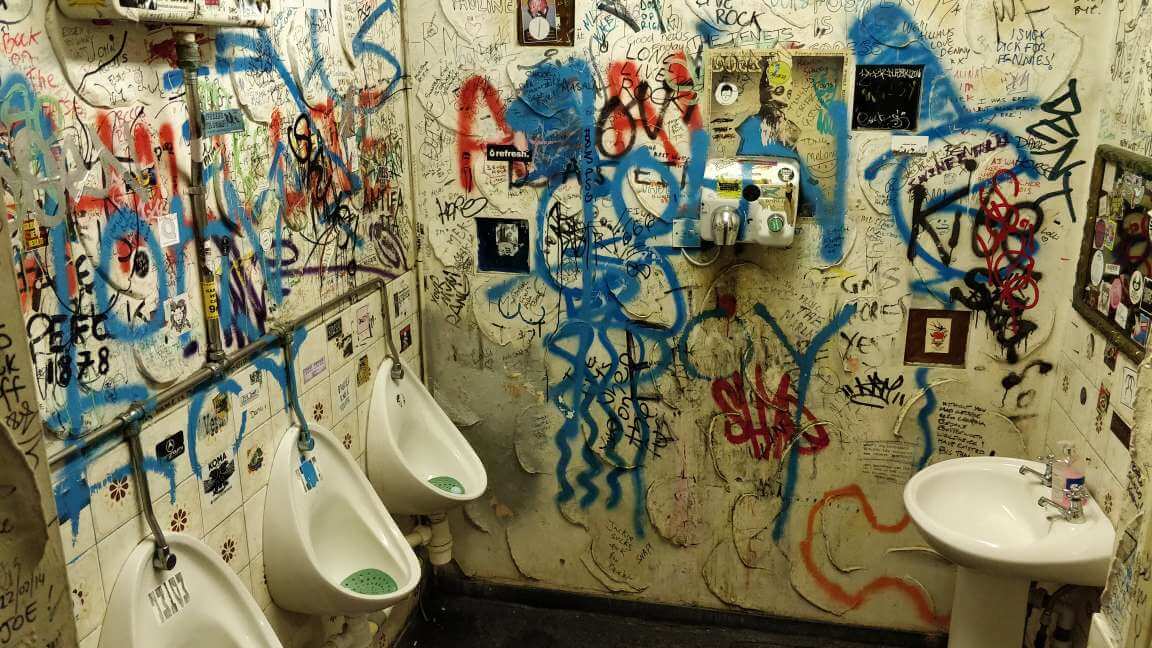 For this game we started with the theme and then some brainstorm sessions we had the basis. The freespin had several versions, but I think we managed to create something unique and fun in the end, so we are very proud of the game!
Casinomeister: How awesome!
A year ago, the vast majority of players had probably never heard of Nolimit City. You had a few games out – titles like Oktoberfest, Kitchen Drama Sushi Mania and Space Arcade; but it seems like you didn't find the "major" success you're enjoying today until relatively recently. I wonder if, first, you could tell us why you think your earlier games didn't prove overly popular – why your new games are immensely popular – and finally, how it feels to now be among the world's leading iGaming developers?
Nolimit City (Pelle): It just takes time. We were unknown, and even though we made good games (no major successes, though), it just took time to earn the trust of both operators and the players. I'm sure you can find some really nice gems in our older portfolio as well, especially if you're not looking for the super-volatile slots. But sure, we've learnt a lot along the way and become a lot smarter in how to develop our slots. That makes quite the difference as well.
We've just been shortlisted as one of the game suppliers of the year – which of course feels great! We didn't even have to tip someone off or beg on our knees to get it. We're just being noticed, and we love it.
Casinomeister: Congratulations! What would you say the biggest challenge is when developing a new slot? Are there areas – compliance and testing, for example – that you hate?
Nolimit City (Wai): I hate documentation! I think Per would say he hates translations 🙂 Compliance isn't that fun either but at least there are similarities across the games. But yes, we enter a new market there is a lot of tedious work, especially for a smaller company like us.
Casinomeister: To follow-on from the previous question; what's your favourite part of developing slots? It must be quite a feeling to create a game and find out that it's being played by thousands of players around the world!
Nolimit City (Wai): The creative part  just talking about crazy ideas and brainstorming – is usually the most fun part. I think  most of us here at Nolimit City agree on that.
Casinomeister: We've seen some incredible wins on your slots; Punk Rocker and Deadwood seem capable of offering monster hits! To your knowledge, what is the biggest (times stake) win that a player has achieved on one of your games?
Nolimit City (wai): Well in terms of times stake, it is just shy of 12500 times bet! We're still waiting for an even bigger payout to come for a lucky player!
Casinomeister: We know game developers like to keep their cards close to their chest when it comes to the future – but after the success of your last few releases, we're pretty excited to see what's next. Can you give us any clues or hints as to what some of your next releases might be?
Nolimit City (Wai + Pelle): It's not gonna be a surprise that we'll continue to create games with the xWays® and xNudge® features, as they've made us popular. But we do have some new "xFeatures" that hopefully will make a mark as well. We always try to do something new – which is incredibly hard and time-consuming, but it pays off when you do it right.
Casinomeister: You've recently started to incorporate a "Feature Buy" mechanism into some of your slots. Is this something you plan on continuing to do in future releases? What was your opinion of the UKGC's decision to ban them outright for UK players. A genuine safeguard against responsible gambling, or a complete overreach and removing the player's ability to make their own choices?
Nolimit City (Wai + Pelle): I'm sure other regulated markets will follow the UKGC decision, they tend to do that. I'm all for freedom of choice, but we also follow the rules that the regulators put on us. Banning feature buys isn't silly, but some other regulatory requirements are down-right silly, they annoy me more.
Casinomeister: That's fair enough. Do you have a plan of where you'd like to be in 3 years? It's incredibly impressive what you've achieved in the last year – do you expect this momentum to carry forward? With game developers getting more creative by the day, you're seemingly faced with an impossible task of innovating 24 hours a day, 7 days a week. Does this play into your future plans?
Nolimit City (Pelle): Yeah, we always try to be ahead – you need to do that when developing new games, as it takes quite a while before you can actually release the game.
I  hope that our decisions in the last 12 months help continue to drive our current momentum and prove that we're on the right track. I'm sure we'll make mistakes along the way, but we just need to learn from them.
You can't just innovate, you also need to take a chill pill and look back to see what did work and what didn't. That's probably the most important thing – learn and adapt – especially when it comes to innovation.
Casinomeister: As of now, you focus on video slots only, right? Do you see yourself expanding into other types of games in the future? I'm not sure xNudge Roulette would ever work… but is there a chance we may see Nolimit City's creative streak finding its way into other types of games?
Nolimit City (Pelle): Haha! We've got some lottery and promo-type games but these were developed a long time ago when we just started out; they were bespoke games, really. I don't see us going into anything else but slots at the moment, but regulated markets might change that – who knows.
Casinomeister: What would you say is the single biggest misconception about slots in general? To expand on this; what would you say is the biggest misconception about developing slots?
Nolimit City (Pelle): That they're all the same and that the math isn't that big of a deal. If you're not a slot player, all you see is a machine that blinks when you spin a button.
The biggest misconception is probably that we're all conmans trying to get that last penny out of your pocket and that's all we think of. We want to develop fun games that are fair and that you enjoy enough to come back to. That includes keeping Play for Fun mode the exact same thing as when you play it for real money… 😉
Casinomeister: Many, many years ago "Avalanche" or "Tumbling Reels" were the "thing". Then HTML5 was the big "thing". Recently, it's been Megaways and other unique game mechanics (most of which are highly volatile, offering big win-potential.) Where do you see the future of the iGaming industry headed as a whole? Are we going to continue seeing games capable of producing 100,000X stake+ hits, or do you think classic more laid-back slots may make a reappearance.
Nolimit City (Wai + Pelle): There's always someone that wants to be the worst one, and we'll see 250000x slots pretty soon. But as always, people might get tired of those long dry runs that these massive payouts may lead to – so why not see some revelation back to the low-to-mid volatile slots?!
The mobile games really changed the way video games worked – short levels, easy to play and still incredibly fun. As we're moving more and more towards mobile slots – then I'm sure that this kind of behaviour will be more sought after. Like feature buys maybe…?
Casinomeister: What about Virtual Reality slots? It seems some game developers gave it a go, but it never picked up. Do you think this is something that may emerge in the future? Is it something you've considered at Nolimit City – or would consider in the future?
Nolimit City (Wai + Pelle): No, that's not for us. Haven't seen anything good come out of it yet – but IF it becomes a "thing", then I'm sure we'll pick it up – but we won't drive any new technology shift into this industry – we're not big enough to do so. Not at this moment at least.
Casinomeister: It's been a real pleasure talking to you guys. The entire Casinomeister community is very grateful for your time, and it's fantastic to "bridge the gap" between the game developers and players. Is there anything you'd like to say to the community?
Nolimit City (Wai): We've always spent time in the forums and regularly peek at all the questions and ramblings about the different games out there. Now that we've got a bigger footprint on the CM forum, don't hesitate to ask some more questions and bother Pelle a bit more.
We really appreciate the feedback that we get from the players, and we'd love for that to continue! And as always – be responsible when you gamble, don't overdo it, it's supposed to be fun and exciting!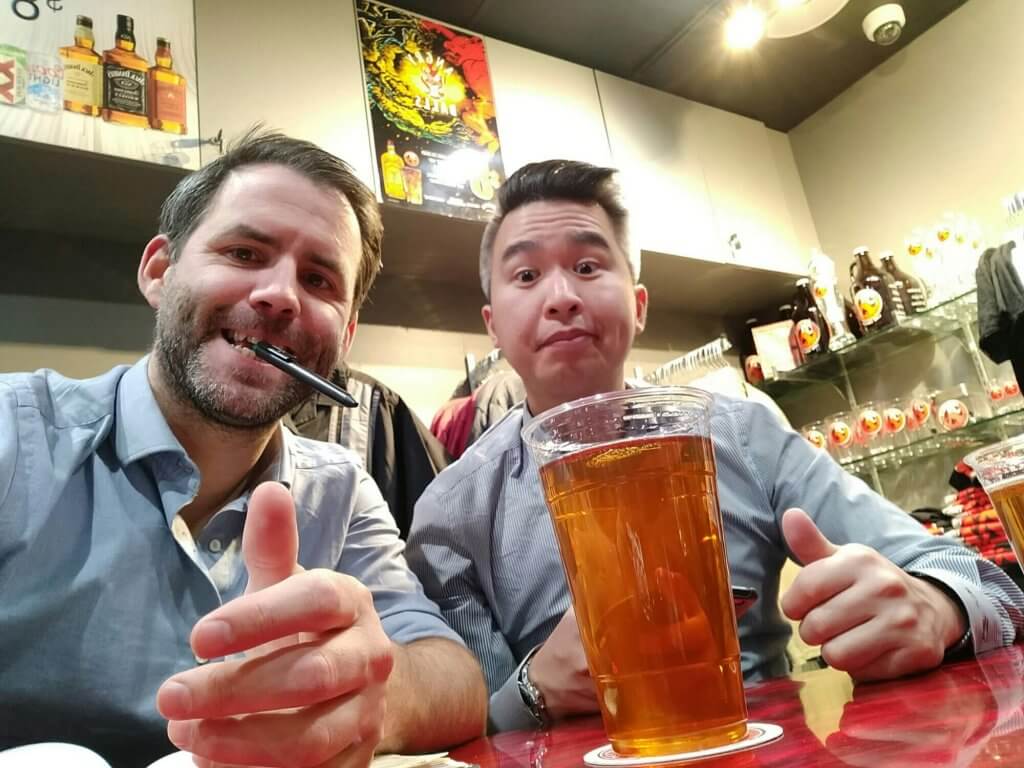 Official Nolimit City Forum Threads
User Rep Links