LetsGiveItASpin
By Alex Smith, Last updated Sep 20, 2023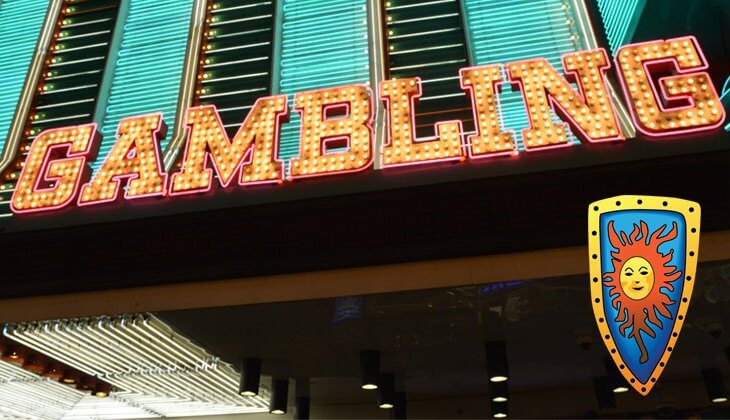 In the ever-growing world of online casino streaming, LetsGiveItASpin has emerged as one of the most well-known figures. The man behind the channel is Kim Hultman, and his charismatic, charming persona has allowed him to become one of the leading streamers in the world.
Those who watch Kim will know he generally plays slots on stream, often putting thousands of spins through a slot machine on a single night! However, he's not afraid to have fun and frequently plays live dealer games and casino table games, too. Unlike most streamers, there is little doubt about his deposit history; LetsGiveItASpin is considered by most to be a reputable steamer, using his own money.
Whether you watch LetsGiveItASpin frequently and want to learn more about the man behind the channel or his biggest win, this page aims to answer your questions. We will look at who LetsGiveItASpin is, what he does – and why he's so popular among players.
Background and Early Career
Kim Hultman, the man behind LetsGiveItASpin, hails from Smålandsstenar, a small town in central Sweden. Kim was a professional poker player before his fame in the casino streaming industry.
Given his background in gambling, his transition into the world of casino streaming was natural – and while he continues to stream gambling content, he regularly plays poker, recently appearing in a high-stakes cash game with pros including Daniel Negreanu and Patrick Antonius.
He began his journey as an online gambling streamer in November 2015 with the launch of his Twitch channel, LetsGiveItASpin. Despite an initial lack of attention, his channel quickly gained traction due to his engaging personality and sense of humour. Kim's happy-go-lucky nature and bubbly personality set him apart from many other streamers.
Kim's popularity and success as a streamer have also led to financial success (beyond that of an affiliate.) In 2018, he sold 51% of his streaming platform – Casinogrounds –  to LeoVegas for an impressive SEK 30 million. While the exact details of his net worth are not publicly available, it's clear that Kim has done well for himself through his streaming career.

Casino Streaming Schedule
Kim's streaming schedule is pretty rigorous. He and his team work hard to provide content almost every single day. The precise timing of the streams can be found on LetsGiveItASpin's Twitch channel. However, Kim and his team are dedicated to providing their viewers with a wide range of content regularly. They also do a great job of interacting with viewers. Kim personally tries to interact with as many of those who watch him as possible – a bonus for regular viewers.
Before the Twitch crackdown on online gambling streams, it was his primary platform. Today, however, his content is streamed via YouTube, where he has managed to amass just shy of 100,000 followers. In addition to daily live streams, he posts highlights from his streams and videos of his biggest wins.
As Kim's channel has grown, he has, however, started to appear less frequently. His friends often start his streams – with him joining later in the evening – although it's unclear whether this has significantly impacted viewership figures.
More recently, LetsGiveItASpin has set up a TikTok account, and he appears to be posting there semi-recently. However, LetsGiveItASpin has experienced problems with TikTok bans; gambling is a sticky subject on TikTok, and while LetsGiveItASpin can play and show his biggest win videos on YouTube without many problems, TikTok appears to be taking a more rigid stance on casino streamers.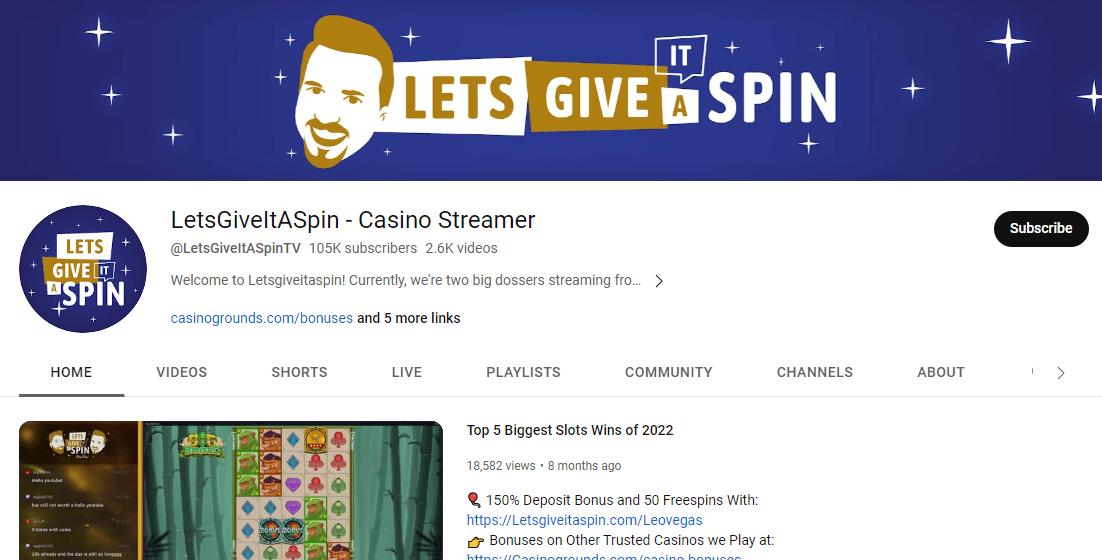 Does LetsGiveItASpin Play With Fake Money?
There is no evidence to suggest that Kim uses fake money during his streams. He has been vocal about his opposition to fake money streamers, and his reputation for honesty and transparency with his viewers supports this stance. While the online casino streaming industry is full of fake streamers (we're looking at you, Rothstein), LetsGiveItASpin is, for most people, one of the few honest-operating names out there.
He's also done some "good" in the streaming world. For example, he organised a 24-hour charity slot stream that raised 47,725 euros, which you just don't see from most streamers.
At the time of writing, there is no evidence to suggest LetsGiveItASpin uses fake money in his streams. However, he is very vocal that he gets pretty generous bonuses and promotions from the casinos he plays at – and these bonuses generally aren't available to others, so this is something to keep in mind.
LetsGiveItASpin Scandals
Overall, LetsGiveItASpin has a pretty good reputation. While questions have arisen about the source of his funds (he has shown deposit transaction proof in the past), he's remained relatively free of any major scandals. However, there was one issue – which came about as a result of his streaming at LeoVegas.
LeoVegas – a highly reputable brand and an Accredited online casino here at Casinomeister – was found to be working with an online casino streamer called Casino Robot – allowing him to play with fake money. Admittedly, this was a pretty bad look for LeoVegas, and while they promised that it wouldn't happen again, it sent "shockwaves" through the casino streaming industry.
It caused viewers to begin questioning many of their favourite streamers, asking them to show deposit proof to ensure they were playing with their cash and not the casino's. So, how does this correlate to LetsGiveItASpin?
Well, Kim predominantly plays at LeoVegas. This caused many to wonder if he was getting fake money, too. However, one of our members posted the following:
"I watch some of Letsgiveitaspin's streams. Leo Vegas has assured the viewers that his deposits are his money. They do give him match bonuses. They stated that whatever happened with CasinoRobot in the past, this is NOT the case with Letgiveitaspin. They will not permit streamers to stream with fake money anymore. I guess you can message the rep here, but the casino reps went on to his stream and made this statement."
Knowing LeoVegas, we're willing to give them the benefit of the doubt on this one – and we're confident Kim uses his own money. However, as the Casinomeister member noted, he does receive frequent deposit bonus offers – but he's very open about this and doesn't shy away from it.
Notable Big Wins: Has LetsGiveItASpin Ever Hit A Max Win On Stream?
LetsGiveItASpin streams for hours per day, most days of the week – and this, naturally, means he's racked up some pretty big wins during that time. His most significant win occurred in 2021 when he won an astounding €43,496.60 during a Dead or Alive II session, playing at Rizk casino. The exciting moment was captured live on stream, delighting viewers as it all happened in real time during a regular stream!
While LetsGiveItASpin's most significant win was with Dead or Alive 2, he's also won big on several other slots. Another of his other notable wins was worth an impressive €7,000, achieved on Push Gaming's playing Jammin' Jars.
Another notable win was achieved when Kim won €9,500 while playing Relax Gaming's Money Train. Unlike many streamers, where viewers can be seen getting jealous – LetsGiveItASpin appears to have genuine support. Players often tell him to withdraw his funds after hitting a big win from the slots, and his relationship with viewers feels genuine, likely due to his willingness to interact with viewers.