Online Casino Reviewer and Our Support
In December 2017, Dave Sawyer – the webmaster of Online Casino Reviewer went to bat for the affiliates of online casinos. He faced off with Affiliate Edge – which at one time was a stellar affiliate program – Dave simply wanted to be paid what they owed him: about £5,000.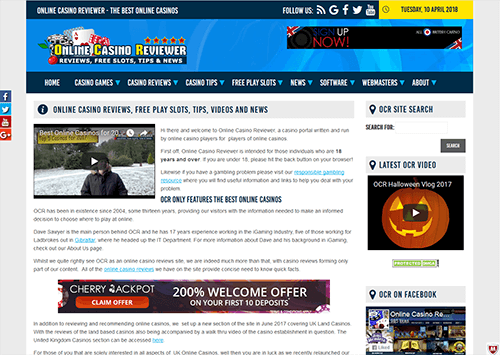 Affiliate Edge, the affiliate program for Aladdins Gold, Club World, Buzzluck, Highnoon, Lucky Red Casino, and Manhattan Slots, had a change of administration and management. The began to detag players from affiliate accounts, and they also introduced predatory retroactive terms to their terms and conditions which included quotas.
Affiliate Edge made the changes and applied this term:
"8.5 Modification. We may modify any of the terms of this Agreement at any time, in our sole discretion, by emailing you a change notice or by posting the new Agreement on our Site. Modifications may include, for example, changes in the scope of available Marketing Fees, Marketing Fee percentages, time for payment and marketing rules. You are solely responsible for making yourself aware of any such amended versions and changes. It is important, therefore, that you log in from time to time to the section of the Affiliate Edge Website relating to 'Affiliates' to check to see whether an amended version has been posted to the Affiliate Edge Website, or carry out such checks by other relevant means. IF ANY MODIFICATION IS UNACCEPTABLE TO YOU, YOUR ONLY RECOURSE IS TO TERMINATE THIS AGREEMENT. YOUR CONTINUED PARTICIPATION IN THE PROGRAM FOLLOWING POSTING OR NOTICE OF CHANGE WILL BE DEEMED BINDING ACCEPTANCE OF THE MODIFICATION."
In other words – "Suck it up. We can do what we want." Some partnership, huh?
But it wasn't a partnership. Affiliate Edge had detagged players from affiliate accounts like ours. That is fraud – plain and simple. And they detagged players and applied quotas to accounts that were belonged to deceased webmasters whose widows were relying on these funds. Quotas were applied to these old accounts as well.
A quota is where a webmaster must send x amount of players per month. That's kind of hard to do when you're dead.
And these quotas are especially predatory because it forces living affiliates to continue to advertise and recommend a casino that they may personally not like or approve of. It is a veiled form of coercion on the casino's part. There is no reason to do this but greed on the casino's part.
Yep, greed played a key role in what transpired. Both Warren and Stuart Ferster (the new owners) are complacent with the detagging, the retroactive terms, and the enforcing these terms on deceased webmasters. I personally wrote to them a number of times letting them know that this is unacceptable, but they never answered. They were/are too arrogant and aloof to care. More details about this in the "Bag of Dicks Award 2017"
Dave Sawyer decided that enough was enough. He wanted to bring this to small claims to challenge rule 8.5. It is inherently unfair, and probably not even legal under UK law. The Affiliate Edge offices and place of business is in Manchester, but they claim that their business terms are upheld by courts in Panama. Dave (along with most everyone he spoke to) thought this was nonsense and took them to small claims court.

And these chumps from Affiliate Edge sent a barrister to represent them – one of those lawyers who wear wigs. Freaking hilarious. What wasn't so hilarious was that the judge felt that since the affiliate contract had an arbitration clause, that this case should go to an arbitrator.
So that was it. It didn't go any further than that, and Dave was required to pay half of the legal expense of Affiliate Edge which came to £12k (including VAT). All that expense to not pay Dave his original £5k that he's owed. This just hammers home the fact that Affiliate Edge will do what it can to screw its "partners".
So feeling that there is no way that Dave should take the brunt of this, ThePogg.com and Casinomeister decided to summon a "call to action" to support Online Casino Reviewer.
ThePogg.com explains this situation here as well Affiliate Edge and Retroactive Terms Changes
In recognition of the affiliates who generously donated £500 or more, here is the list of those who chose to help out. The larger the contribution the higher up the list the site appears:
Casinomeister.com
ThePOGG.com
https://www.onlinegamblingwebsites.com/
https://www.casinolistings.com/
FastPayingCasinos.com
https://www.casinowhizz.com/
CasinoBonusesNow.com
http://www.gpwa.org/
http://bigcasinobonuses.co.uk/
https://www.affalliance.com/
https://casinovergelijker.net/
https://casinoki.com/
https://www.freeextrachips.com/
https://professionalrakeback.com/
http://www.superbigwin.nu/
http://www.casinobloke.com/
What an awesome show of solidarity. The balance was dealt with quicker than I imagined. Thanks to all!