Interview with Triple Edge Studios
By Dave Sawyer May 14, 2021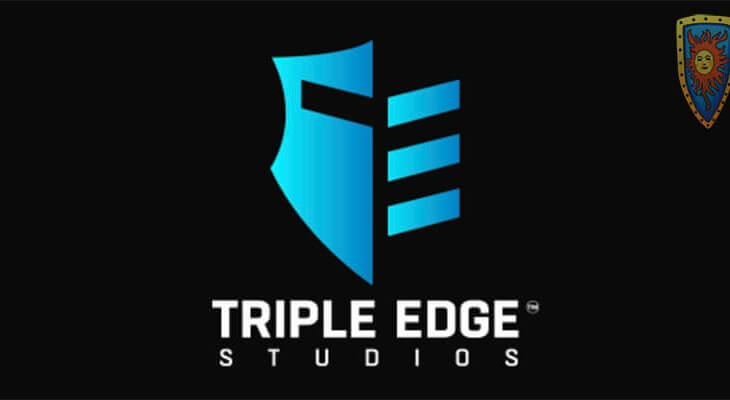 We are joined by Mike Bauerlein, the Market Readiness & Logistics Lead at the independent game studio Triple Edge Studios. Many thanks Mike for giving up some of your time to allow our visitors to find out more about Triple Edge Studios and the games that you have developed and your future works in progress.
Could you begin by introducing yourself to our readers at Casinomeister and also provide a background to Triple Edge Studios and the people who make up your development team?
My background is in digital arts and sciences, interactive entertainment in general. These are typically the sort of disciplines that would lead into a career in video games or film. I started my journey at Triple Edge Studios over 15 years ago in 2015 and I was the sixth person to ever be employed.
My current job title is a rather unique term in our company and it's something I grew in to. I head up Market Readiness and Logistics. I act as the hub for all internal and external communications. Programme Management is my main responsibility but with a heavy focus on technical development and creative design, which are both areas that I'm well experienced in, leveraging these enables me to ensure our games are developed to the highest level.
Triple Edge Studios began with just one studio and a handful staff, today we have multiple locations with over 60 staff employed. It's been such a pleasure to be part of this journey so far. Now, within the team, it's made up of all sorts of key disciplines. We have Mathematicians, Internal QAs, Creative Design, Tech Design and Developers.
Every member that joins the team must go through a rigorous hiring process and they're always employed with a long-term perspective in mind, not just for a specific project. One thing that they all have in common is that they're all multidisciplinary professionals, which makes it easier for us as a team to communicate effectively across various departments.
Your recent new game release the Adventures of Doubloon Island™, a 20 payline pirate themed slot built around the the HyperHold™ Mechanic.  There have been a few games released in this genre before. Can you tell us what sets Adventures of Doubloon Island apart and the selling points of this game which will whet the appetite of players?
What really sets this game apart from the crowd is the various permeations of the core hold and spin mechanic. Another unique aspect of the game is the intense anticipation that can be created through waiting for the mystery symbols to reveal a jackpot prize at the end.
The integrated Win Booster will also separate this game from the crowd as it increases the prize value in jackpot tiers for an added pay/wager.
CM- A medium variance slot game, do you think it will appeal to low and high rollers alike?
Although at first glance, this is a medium variance slot, this game definitely has an appeal to multiple player types. The Win Booster will of course attract the high volatility players looking for the big pay-outs. When the Win Booster is not activated, the game plays at medium volatility so players of all types can still enjoy.
The HyperHold mechanic is a feature that you have used in previous games that you have released such as Assassin Moon. What feedback have you had from players concerning HyperHold™ and can you see it being employed more in future game releases?
We've had great feedback from our players in regard to HyperHold, it's a fun and exciting feature that has emerged as a result of Triple Edge Studios' continuous effort to evolve our games and analyse the market, attempting to understand what mechanics work most effectively and why. We definitely have big plans for games that we can add or incorporate elements of this high performing hold and spin mechanic in to. So stay tuned!
What do you think sets your games apart from the competition and what are your competitors doing that you would like to emulate and improve on?
I think there's a couple of things that help to set our games apart.
Firstly, I believe our style of games are unique. At Triple Edge Studios, through extensive research and pure passion we've been able to find the right balance between innovation and iteration. This means that we find successful game mechanics that have been proven in the market and then add our own innovative touch to create the best player experience possible. Uniquely striking the balance between something that feels new and something that is fondly familiar to our players.
Also, our exclusive distribution deal with Microgaming is a key differentiator. This helps players to be confident that they are going to get content and a gaming experience of the highest standard. Allowing us to reach a huge volume of operators and markets around the globe.
In regard to competitors, I really like the work that Big Time Gaming has done recently, and they are definitely innovators in the market. Hence why we licensed their Megaways mechanic! A proven and successful mechanic that we've incorporated with one of our upcoming games; Age of Fortune: Poseidon, giving players the next best version of what they've already been playing.
What is the driving force and inspiration behind the development of the games that you create?
When we take a game from concept to actually putting it on our roadmap, we first consider what is the scope or features of a game – what has been successful in the market? Then we ask 'why are we publishing the game?' This is when we analyse the business case and compare the game to what our competitors are doing.
Then finally comes the fun bit where we come up with the most eye-catching ways to encapsulate the essence of the game and give it the Triple Edge Studios stamp of excellence!
Can you tell our readers the process involved in developing an online slot game from conception to delivery?
Firstly, we start off with the game design, where we place our innovation on top of proven game mechanics and concepts. Then we bring the team in and get technical eyes looking at the conceptual aspects of the game.
Once this analysis has been done, it's then time to get the production team involved who will bring the concept to life. The team is made up of Mathematicians, Developers, Tech Designers and QAs. They will continuously iterate and refine over the course of production, collecting much valued feedback along the way and vetting them with the pre-determined wow factors I mentioned earlier. Then finally comes integration and certification for the various markets the game is going live in.
 To date what would you say is your most popular slot that you have released?
 Assassin Moon has for sure been the most popular so far, it has performed exceptionally well. Its success is down to a combination of stunning, eye catching artwork and a solid mechanic. It also has its own Win Booster, which means it can appeal to multiple levels of volatility players, helping to extend its general market reach.
Our maths team done a great job with this game, keeping the player engaged whether you win or lose. Whether it's your 1st or 500th  spin, it's still enjoyable and really fun to play, following the journey every step of the way. I've played the game many times myself, this is something both my team and I can vouch for!
Do you have plans for further licensed branded games, if so, is there anything being worked on at the moment that you can reveal?
We don't have anything planned at the moment as we've seen so much recent success with our original content. However, merging with licenses is something we will always recognise the value in and we're always open to producing more licensed branded games in the future. 
You exclusively provide game content for Microgaming, how did the relationship come about and how close is your day to day working relationship with them?
Our relationship with Microgaming is something we value greatly. We work with them closely to provide exclusive content for distribution on their platform, which provides access to literally hundreds of the leading online casinos. They've done a great job centralising the process for studios to integrate into their systems. Triple Edge was actually the first independent exclusive studio to be unveiled by Microgaming back in 2018, and it's been a pleasure working with them over the past few years.
Recently the Gambling Commission in the UK announced changes to how online slots play and are presented, which operators have to implement by the 31st October later this year. These changes will directly affect online slots and how they play, such as removing the auto play function.  Do you think the measures announced are a good thing and will implementing the changes required for your games be difficult to introduce?
Our stance has always been in firm support of responsible play. We believe that any regulation in the name of responsible gambling, that is protecting players, is something that should have our full support as an organisation.