Interview with Fredrik Johansson from Fantasma Games
By Dave Sawyer Sep 27, 2021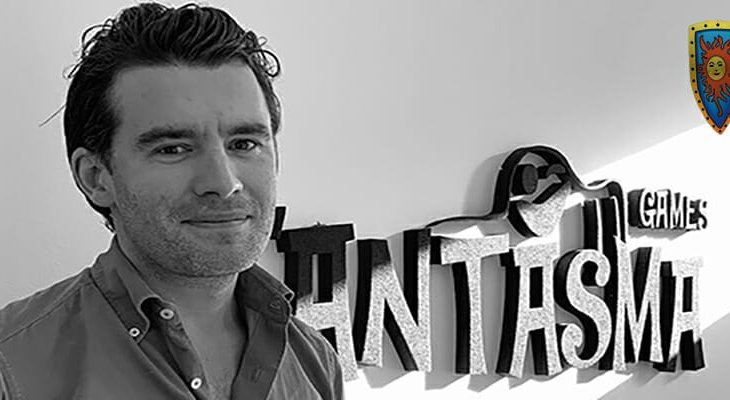 Today we are pleased to be able to sit down with Fredrik Johansson, the Commercial Director of Fantasma Games. Fredrik many thanks for taking time out of your busy schedule to talk with us at Casinomeister. Could you begin by letting our visitors know a little bit about your own background in the iGaming industry as well as providing a brief history of Fantasma Games.
I entered the online gambling industry in 2009 on the operator side of the sector. Over the years, I have worked with several big brands including LeoVegas and ComeOn!, helping both brands expand into new markets.
I founded Fantasma Games in 2016 because I felt there was a need in the market for new and exciting content. This led to our mission to create slots that go beyond gambling and to do that we have built a team with unique experience and competence from the gaming industry.
We have taken a slow and steady approach with Fantasma; while the business was founded in the end 2016 it was not until three years later in 2019 that we shifted up a gear in terms of production and partnerships. Since then we have grown at pace and today we have a strong portfolio of chart-topping games that are live with some of the biggest operators in markets around the world.
Your game Flower Fortunes is featured in Microgaming's top 10 list of best performing games and further it is regarded as the most complex game that Microgaming have ever released. Can you tell us how the game came about and why you think it has proven to be so popular?
Flower Fortunes captures the spirit of Fantasma Games perfectly as it is a slot that goes beyond gambling to deliver a thrilling player experience. The game was developed with a mobile-first approach and for one-handed portrait play, which surprisingly was very unique in the beginning of 2019.
The game is complex because there are seven levels for players to climb through and each level requires its own math model. Bringing seven different math models together in one game is a huge undertaking and the team did an incredible job to pull it off.
The decision to go with one-handed portrait play is also a key reason why Flower Fortunes has become so successful. At the time, we were told by the distribution partner to build the game in landscape, but we could see that portrait play would be the future and stuck to our guns.
So, the combination of a unique, thrilling experience where players climb through levels and unlock more bonuses with the option to play one-handed on mobile in portrait mode is what has made the game such a big success.
Indeed, player engagement on Flower Fortunes is almost double what it is on most of our other slots.
We have seen many new game studios launch in the last few years, is this sector something that you think is easy to do as compared to operating a casino or have you found yourself working long days like in any other startup business?
Having been on both sides of the fence, running a game studio is much harder than an online casino. This is because it is incredibly difficult to encourage operators to stock your slots when you are a new developer. Casino managers want proven content and that is hard when you have only launched one or two games.
Thankfully, we have very good relationships with some of the bigger operators and was able to leverage these to get our games in front of the right people. If I didn't have these relationships, then we would have had to lean heavily on our platform partners to knock on the door of operators on our behalf.
The days are long, for sure, but that is part of working on a start-up business. We have been working very hard in these early years to ensure our games are as good as they can be and that each title brings something new and innovative to the market. There is no end to how long you can spend on a game, so we have had to balance out striving for perfection and delivering content to the market on schedule.
Many members of our forum community here on Casinomeister would like to know why slot developers offer differing RTP Settings. Is this something that Fantasma offer their operators or is the RTP standardised across the board?
It's mainly related to shifting with the regulations in different markets. Online slots have always had a very high RTP compared to land based slots, but new regulations forces the studios to lower the RTP and offer different RTP depending on markets. Studios now have to think differently on how the RTP is distributed in a game.
Fantasma still develops our games with an RTP around 96% and we are working closely with the operators to adapt us to their needs as well.
How much testing goes into a new game before going live?
A lot! Each game is tested at different stages between concept and launch. Once we have decided on the theme and basic math and features, we then create a prototype with the core math model and placeholder animations and graphics. Our QA tester then puts the game through its paces across different devices, operating systems, etc to identify any weaknesses or issues.
In total, we spend around two months testing each game before launch – this is because we don't want to miss anything and want the game to be the best it can be. The last stage in the production is the certification process where the game is checked and approved by an external party to make sure that there are no bugs and that the RTP is correct. They are doing simulations of many billions of rounds as well.
Do you feel that slot development is dictated by budget/time/slot template/other constraints too much?
It is worth highlighting that there are two different types of developer – those that turn out hundreds of games per year and those that launch just a handful. The former tend to produce fairly standard slots while the latter look to push the boundaries and innovate.
At Fantasma we take a quality over quantity approach to game development, but we still have budgets and deadlines to contend with. If we can see that spending a bit more money or taking a bit more time developing the game will make a significant improvement to the end product then we will make that investment and/or push the deadline back. We can only do that because we are small, nimble developer – we aim to launch six to eight games a year and that's it.
Can you provide us with an insight as to what we can expect from Fantasma Games for the remainder of 2021?
We have an incredibly exciting autumn coming up with four games set to leave our production line. This includes Bounty Hunter which will be going live with all operators after an exclusivity period with Kindred plus the hotly anticipated launch of Heroes Hunt II. We will also make our debut in the US market with distribution partner Scientific Games.
Can you tell our readers the process involved in developing an online slot game from conception to delivery?
Sure. So broadly speaking it breaks down into four key steps.
Step 1 – concept. This is where we brainstorm themes and ideas for the game. We also talk to operators and streamers to understand current player trends and use this to guide the features we consider for the game.
Step 2 – prototype. Once we have nailed the concept, theme, math model etc we build a prototype of the game. From here, we can test the game and fine-tune the design, math and mechanics until everything is just how we want it.
Step 3 – production. Our team of developers then build the game.
Step 4 – testing and certification. Once the game has been built, we then run it through a final, stringent testing process. It then goes off to be certified for each of the markets it will be launched in. Once approved, we then flick the game live with our partners.
The first stage of the process is the most important and accounts for around 30% of the time spent developing the game.
How important do you consider mobile gambling and is this an area you are continuing to invest in?
It is very important. From day one we have been a mobile first developer and have built all our games for portrait mode and one-handed play. We are seeing that mobile accounts for more than 80% of total play on some of our games and we only expect that number to rise in the coming months and years.
What does the future hold for Fantasma Games?
Global expansion. The US is a key market for us, and we will be launching there in the very near future. We will also grow our presence in the other regulated markets where we are currently active. We recently completed an IPO and will be using the cash raised to bring more talent to the team – we recently hired Evolution Gaming veteran Trevor Ko as Chief Product Officer.
We have taken a slow and steady approach to growing the business over the past four years but we are now looking to take things to the next level both in terms of the team and the games that we design and develop. It takes a lot of effort to create a solid foundation and build momentum, but we are now at that point and the entire team is hugely excited for what is to come.
Putting you on the spot here, but what is your own personal favourite game Fantasma Games have developed and why?
Heroes Hunt is my favourite. It was the second generation of game to feature the levels and progression we built into Flower Fortunes. It has gone on to be our best performing slot to date and I absolutely love it. Heroes Hunt II will be hitting the market shortly and I can't wait to see how players react.
We have taken the player experience to another level and this has been achieved by speaking with operators, streamers and players to learn how we could improve on the original. That we have most certainly done, and I expect Heroes Hunt II to smash records as soon as it hits operator game lobbies.